When one hears the name K.S. Chithra, music flows into the mind. Malayali's own Chithra has reaped heights already. Chithra has contributed many beautiful songs to the music world, and she is loved by musicians across regional borders. Chithra talks about her music to Onmanorama.
Father, first guru
My father was my first guru. He used to teach me light music, and mother used to teach prayer songs. My sister used to be trained under Mavelikkara Prabha Varma sir and Hariharan sir. I used to follow those music lessons and took part in many musical contests. Later, I received a cultural talent search scholarship from the Central government. After receiving the scholarship, I started learning music from Omanakutty teacher. Then I took a degree in music. I was quite busy with work, and hence could not complete my higher studies in music.
Started off with Attahasam...
My first song was sung in 1979 and it was for the movie Attahasam. But my first song that came out was from the movie Njan Ekananu that was released in the year 1982. The lyrics for that song were written by Sathyan Anthikkad. I had sung that song with Yesudas. The music was done by M. G. Radhakrishnan.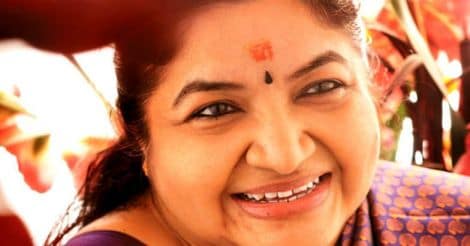 Malayali's own Chithra has reaped heights already
Aayiram Kannumai... First break...
Jerry Amaldev composed music for the songs of Nokkethadoorath Kannumnattu, and the song Aayiram Kannumai from the movie was a super-hit. After singing that song, Chithra rose to fame. She received a film critic's award for the song. Chithra could sing a lot of beautiful songs during that time. The song Poomaname won the state award for the best singer. She received a national award for her song in the movie Nakhakshathangal.
Nee Thana Antha Kuyil, entry to Tamil
Chithra sang in Tamil for the first time in Bharathiraja's film, and the music was done by Ilayaraja. She did a voice test for the remake of Nokkethadoorath Kannumnattu. But she got lucky enough to sing a song for the Bharathiraja film the next day itself, as he liked her voice. It is only after singing for Ilayaraja that other language musicians started calling me. Later on, I sang in Kannada as well.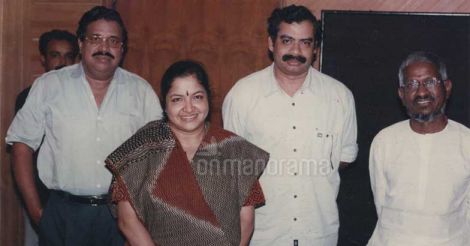 Chithra with Director Satyan Anthikad and Ilayaraja during song recording of a film
A daughter to Raveendran master...
As a music director, he gave a lot of space to experiment. Hence, when I sing for him, I never get scared. Recording the song Varmukile was a great experience. The recording for that song happened at his house. After teaching me the song, he went out. There were a few mistakes in the first session, and after the second session he was 'okay' with the way I sang. Later on, he made musician Yusuf Ali hear the song, and told that it was his daughter who sang the song. That was when I understood that he loved the way I sang the song.
The song that was heard by Lord Krishna...
Both the songs in Nandanam were sung by me because Raveendran master was very sure about it. Even though I was sceptical about singing the songs at that point due to my mental state, master told me that he had written both the songs by keeping in mind my daughter. I feel that I could sing the song Karmukil Varnante because of my mental state at that time. I became pregnant soon after singing that song. Then Dasettan called me and told that he loved the song and said that he had to listen to it because that is how I had called Lord Krishna.
A.R. Rahman, a true human
A.R. Rahman is someone who is very humane to fellow beings. Rahman's recordings are very different from other recordings. First, he will teach the song and then the orchestration will be done according to that. That was quite a novel experience to me after the having seen the usual recording. Rahman has tuned many songs that I sang, and he made it sure that all the songs were special and will remain in the hearts of listeners.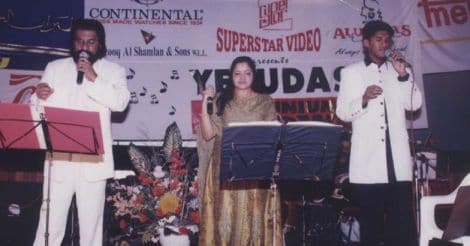 Chithra sharing the stage with K J Yesudas and Vijay Yesudas
A great loss, I could not sing for Noushad...
Even though renowned musician Noushad called me to sing a song for his movie Dhwani, I could not do that because I was abroad during that time. It was a great loss for me. When Ilayaraja sir called me to sing a song for him along with Kishore Kumar, I could not do that due to similar reasons. Raja sir has yelled at me quite a lot for that. He has asked me to concentrate more on playback singing more than doing shows. I believe that what is destined to us will come to us. There is no point in complaining.
I dedicated myself to music
I have worked quite hard after I realised that music is my true calling. Everything else comes after music. When my colleagues were busy celebrating their holidays, I have kept all that aside for the love of music. Also, I make sure that I sing all the songs until the music director is completely satisfied with it. Today, there are many great singers. But I feel that the dedication and passion towards music is not high anymore. All I have to tell them is to have dedication and respect towards the job that they are doing.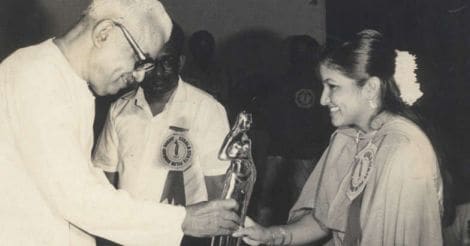 Chithra receives Kerala State Film Award of best singer from E K Nayanar
Relations that are being lost
Due to technology, relationships are losing value now. Earlier when we used to record, it was like a family get together. We get an opportunity to meet many people. If you are a new person, you get an opportunity to meet many people and learn new lessons from them. But these days, one would not even know who your co-singer is!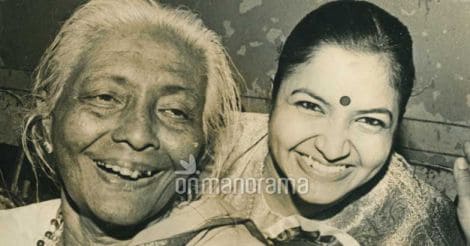 Chithra with singer Janamma David
Singers can have royalty...
Like a music director, a singer too, is equally important in the success of a song just. Sometimes, the singer makes certain differences in the song. Hence I believe that singers can also have royalty.