Major Ravi has been asked a lot of questions. People keep asking him if he makes only movies about soldiers and their lives, whether he is a communalist, if he has beaten up anyone, how many people he has killed and so on.
Picket 43, his latest movie, is an answer to all the controversies and questions. Major Ravi shares his experiences in movies and life. He talks about the controversies, his latest movie Picket 43 and his friendship with Mohanlal.
Over to Major Ravi
Picket 43 is the story of a peace-loving Indian soldier and his friendship with a Pakistani soldier. The movie is about Harindran's (Prithviraj) friendship with a soldier of the neighbouring country who stands guard at the border.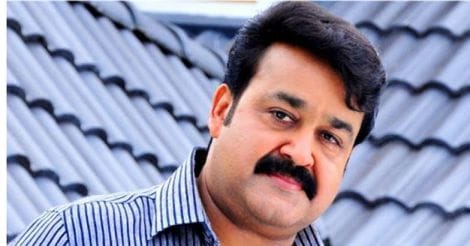 Mohanlal liked the story of 'Picket 43'
The initial plan was to cast Mohanlal in the lead role. Lal had liked the story very much and based on that I had even taken the advance amount from the producer. But that very night Lal called me up and told me that he thought his age would be a hindrance in convincingly portraying the character he was to play in Picket 43.
It came as a shock to me. But after giving it some thought, I realised that there was merit in what Lal said. But who will replace Lal was the big question. When I asked him, Lal suggested that I cast Prithviraj in the lead role.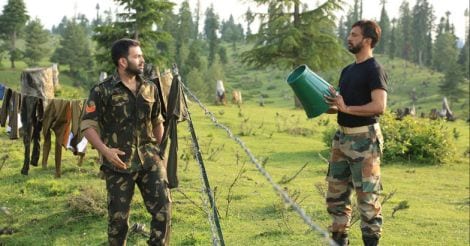 A still from the movie 'Picket 43'
I din't know Prithviraj personally. Some advised me to avoid him saying he was a trouble-maker. Some said he was conceited. My personal opinion about him also was somewhat similar.
Harindran of Picket 43 was supposed to be a heroic character. But it was Prithviraj who suggested some changes in the story. They were incorporated as well.
When I saw the movie in the theatre, I realised that Prithvi's decision was right.
It was only after two days into the shooting schedule that I got a chance to personally interact with Prithviraj. I told him the kind of impression I earlier had of him.
After knowing him closely, my opinion about him changed entirely. He is a very flexible actor and he was cooperative throughout the schedule. The shooting schedule was originally 35 days long, but we completed our work and packed up in 22 days. That would not have been possible but for the cooperation from the entire team including Prithvi. I saw in Prithviraj the kind of sincerity I have seen in Mohanlal.
My first meeting with Mohanlal
Even when I was in the army, I used to find time to watch movies. Mohanlal's Chitram was released around that time. I had liked him as an actor but Chitram converted me into his fan. That movie shook me. The climax of the movie used to haunt me for a long time.
After that I did not miss any of his movies and I began to love him as a person. I met him for the first time in the sets of Kalapani and we became good friends. But I never told him that I wanted to do a movie with him. Nor did I have any plans then. Many years later, in 2004 I told him that I wanted to make a movie with him in the lead role.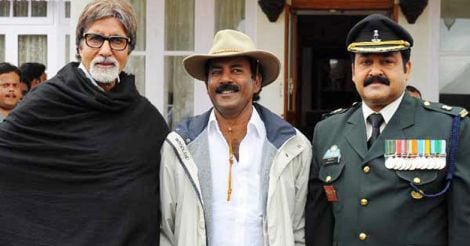 Major Ravi (C) with Mohanlal (R) and Amitabh Bachchan. Photo: mohanlalphotos.blogspot.in
Now we are family friends. We will be working together on a movie soon. But this time the story has nothing to do with the life in the army. Let Major Mahadevan enjoy some rest. The next movie is going to be a family thriller. We are planning to start shooting in April.