During the eighties and nineties, Shalini and Shamili were the most sought after child artistes in Malayalam . From 1983-87, there were hardly any Malayalam films without Shalini's presence. When Baby Shalini grew up, Baby Shamili stepped in. From 1993-97, Baby Shamili starred in one hit after another. But Shamili had to leave soon. And then, there was a void which baby Manjima filled in.
Baby Majima, the daughter of cinematographer Vipin Mohan, made her debut by playing Shobhana's childhood in the super hit movie 'Kaliyoonjal' which was also a comeback film of Shalini. And soon, Manjima was the favourite. The Malayali audience, who swoon over a child actor went ga ga about this chirpy little girl.
When Manjima won the state award for the best child artiste for the movie 'Madhuranombarakattu', the young actress proved that her acting skills matched her cute looks. After doing prominent roles in movies like 'Priyam' and 'Mayilpeelikkavu', Manjima vanished. After a gap, Manjima is coming back as Daisy in the movie 'Oru Vadakkan Selfie'. So, what has she been doing over the years. We catch up
Where were you all this while?
I wanted to stay away from films, and that was purely my decision. That break lasted for 12 years. I wanted to make sure that I do not go behind movies and miss my student life or college days. 'Thandavam' was my last film.
Tell us about your college life.
I completed my B.SC Mathematics from Stella Maris College in Chennai. My did my Plus two at Nirmala Bhavan Higher Secondary School.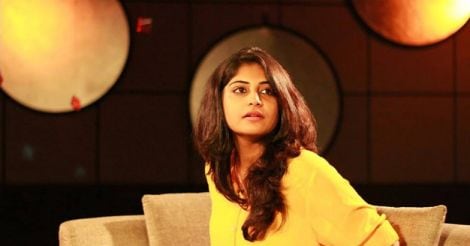 Photo: Facebook
Did your college mates know that you were a star kid?
The first six months, no one knew anything. Then, news leaked. Soon, North Indian students came to know about it from the Malayalis in the campus. They checked the internet and found my old photos and videos. It was a big surprise for them. From then on, some of them make fun of me by calling me a star kid.
So why did you decide to come back?
In college, my friends used to make fun of me saying that I would complete my studies and get back to movies. But it was not something I had even considered. Vineeth is the one who spoke to me about 'Oru Vadakkan Selfie'. My dad knew Vineeth and that is how I became a part of 'Oru Vadakkan Selfie'.
It was a long break, were you tense?
Yes, a little bit. But Vineeth and Nivin were of great support, and they made me feel comfortable. Dubbing for the movie was quite hard for me. But Vineeth made gave me full confidence to go ahead.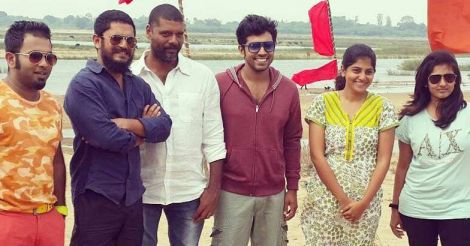 Manjima with 'Oru Vadakkan selfie' team. Photo: Facebook/manjima
Nivin is a successful star now. How was it acting with Nivin?
Nivin is a little reserved. But once you get to know him, he is good company. Nivin, Aju and Vineeth are good friends. I had to come in between them. Food is what united all of us. All of us had similar likes when it came to food. Nivin never dominating when it comes to acting. He never forces you to do things. But sometimes, if he feels that the scene can be improved, he gives his suggestions. I like that quality in him.
Tell us something about 'Daisy' in 'Oru Vadakkan Selfie'.
Daisy is a strong character. 'Oru Vadakkan Selfie' is also about the friendship between Umesh and Daisy.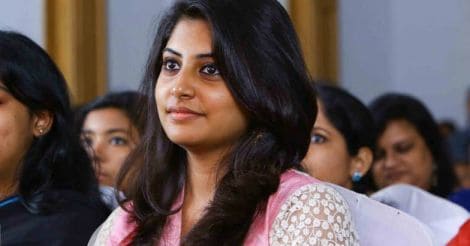 In social media, people have commented that Manjima is the next Nazriya. Photo: Facebook/manjima
In social media, people have commented that you are the next Nazriya.
Many people have told this. I'am happy and apprehensive at the same time. I'am tensed about how the audience would accept me. Right now, the movie is getting great responses. I'am also worried whether the movie will live up to the expectations of the audience.