Nithya Menen's career in the Malayalam film industry is not something that defines her. She has had hits and flops alike. But across the border, in Telugu cinema, Nithya is a star. In Tamil Nadu, with two back to back hit movies she is one of the top-notch heroines now.
We can describe Nithya as an actress with an 'attitude'. She does not like to be typecast. Her face always brims with excitement. She also confesses that she values creative satisfaction way more than money or fame. Even as a child she was chirpy and would talk incessantly, she says. She loves to laugh aloud. She forgets herself and laughs out aloud even at the slightest jokes. She does not consider herself to be diplomatic in her self – evaluation. Nithya is unlike many other actors. She is not shy to reveal that she is all of 27 and loving it.
While the Telugu film fans compare her with their former heroines Savithri and Soundarya, the Tamil film buffs compare her with Revathi. They all shower the same amount of love on Nithya. April and May months gave the most unforgettable time in her career. Four films were released in three languages during the period- 100 Days of Love (Malayalam), OK Kanmani (Tamil, Telugu), Kanchana 2 (Tamil) and Son of Sathyamurthy (Telugu). Among them OK Kanmani and Kanchana were released on the same day. While her character Ganga, in the second part of Kanchana brings out a new facet of Nithya's acting, in the Mani Ratnam movie OK Kanmani, she has become the icon of love for the youth. A candid chat: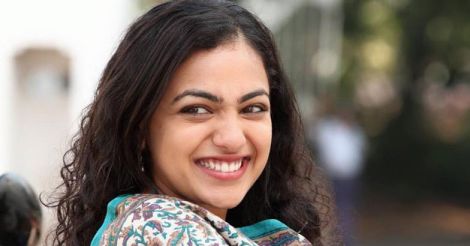 Nithya forgets herself and laughs out aloud even at the slightest jokes
The experience as Kanmani
Very proud of being a part of the movie in which Mani Ratnam, A.R.Rahman and Sreeram came together. Shooting was very enjoyable. The first scene filmed was the entry of the Aadi's elder brother, the character played by Dulquer, into the room where I was sleeping. That scene was in the middle of the movie. So, I immediately had to fully involve with the story.
What I enjoyed most was the shooting of the song Mental Manadhil. That is a bike song. There was a vehicle in front of us from which PC sir guided the camera crew. We - Dulquer and I -were on a bike. The song was coming out loud from a speaker hidden in a bag placed between us. Our gestures were in tune with the mood of the song. I saw bewildered onlookers on the road who heard the loud song and saw our gestures. It was fun.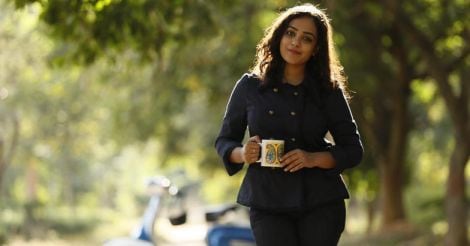 It is better to have an idea about the person you are going to marry, says the actress
Simple Mani Ratnam
Mani sir's vision is very youthful. It is a very different take on youth. Natural film making. When I heard the story of OK Kanmani for the first time, I felt it was similar with my own views on love and marriage. Tara wants to go to Paris; And I, Spain. Mani sir is open to suggestions. No ego. Very easy going. His talent to improvise a scene in any situation is incredible.
Romance with Dulquer
Ustad Hotel was Dulquer's second film. We both were a little reserved then. We didn't talk much. 100 Days of Love came just before 'OK Kanmani'. We became very friendly after doing two back to back movies. Both are romcoms. As the shooting of OK Kanmani came to an end, me, Dulquer and his wife Amal were all very close. We went out together. Dulquer is an excellent co-star. He would always egg me on to get married. Even when I say I was not interested in that, he wouldn't agree with me. He is such a good youngster. Always pleasant.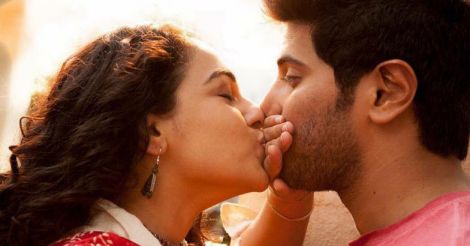 A still from 'OK Kanmani'
Live in
Live-in relationships are not a big thing these days. It is common in many places. Social situations have changed now. This generation takes more liberty in issues like these. Parents also give their approval for it. I don't find anything wrong in it. It is better to have an idea about the person you are going to marry. I don't agree with the idea of getting married to a stranger. What if your entire life becomes an 'adjustment'? Life will be a lot easy if we can make a decision based on sound judgement.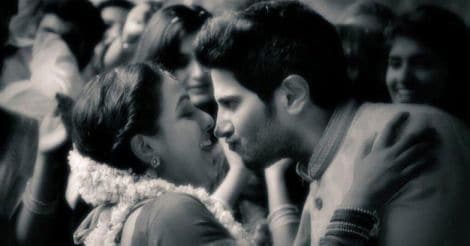 Nithya with Dulquer in 'OK Kanmani'
As a singer
I liked to sing even when I was a one-year-old. Even in the early years my singing was phonetically correct. Now whenever I go to attend a function, they make it a point to make me sing at least one song. During the audio release of OK Bangaram, I sang before A.R. Rahman sir.
Not Menon but Menen
My parents do not like to attach caste name to their names. To lengthen my name to get a passport, I myself added the suffix Menen with all the numerological permutations I know. It is Nithya Menen.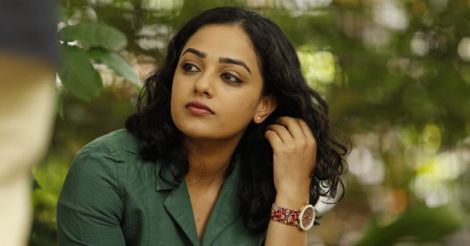 Nithya Menon's career in the Malayalam film industry is not something that defines her
The role papa and mamma enjoyed most in my recent films— Ganga (Kanchana 2)
My favourite film— Malli Malli (Telugu)
The actor along with whom I want to act— Vikram
Something I don't want to change— My curly hair. It is my natural hair style
Malayalam, Telugu, Tamil, Kannada— Comfortable in all four languages. Can speak these four languages.
Difficult character to play— The role in Kanchana. I needed to strain emotionally and physically.