'Prabhuvinte Makkal' was released in 2012. The movie did not make any impact. The theme of the movie was godmen, superstitions and blind customs. The story is about the return of a man who left his hometown as a child for Himalayas 40 years ago and what he sees back home.
If the theme of the movie sounds similar to Bollywood blockbuster 'PK', that is in the Rs 600 crore club, it is not a coincidence. Despite having a stronger storyline and a better theme than 'PK', 'Prabhuvinte Makkal' failed at the box office. Director Sajeevan Anthikkad talks about PK and the failure of his movie 'Prabhuvinte Makkal'.
In Malayalam, cinema there have been a lot of movies made on the theme of godmen. 'God for Sale', 'Bhakta janangalude Shraddhakku' and your own movie 'Prabhuvinte Makkal' are examples. How do you see the failure of these movies and the success of PK.
Biju Janardhanan's 'God For Sale' had a hero with star value. The movie was marketed also very well. Still it failed and it means that the audience perhaps did not like the theme of the movie.
In Priyanandanan's 'Bhaktha Janangalude Sraddhakku', Kavya Madhavan was the heroine. But its hero Irshad was a new comer. Audiences were not familiar with him.
One of the reasons for the failure of my movie is the lack of proper marketing. Actors were also new. The audience must have felt that the theme was old. Further the movie was not screened in many theatres. It attracted a few movie buffs in Thrissur and Ernakulam.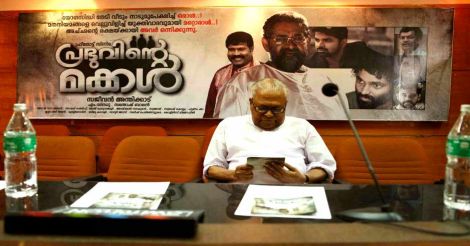 Audio release of Prabhuvinte Makkal by VS Achuthanandan at Trivandrum Press Club. File photo: Facebook
The theme of my movie and 'PK' are similar. But 'PK' is a big budget movie starring Aamir Khan. In my movie we did not even have the budget to show a huge crowd gathering in front of the god man. Further, PK is an alien and he does not have any religion or caste. When the story was shown from the alien's perspective with a generous dose of humour, audience loved it. The hero of my movie was a Hindu and when the story was told through him, it created issues of religion and caste.
Have you wished that movies like PK are produced in Malayalam?
If 'PK' was directed by a Malayali director, it could have been better. But our industry is small and there is a language barrier. The maximum cost of producing a Malayalam movie would be around Rs 6 crore whereas a single shot in 'PK' would have cost that much. The movie that raked in most collection in the Malayalam movie industry was 'Bangalore Days' and it earned only Rs 25-30 crore.
Moreover, our actors will not be ready to portray such an experimental role. They will say that you are a new comer and we would have given it a try had it been directed by someone like Ranjith. There is no such issue in Tamil movies. Stars in Tamil movie industry are open to new ideas and directors.
Did Prabhuvinte Makkal face such challenges?
I narrated the story to a lot of new actors but none of them were willing to portray the role. The only actor who was ready for the role was Prithviraj. He told me that if he was given some time he was ready to do the movie. But then, I could not have waited that long.
If Prabhuvinte Makkal was released after PK, do you think its fate would have been different?
If it was after 'PK', more people would have noticed my movie. I could have also learnt a lot from 'PK'. After 'PK' was released, more than 3,000 people saw my movie on YouTube. So yes, 'PK' has helped 'Prabhuvinte Makkal'.
What is your message to the audience?
In our land, there are directors who are more talented than Rajkumar Hirani. Adoor Gopalakrishnan is one such director. But how many people watch his movies. If the movie is artistic then audience don't even bother to watch it. But the way of storytelling has changed in Malayalam movies. Last year, several debutant directors were successful and that proves this statement. I have only one thing to tell the audience – Watch the movie and reject if it is not good. But don't reject it without watching it.