Apart from raking up controversy the Rajkumar Hirani– Aamir Khan collaborative offering 'PK' is fast leaping towards stupendous success. Malayalis too have cause for elation as far as the movie that lampoons the beliefs among societies in India is concerned.
Reason is that a Malayali is literally behind the scene of 'PK'. Malayali cinematographer C.K. Muraleedharan shares the tidings of 'PK' that continues to create a storm with controversies and successes.
Third film with Rajkumar Hirani, second film with Aamir Khan…. How well did this familiarity help when it came to 'PK'?
My relationship with Raju started at Poona Film Institute. We were together there. Apart from cinema we had done several programs and ad films together. This relationship led to our coming together in films like 'Lage Raho Munnabhai', 'Three Idiots' and 'PK'. Raju is someone who directs with precise planning. He prepares detailed screenplay and storyboard before commencement of shooting. I was given PK's screenplay to read as early as in 2012.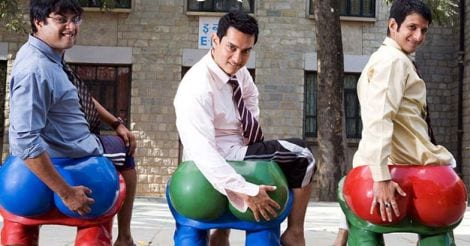 A still from the movie '3 Idiots'
Following this the script was modified to incorporate needed changes as per my suggestions before shooting began. 'PK' is the result of effort lasting two years. It is common practice to carry out a rehearsal before actual shooting. This enables each actor to understand the technical aspects like camera position, camera movement in each scene, etc. This has helped in bringing out natural acting.
'PK' is the second film with Aamir. A simple man sans celebrity showoffs– that would be a good description for Aamir. Aamir works at the rate of one movie per year. For that very reason he is not busy. His presence is conspicuous in every stage of the movie. Aamir is one actor who puts in the maximum effort that is possibly required for a movie. He arrives in time on the set and does not leave whenever he likes. Therefore he is able to do utmost sincerity to the movie he is acting in.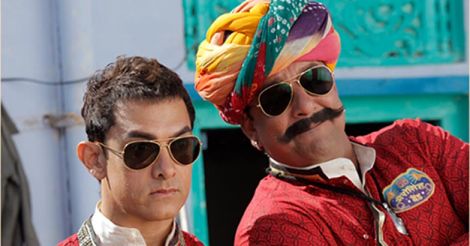 A still from the movie
How do you assess Aamir's performance in PK?
PK is indeed an alien creature. PK is a non-human human landing on earth from another planet. The movie progresses through PK's doubts. It was predetermined that PK will not be portrayed as superhuman even though he is an alien. What set him apart from others are his large ears and bulbous eyes. PK's main highlight is his perennially open eye. Aamir never once blinked during those scenes.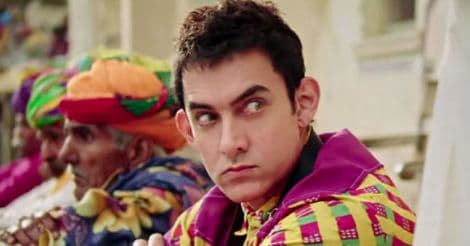 Aamir Khan in the movie 'PK'
Even his crying is without batting an eyelid. It was a very strenuous act. When the Rajasthan scenes were being shot, his eyes often reddened by the dust and grew swollen. Equally special is Aamir's walk. PK walks and runs without moving his arms. PK's movements remind one of a Robot's. If all these are brought out effectively it is certainly a tribute to the genius of the actor in Aamir.
Were PK's posters a part of doing justice to the character of Aamir? How were they shot?
Aamir Khan is someone who is even willing to change this figure in order to become a character. A scene in PK became the poster. The response this poster evinced became inspiration for other posters. The scene is where PK descends to earth. This scene lasting five to ten minutes was shot over three days.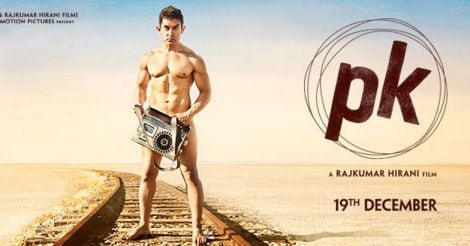 Poster of the movie
It was arduous setting up lighting equipment and shooting in the barren Rajasthan desert. This scene was shot by arranging the lighting according to the east-west movement of the sun. This was an indispensible scene in the movie essential for the character. PK is a simple movie without complexities. Therefore the other scenes could be effortlessly shot. The song scenes in the film were shot in Europe.
When is CK coming to Malayalam?
It is always a dream to do a cinema in one's own language, Malayalam. I am someone who grew up on the movies of Padmarajan, Bharathan and I.V. Sasi. I catch up on new Malayalam movies as well. I get several offers from Malayalam. But Bollywood is unlike our industry. There they take a lot of time to make a movie. I was part of PK since 2012. As I am not able to do another movie while I am on a particular movie, I get delayed in coming to Malayalam.
PK is making Indian movie history. What do you have to say about the controversies surrounding PK?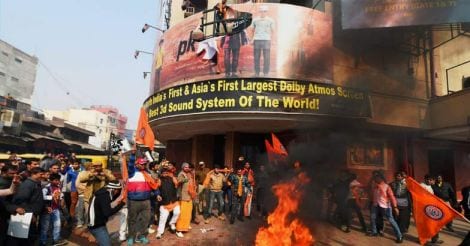 Right wing activists protesting against Aamir Khan starrer 'PK' burn the film's posters outside a movie theatre, in New Delhi on Tuesday. Photo: PTI
Those who kick up controversy against the movie are those who have not seen the movie. Those who have seen PK will understand what idea the cinema is imparting. PK does not question just one religion. The queries posed by the PK character are applicable to believers of all religions. PK is a light movie shot without any complexities. The movie is a reminder that it is high time we revisited the beliefs we have clung to for several decades.