Seven months ago, when Vanitha interviewed her, Priya Mani was reluctant to answer the questions on her love life. "Some things are very personal. I will disclose it at the right time," she said. To the question whether her lover has any connections with Celebrity Cricket League, the answer was a simple 'Yes'. She didn't respond to even when gossip columns were filled with her stealthy love affair and wedding rumours.
After a while, Priya herself ended the speculations stating that "I have been in love for the past four years. We want to get married. Musthafa Raj, who is the owner of an event company in Mumbai, is my would be."
Here is the beautiful and talented Priya Mani and her beau Musthafa Raj talking to Manorama for the first time after disclosing their love affair to the world.
How did you both meet?
Priya: Actually we met through Celebrity Cricket League. Actress Sridevi's husband and Bollywood producer Bonney Kapoor is a very good friend of Musthafa. The match between Karnataka and Bengal was going on that day and the venue was Bangalore.
Musthafa was a fan of Bengal Team and I was the ambassador of CCL. Bengal team failed. We met, introduced ourselves and left. Nothing special happened that day. The next venue was in Kerala and we met again. That day while leaving, Musthafa asked my mobile number. Initially, we talked through messages once in a while but slowly, it became an everyday affair. Gradually, we became friends.
Musthafa: When we first met, I found Priya as a very simple girl, a person without any show-offs. You wouldn't think that she is a film star. I know her for four years now and she hasn't changed a bit. She is still the same – a very well behaved and attractive person. She can be a child and a matured person at the same time.
Is Musthafa related to film industry anyway?
Musthafa: Not exactly. I don't have a film background nor do I have a commendable relationship with anyone in the industry. I did my graduation from New York Film Academy and later, I did some short films on socially relevant issues. Recently, I directed a Hindi movie titled Switch and the post production works of the movie are going on. Also, I am the owner of an event company in Mumbai.
Priya: The film, which is an action thriller, has new comers in the title roles. As it was an action oriented movie, he didn't even consider me for playing a role.
How do you evaluate each other's character?
Musthafa: Priya is very simple, down-to-earth and loving. The only thing I don't like about her is that she trusts everyone's words without thinking. If you ask me about the most fascinating and respectable element in her character, I would say that I like the way she allows me to be who I am. I am kind of a boring person, you can say; a teetotaller and a non smoker! In spite of being a celebrity, she never asked me to attend the parties and to have drinks. That's something I really like about her. She never interferes in other people's personal space.
Priya: Musthafa is a very caring person. He too has considerations for other people's feelings. But he is not that kind of a person who flatters people for his advantages. He is genuine and straight forward. If he doesn't like anything, he will tell it right away. I am happy that I can share anything with him. Also I resort to his advice when I need any. I found my best friend in him.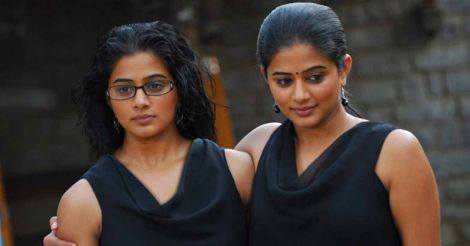 A still from 'Charulatha'
What are the most cherished moments in the last four years?
Priya: (laughs) There is nothing that special. Sometimes, we will have petty fights and I won't talk to him for a while. Then he will try to do something naughty to cheer me up. Usually I don't get many gifts and such stuffs. Musthafa is the first person in my life who does such lovely things for me. Everyone loves to be cared and pampered, right? I too like it and I am very happy that he does such things. In fact, I am thoroughly enjoying it.
Musthafa: We are two persons with different tastes. Hence, understanding each other was a gradual process for us. The only similarity between us is that both of us like cinema. So we get DVDs and watch movies sitting at home. I am not saying that we don't travel together at all, but most of the time, especially in South India, there are restrictions for travelling as there is the issue of privacy.
Priya: Musthafa comes from Mumbai to Cochin just to see me and dine together and that too for two or three hours. This has happened even between the shooting of D for dance.
Musthafa: I like Priya's reaction when she sees me unexpectedly. That's kind of cute.
What is the most favourite gift?
Musthafa: Priya likes surprises a lot and I like to surprise her with gifts.
Priya: Whatever I say, he won't give up on this habit of gifting. The first gift was a Tweety doll and a music CD. But the truth is that I haven't even opened the CD packet yet. That's one of the common reasons for our petty fights. When he buys me something new, he will ask about the CD, whether I have opened it or not. Generally, I am not that good in buying gifts. I think my first gift to him was a blue jacket.
How does Musthafa evaluate Priya Mani's movies?
Musthafa: I had seen Paruthiveeran before meeting Priya and I saw it once again after falling in love with her. Her performance in the movie Thirakadha was really amazing. I liked her dance performance in the movie 'Ravan'. I think, I have become a fan of her.
Priya: Come on, that's not true. Yes, he encourages me a lot. At the same time, he doesn't have any hesitation to criticise me too. He really liked the double role I played in the movie Charulatha. He calls me and tells his opinion whenever he sees a movie of mine.
Musthafa: Most of the movies I have seen are dubbed versions of her movies; dubbed to Hindi from other languages. The first time my father saw Priya was in a Kannada movie called Golimar and my mother saw her in Chennai Express. My mother was not aware of Priya's stardom till then. She really likes her would-be daughter in law now.
Priya: Musthafa's family members are very simple. His dad is Ismail Raj and mom is Sara, the former from Indore and the latter from Mumbai. At the moment, both are in United States, with Musthafa's younger brother Hussain. He is running a business of his own over there. He has got a sister too and she is happily married.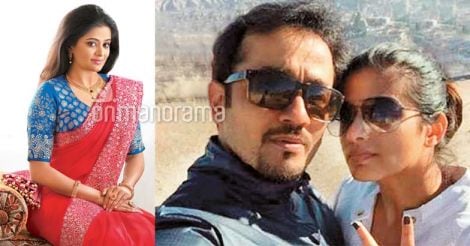 'I revealed the feelings first', says Priya
Who revealed the feelings first?
Priya: I did... I messaged him that I love him.
Musthafa: For me, it was unbelievable. At first, I thought it is a joke. I was sceptical that whether an actress would take love life and marriage seriously.
Priya: Actually he took many weeks to believe my words.
What was family's response when you disclosed about the relationship?
Priya: My dad has started asking me about my matrimonial interests after my brother's marriage. I am very close to my father and I talked to him first about this relationship. I think it was in 2011; on my birthday, I told my father that I am in love but I haven't decided anything about tying the knots yet. I thought I should give some time for the relationship. His response was amazing. He told me I can decide whatever I want.
Musthafa: There were no issues in my family as well. Priya came home twice. She talked to my parents and had a meal with them. I met Priya's father and he happily welcomed the relationship. Everything went well for us.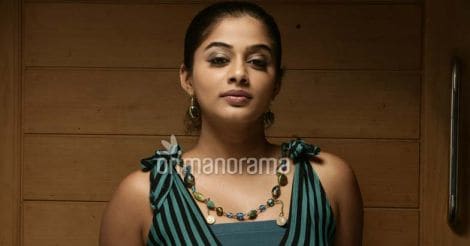 Priya Mani
There was a gossip that Priya is in love with a young anchor?
Priya: Usually I don't really care about gossips. I totally ignore it, that's my way of handling it. If we start going behind gossips, people start noticing it. Otherwise, the fire gets extinguished in three days. But I immediately responded to this. Musthafa was a bit upset in the beginning; he didn't know South Indian film industry very well. There are differences in North and South film industries, you know.
What about marriage plans?
Musthafa: Definitely not this year. We prefer a simple marriage with very close friends and relatives.
Priya: I am not against ostentatious marriages. For us Indians, marriage is a once in a life time event, right? Sometimes, I even picture myself wearing a beautiful saree on my wedding day. The truth is that I am not very comfortable with saree as a casual wear, but Musthafa likes to see me in Saree.
How about your culinary skills? Have you started entering the kitchen?
Priya: Yes I do. I enter the kitchen just to check what is cooked and kept there already, not to cook!!! To be frank, I don't know anything about cooking.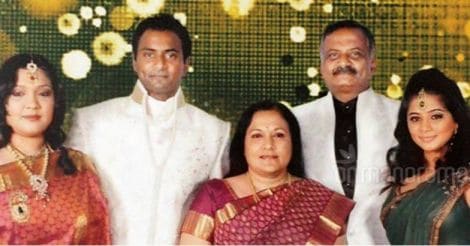 Priya Mani with her family
Musthafa: That's not completely true. She makes good coffee. I had it once, it was tasty.
Priya: Once he came to my flat and I made coffee for him. That's what he is talking about. Musthafa's mother is a very good cook. She makes delicious Chicken Biriyani.
Is there any reason for delaying marriage?
Priya: Well, yes!!! According to my horoscope, it is good to delay marriage now. Astrologers say that my best time is yet to come, after marriage; it could either be in real life or reel life.
Can we expect a movie of Priya in Musthafa's direction?
Musthafa: If Priya has time and interest, of course, it could happen. I consider it as my luck to work together with her. But, we can't say anything now; hopefully it will happen in the near future.
(Priya Mani is one among the judging panel of Mazhavil Manorama's dance reality show 'D4 Dance.')