Playback singers in Indian film industry always dream of a call from the office of A.R. Rahman, the Mozart of Madras. And if the call is to make your debut, nothing better than that.
Naresh Iyer is one singer who was fortunate enough to pick up such a call from the composer's office with an invite to make his debut as a singer for 'Anbe Aruyire', a Tamil film directed by S.J. Surya.
That association with A.R.Rahman later catapulted Naresh to national spotlight. He won the national award for the song 'Roobaroo' from 'Rang de Basanti'.
As Naresh's musical journey completes a decade, Manorama Online catches up with the singer who has rendered his voice for more than 100 songs in different Indian languages including Malayalam.
Excerpts from a candid chat:
Tell us about your experience in Malayalam film industry?
I got the first opportunity in Malayalam from George Peter who was known to a friend of mine. The song was for the film titled as 'Heart Beats'. Then I got an offer from music director Gopi Sundar for the song 'Kanninima neele' for the film 'Anwar'. I have sung for Deepak Dev in 'Tournament' and Jonathan for the film 'Chewing gum'. My latest release in Malayalam was for the film 'Last Supper'.
What is the difference you spot in Malayalam compared with other film industries like Bollywood?
The recording, arrangement, technology etc. are same. For me, Malayalam language is difficult to grasp. The difference is I find it more comfortable singing in other languages like Tamil or Hindi. Though I learnt to read and write in Malayalam when I was a child, I am not much conversant in the language. I understand Malayalam, but I am afraid of the pronunciation and usage of the words. However, I have improved my skills in the language.
You belong to the A.R. Rahman school of music. What is your experience with him?
I was blessed to begin my career with A.R. Rahman. He is not prejudiced while giving songs to singers. He always tries to use a singer for different genres of music. He exposed me to become a versatile singer. For example, the songs he had given to me in the film 'Rang de Basanti' were from different genres. One song of the Tamil film 'Varalaaru' was a semi-classical one and the other one was a 'kuthu' song. This type of exposure is the best lesson I learned from his school.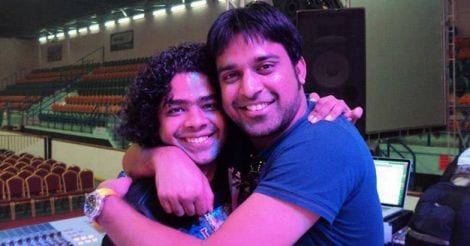 Naresh Iyer with Stephen Devassy.
You are a product of a reality show. Many of the toppers in the reality shows fail to repeat the success in films. What is your opinion?
In reality shows, the singers replicate some songs that have already been composed. But when you get an offer to sing a song for a film, you are also given an opportunity to add your own contributions. If a singer can consistently perform, he can excel.
What do you like to do apart from singing?
I play cricket. I also enjoy travelling.
About your family
My family consists of my father Sankar Narayan, mother Radha and a younger sister Nisha. My mother hails from Kerala. She belongs to an Iyer family in Palakkad. However, we are settled in Mumbai now. I must say the family is the biggest source of inspiration and encouragement for me.
Any plans to get married soon?
Right now my parents are looking for a suitable alliance for my younger sister. After that, they may start seeking proposals for me by next year or after that. I am not sure now.