On romance
Whenever I am alone, or listening to a melodious song, or reading a beautiful poem or lines in a book that tempt the heart, I feel the absence of someone. In all the most beautiful moments in my life, I long for someone. When two people enjoy a thing together, there is ultimate happiness. This is what I think is the most romantic thing: enjoy one thing together in the same way at the same time! That could be sex or listening to a song or going on a trip. It is not necessary that the two should include a man and a woman. Just two beings, just two minds will do.
In the relationship between a man and a woman, their union generates a lot of happiness. That's not just physical, but it is the awareness of two personalities and the beauty of the union of two minds. What I said was about the happiness of two people enjoying the same thing together with the same mind. When I experience something beautiful alone, if there is no one with me, I do not experience complete joy. Just because of that, I have no solitary journeys. Like, if I read a good book, the first thing I do is to share that joy with someone very close and make them read it as soon as possible. I cannot say that it is just one person. In each situation, it could be a different person. My romantic concepts are never solitary. I always desire to have someone with me.
Romance is very individualistic. There is no common measure of it. The sight that we like, the music, the book, the subject, the person... there are unending number of things on this earth that can be mentioned separately. One's romance is towards all these things. The place that I love need not be liked by another person. Another person may have differences about our likes. Romantic moments and romantic mood can be disrupted any moment. The sight of earth during a flight is a very romantic experience. But, if the flight is a very disturbed one, we will not like the beauty of that sight. Haste and commotion will kill that beauty. It means that the moments that we say are romantic could be disrupted at any time.
That state is not permanent. Haste, commotion, bad traffic... I do not have the courage as a person to enjoy the beauty of a view outside by forgetting these things. It is like this in the case of relationships, reading books and seeing movies. A romantic experience could be disrupted at any time. But, it might be this disruption, this loss that makes it so beautiful.
I have not got that much beauty in my love as much as I had in my writings. In cinema, I have written so many romantic moments. In the love scenes in my cinema, maybe there could be much more exaggeration than what I experienced in life. But, the material could be from our life itself. When we write, don't we go to the dream world and exaggerate? Personally, I have not been loved so intensely. I think I have not got the kind of intensity and beauty in my love as much as I have written. When we live in a society like ours, when another person intrudes into our privacy... aren't those things problems? It can be said that, maybe we have not experienced the freedom of romance. It is the situation when we live in a conservative society like ours.
When we travel outside India, we will not see so much hypocrisy there. Our society is only slowly coming to the mental state to accept the love between two people and to think that they are not engaged in terrorism and are only in love. If you ask about the most romantic scene I have written, I think I am yet to write that scene.
On his best love story
I have written many cinema scripts about romance in the relationship between a man and a woman. Among them, the one love which I feel is in a different dimension is from the movie "Mayamayooram". It's about a man coming close to a woman in a very different way, his death before they become one physically... and then the pain of constant conflict the girl experiences when she sees someone who looks like him. That has a stage beyond a mere love story. I think that cinema was intensely romantic.
I like the love in Kaiyoppu. Another one is the love in Devasuram. In that he is not attracted to her physical beauty, but her character. In Devasuram, the woman is bold. I consider that as an example of how weak the man with the macho pride is in reality. The life of Mullassery Raju and Baby was an inspiration for its characters. I have seen their life at close quarters. I have looked at Babychechi in amazement when I saw her giving space to Rajuchettan's old girlfriends when they came to visit him when he was bedridden. It was the firm belief that she would not lose him that way, and the goodness to realise the peace that the person she loves gets in those moments... and the willingness to step aside! The character of Babychechi was so romantic.
On the most romantic couple he has met
Similarly, there is a couple among my friends whom I consider to be romantic, two people who could cause envy in those who get acquainted with them. Not envy, actually joy. For many years I have known Gopiraj of Kozhikode and his wife Dr Shirly. It must be 30-32 years since they got married. It is an amazing chemistry between them. My firm belief is that they have not fought till today. Both have a good sense of humour. They share everything. Both are busy at work. They go for drives in the spare time. Not to distant places, but small trips. Many couples whom I know and are acquainted with say about many problems between them. If not, they all hide many things. Never have I heard Gopi or Shirly talk about any problem between them. Both are very caring. At the same time, there is not even a percentage of artificiality or eagerness to show off. I think sense of humour is the biggest blessing in life: they will face any big thing with a smile. They are the most romantic couple that I have met.
On his concept of woman
What makes me most romantic about a woman? Surely, she must be intelligent. But my concept includes physical beauty too. I have heard people say that they loved her beautiful mind. But my romantic concept is physical too. The colours she dons, the fragrance she wears. And most important is the way she interacts with others. Not to me or to my friends or to people of her stature, but the way she behaves with those below her, like the driver, the helper and the lift operator. If there is a bit of arrogance anywhere in that behaviour, at that moment, the liking in my mind will be lost forever. My romantic concept about women is like a bouquet that includes intelligence, beauty, nice behaviour and a sense of humour. A bouquet is made of many flowers, and that is when it becomes most beautiful.
On the romance of travel & the place to run away
Travels create a romance in us. I embark on each journey with the hope that something invisible is awaiting me. But, I do not have to go to the seashore or a hill station to become romantic. Even this room itself can become romantic at times with the presence of someone I like the most. The place that has enticed me the most in my journeys is Paris. A flavour of romance has spread throughout that city in a way not seen in any other European city, in people on the streets, in restaurants and in bars! The place in Kerala which evokes such a feeling now is Wayanad. I have a farmhouse there. I have built a house in the middle of a coffee estate. That is the place where I now like to escape to amid all other work.
On first love
I have written in Thirakkatha that, in reality, there is only one woman in every man's life. Then he will be looking for the girl who was his first love. A man will continue to look for the girl he loved first. Later, he might see some similarities in many others. But, he will never be able to meet her fully. I first fell in love when I was in class 10. She was a classmate and a good student. Never have I told her that I liked her. Though I was lazy, I made it a habit to attend classes regularly just to see her. Then, Salil Chowdhury's song could be heard on radio while going to school in the morning. My trips to school were on that energy. After returning home, I used to listen to Salil Chowdhury's songs on the radio at night. I have never again experienced the intensity and pain of that love. Even now when I hear Salil Chowdhury's songs, I regain that face somewhere in the distance.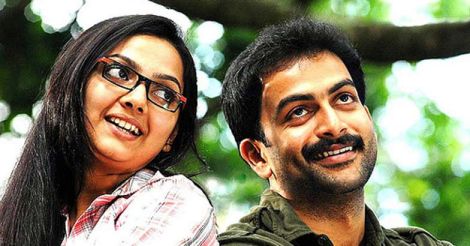 Samvrutha and Prithviraj in the movie, "Thirakatha". File photo
On the most romantic face
If you ask about the face I loved the most till now, then it is the face of Madhavikutty in her early days. That face with curly hair and bright eyes. I have not seen in any other face so much love, sex and passion. Once I had told her this directly.
I have gone to her house when she was living in Thiruvananthapuram. I was 25 then. It was to prepare the script to make her story (Driksakshi) into a telefilm on Doordarshan. Then I told her this. I reminded her that she was so beautiful in that old photo.
Many people have said that they like that photo, she said with a smile. I will call you only Amy. I won't call you Amychechi. Even when I said that she just smiled.
You call me Amy. You are good looking. Why don't you act in movies? She asked.
When I say I loved that face, it was the face of an intelligent and imaginative writer. If I had seen that face in a photo studio, I would have never felt that kind of love.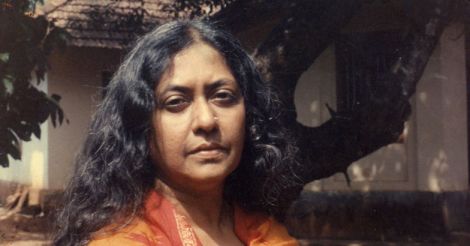 Kamala Surayya aka Madhavikutty. File photo
Romantic movies:
The French Lieutenant's Woman (English) Falling in Love (English) The Lunchbox (Hindi) Chamaram (Malayalam)
Romantic destination: Paris
Romantic writer: Gabriel García Márquez