Shaji Kailas is a director who boosted up the quantum of adrenalin flowing in generation's veins through his own movies. It was Shaji Kailas's films that catapulted Mammootty and Mohanlal to the fulfillment of the star image. But in the new generation wave of Malayalam, audiences cast aside Shaji Kailas's films.
The director who created back- to-back hits was staying away from Malayalam cinema for the past year. Intermission over, Shaji is all set to return. Shaji bring along his entire team of yore in his second coming with a powerful movie that is certain to rock the theatres.
Mohanlal, Ranjith, Renji Panicker, Antony Perumbavoor… and most probably Mammootty too. What more does the Malayali need to celebrate? Shaji Kailas opens up.
Where were you all this while?
I was very much here. I had taken a conscious break from Malayalam. I was deciding that I would do a cinema only if a script that challenged Shaji Kailas the director came along. Heavyweight films are my style. Writers suited to it are required. Ranjith and Renji Panicker who wrote such stories for me went on to become directors. I could not find successors to them either.
If that is so, is not stepping aside the right thing to do? I finished my fifth film in Tamil. It is named 'En Vazhi Thani Vazhi'. It is the tale of an encounter specialist. Mixing is over. The release will happen soon.
Many movies flopped in between.
I do all movies with the expectation that they will succeed. But the result will not be favourable every time. 'King and Commissioner' was a painstakingly done movie. But its subject was Delhi politics. That was not something that Malayalis could get a handle on. They did not like it. Renji and I still say that had Kerala politics been the subject of that movie instead of Delhi politics it would have been a megahit.
It is the era of new generation cinema in Malayalam?
Is it? I have not felt so. Good movies have run well at all times. The newly released 'Vellimoonga' is not a new generation film. But it is a huge hit. Therefore it is not generation but whether the movie entertains or not that the audience looks for.
Has not audience sensibilities changed?
I do not think so. It has been 16 years since the release of the film 'Aram Thampuran'. Even now it is one of the movies with the highest rating in Malayalam television history. Even last week it was shown on TV. A generation gave way to the next one. They still enjoy that movie. Have you not seen youngsters scrambling for tickets at morning 4 am and 5 am on the day of release of the Tamil films of Soorya and Vijay?
Vijay's and Soorya's films are, as I earlier said, heavyweight ones. Many are the moviegoers who wish to see such movies being made in Malayalam. When I go to Chalai market to buy vegetables, my vendor friends always ask me, when are you doing a Aezham Thampuran with Lalettan?
Many Shaji Kailas films are premonitory, including 'Baba Kalyani' and 'King and Commissioner'.
It is not because these are taken in the manner of premonitions. It could be happening also because they closely observe the political and social milieu around us. It was after 'Baba Kalyani' released that smuggling of arms in container and other news came out. In 'King and Commissioner' the National Security Advisor's corruption and wayward dealings is the subject.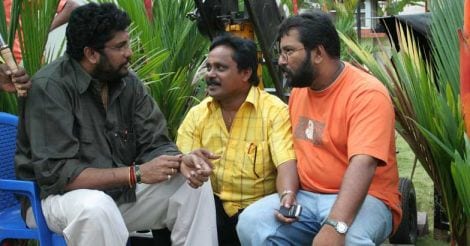 Shaji Kailas on the sets. Photo: Manorama
Two years after the film the CBI questioned the Chief Advisor on a corruption charge.
Truth be told, there are still moviegoers who inform me about such injustices and crimes happening in society. Two weeks back I got an SMS about possession of fake currency. I did not inform the police as I was not sure of the authenticity of the source.
Just days later, news came that AIA has reported that 600 crores fake currency has reached Kerala.
Will there be thunder in the second coming?
It was quite unexpectedly that Ranjith and Renji Panicker called me. Is it enough the way things are, do we not have to give it a shot, was the question.
Both of them were together calling me with a thrilling story. There are two heroes in the story who fit the bill of my hero image. I got excited on hearing the story. By then Antony Perumbavoor arrived. I must be the one who has done most films for Aashirvad Cinemas. When Lal was contacted he was raring to go.
Renji and Ranjith opined that it will be grand indeed if Mammootty also pitched in. Antony Perumpavoor also complied. Now we are waiting for Mammootty's date.
With Suresh Gopi
B. Unnikrishnan has prepared the story of the movie to be done with Suresh. That movie will begin soon after Aashirvad's film is done.
Family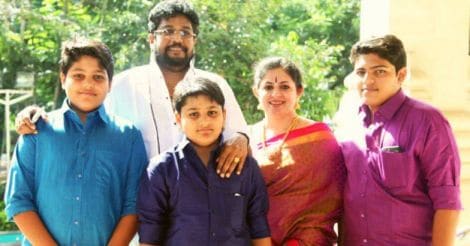 Shaji Kailas with family. Photo: Facebook/shajikailas
Annie carries on with the catering business. Jagan studies for Plus Two, Sharon is in the seventh and Rooshin in fifth. I was able to spend a lot of time with the family, removed from the bustle of cinema. All are doing great.