It just took him one song to dwell in the minds of Malayalis. We thought he vanished after that but singer Devanand says he was very much here.
The talented vocalist's latest song 'Ummarathe chempakathe chutti vanna thatha' in Dileep-starrer Ivan Maryadaraman is already in the loop in the playlist of many Malayalam film music lovers and he hopes that this song changes an 'unfortunate tradition' he faced throughout his career.
May be it is the magical combination of Dileep and Devanand that works wonders. When a Devanand number is featured in Dileep's movie, the song and the movie go on to become hits among Malayalis.
Karimizhikuruvi (Meesamadhavan), Thottorummi irikkan (Rasikan), Ariyathe Ishtamayi (Pandipada), Kaadirangi Oodivarumoru (C.I.D Moosa), Kannin Vaathil Charathe (Mulla) are testimonials to this. Here, Devanand speaks to Manoramaonline about his songs and career.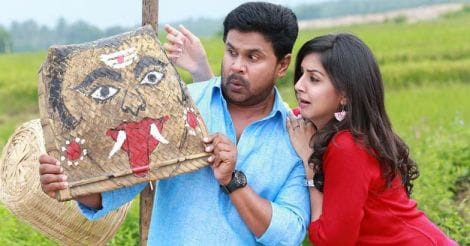 A still from the movie 'Ivan Maryadaraman'
Where were you all this while?
I was here. I have always sung for movies, and lovely songs still come in search of me. Unfortunately, either the songs that I sing do not appear in films or the film itself does not release. Then I thought I shall talk about my songs only after the film releases.
It was the song Karimizhukiruvi then, and now it is Thatha
I would always tell that the song Karimizhukuruvi was truly lucky for me. When Vidyasagar told me that it was my song and gave it to me, I never thought it would become a super hit. Now I am known as the singer of Karimizhikuruvi. Composer Gopi Sundar gave me the song 'thatha' and said that it is mine. It is a hit now and it feels great to know that people have accepted this song as well.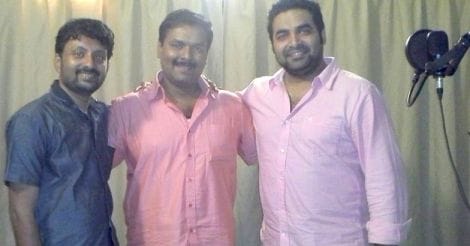 Devanand (C) with Gopi Sundar. Photo: Facebook
How did the song Thatha happen?
I have known Gopi Sundar for the past 15 years. We used to meet often in Chennai as part of our work. After becoming a music director, whenever we meet, Gopi used to tell me, "I will only give you a song that will work out well for you", and I always tell him that is enough. Two months ago, I met Dileep unexpectedly and he said, "Me and Gopi just spoke about you yesterday. There is a song in Ivan Maryadaraman for you." Gopi called me that day itself and I was onboard.
Tell us about Dileep-Devanand chemistry
I have sung for Dileep's hit movies including 'Meesamadhavan', 'Rasikan', 'Pandipada', 'C.I.D Moosa', 'Mulla'. Once, Dileep himself had told me that his voice blends quite well with mine. I have also felt that my voice goes in sync with certain mannerisms of Dileep. Maybe it is that same laughter, shyness, and naughtiness that reflects in my voice. I hope Dileep does not hear that! (Laughs). Those same mannerisms are evident in the song from 'Maryadaraman' as well. Anyways, the song is a hit. I hope the movie also becomes a hit. I'am praying!