Kottayam: It's a fresh earth where no one else has ever tread before. The Sopanam Ensemble, a band led by singer Vakkiyil Shreekumar, makes a rare incursion to the land of Vedic folk songs. He gives a new dimension to fusion music blending Sopana Sangeetham, a traditional music form in South India, with Hindustani and Carnatic styles along with modern orchestration.
Shreekumar, the Anuragavilochanaayi-fame, gave shape to his band after being inspired by his father, Sadanam Rajagopalan, a renowned Kathakali vocalist. Emotion is the main forte of Sopana Sangeetham, be it bhakthi, viraha, love, might or any other myriad human feelings. It is this aspect, which Sopanam Ensemble resorted to with great profundity and vigour.
In an exclusive interview to Onmanorama, Shreekumar speaks about the basic features of his band and the factors which inspired him to follow a path which is totally unknown.
On Sopana sangeetham
Sopana Sangeetham is basically the devotional rendition conducted by a vocalist at sopana the place just outside the sanctum sanctorum while the priest is performing puja inside. Deeply rooted in the culture and history of Kerala dating back to times immemorial it used to be part of musical performance in king's courts as well.
Meanwhile, in temples the puja of a deity inside the shrine is considered to be complete only when there is Sopana Sangeetham rendered just outside simultaneously. It is a classical steam with deep emotional overtones drawing heavily from Ashtapathi, Jaidev's Gita Govindam, Krishnanaattam kritis and so on. It's a style of music whereby vocal renditions are provided to traditional art forms of Kerala like Kathakali, Mohiniyattam, Krishnanattam, among others.
How it all occurred
A thoughtful singer that Shreekumar is he always wanted to offer something special to the world of music. He fondled several ideas coming upon the genre of Sopana Sangeetham. An invitation to perform along with his father was a fillip. The success of the show led him to introspection – why not Kadhakali Padangal, something he was born into and grown up with be made a platform for his musical experimentation and share with the world its marvels. It was this reflection that gave shape to the band and within months it was in full swing.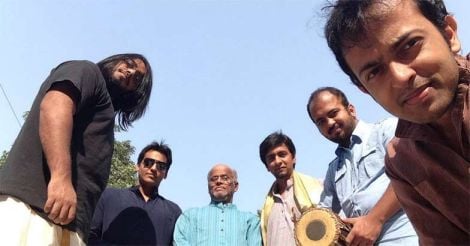 (From left) Sonic Shori, Nishant Parashar, Sadanam Rajagopalan, Anil Chawla, Shrehans Khurana and Vakkiyil Shreekumar.
The way the Vedic fusion works
"The Sopanam songs are mostly packed in rigid pattern and there isn't much scope to make deviations. So I fused it with different styles of music." Shreekumar said, "For example the track 'Achuthanada...' a song in praise of Lord Krishna supposedly sung by sages during their journey is composed in the raag Sourashtra and sung in the original pattern. I fused it with a Hindustani bandish in raag Ahir Bhairav accompanied by a bit of jazz and rock elements in instrumental orchestration along with Indian instruments to make it as soulful and captivating as possible. "
ACHUTHANANDA
An ancient Kriti in a rare Carnatic Ragam Saurashtram, fused with Hindustani Raag Ahir Bhairav.
The Sopanam songs are not just copied from the original verses but they are re-created, Shreekumar claims. Certain tracks thus need to be re-visited and polished since "I wanted to inculcate more music," Shreekumar said. There is a limitation in Kathakali music but at the same time there is a story behind each song and that is the reason why Shreekumar has resorted to it with elan.
"For example in 'enthiha' taken from Karnaspadham Kathakalipadangal we focused on the Karna's thoughts on who his parents are, elaborated on that emotion. Again in Sa Virahe, an Ashttapathi song on reproaches between Radha and Krishna. We added a bandish imagining Krishna trying to persuade Radha, who is all the while resisting to fall for Krishna's entreaties, Shreekumar said.
ANURAGA VILOCHNANAYI
One of the super hit songs from the film Neelathamara.
So it's the emotion in the story that strikes a chord with the listeners. We all experience these emotions, whether it is the helplessness of Karnan, the pain of love Krishna and Radha experience, the piousness of the wandering sages in Achuthananda even the over the top feeling we find in the padangal on Ravana, Shreekumar said.
The reception
The Vedic folk fusion has been well received and what inspired the audience was the novel strain of deep emotions the ethereal music evoked. "We have conducted several programmes and all were received with equal veneration," Shreekumar said. The introduction and the briefings on the literature of the verses communicate the mood to the audience without losing a bit of its substance. "Presently, the concentration is to reach out to more people." Shreekumar quiped.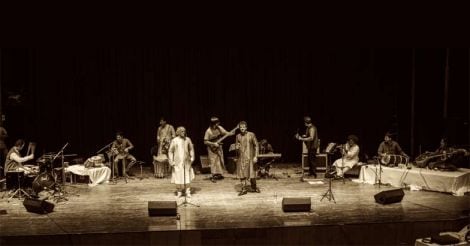 Shreekumar, 'Anuragavilochanaayi' fame, gave shape to his band after being inspired by his father, Sadanam Rajagopalan