Suriya has overcome many setbacks like a failed experiment as a businessman and struggles in his early years as a hero to carve out a niche for himself in the pantheon of Tamil cinema.
Being told that his fans have been queuing up since dawn, braving the rains just to get a glimpse of him, was all it took to give Suriya the jitters and put him in instant 'worry' mode. That is the kind of compassion that he brings to the trade. He was in Kochi to promote his upcoming film Anjaan. The affable stars opens up in this interview.
Follow your heart
Like any other youngster, after completing my graduation, I was confused about what I wanted to get into next. Apart from films, my father (Actor Sivakumar) didn't have any side businesses that I could experiment with either. That is how I got into a garment export business. In two-and-a-half years, I realised this was not for me and the route then naturally led to films. Fate perhaps. It was only much later that my father mentioned the predictions of an astrologer that I would end up as an actor too. If it has to happen then let it, was what they believed and my family didn't give it much thought then.
Tough Times
The first five years was the toughest and I had to learn everything the hard way. More than hero-worship it is the respect that you get as an actor that matters at the end of the day. Like Mammooty and Mohanlal, it is important to contribute something relevant to the industry and to be a part of good, quality cinema. Along with entertainment, there has to be some value that transcends time and generations.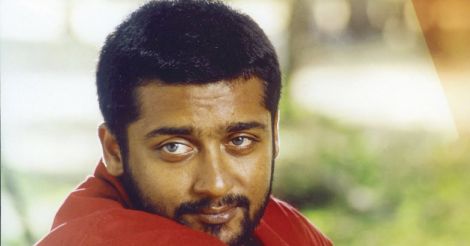 Suriya in 'Nandha'.
About experimental films like 7aum Arivu & Maattrraan not doing well?
I agree both films weren't huge hits and were only average success at the box office, but we should never shy away from taking a different path. Every experiment teaches you something different. Considering the market potential of my films, most of the producers felt it was important to spend huge amounts. The success of Singam gave us the confidence to go for the big-budget (7aum Arivu ) and Udhayanidhi Stalin spent so much and did the shooting in Thailand too. There has to be a good balance of both commercial and experimental films.
Is it a good trend for actors to produce their own films?
It is a wrong notion that other producers are not being given enough opportunities. Majority of the films done by Studio Green (a production company run by Suriya' s cousin) feature my brother Karthi. Most of my films are produced by AGS Entertainment or come under the Red Giant Movies Banner. These producers work with other actors as well. There are equal opportunities for all.
You are tipped to be the next big Tamil super star...
'Super Star' is one title that I can't have. I grew up watching Rajnikanth and I can't imagine another star taking his place as 'Super Star' and certainly not me! You can't even compare my films to the kind done by Kamal Hassan or Rajnikanth. They are a class apart. Vijay and Ajith have already completed 50 films and I have just reached 30. I have good relations with Vijay. He has acted in an Ad film of my Agaram Foundation. He even messages me after seeing the trailers of my films!
Would your Agaram Foundation help students in Kerala?
As I am in Chennai, most of the foundation activities are centred around Chennai. We have a core group of 300 people coordinating all the activities. My dream though is to help everyone. It is a pilot project that we are undertaking currently. The first batch of students will soon be completing their studies. Volunteers under the Agaram Vazhikatikal initiative helps children from poor economic backgrounds who can't afford tuition. Vidhai sponsors the education of the under privileged children, Agaram Learning Centres are also set up in rural, backward areas to compensate for the lack of educational infrastructure. These are the various activities of the foundations and we have around 8,000 volunteers who have registered for these initiatives. I believe that when you provide basic education, everything else will fall into place. If the pilot project is a success, we will adapt the same model to other areas too.
Many Hindi channels are airing dubbed Suriya films. Any plans of foraying into Bollywood?
My hands are already full. A film based on a Tamil background will work in Andhra, Karanataka or Kerala, but not in Bollywood. If it is a subject acceptable to them and one that goes with their sentimentality, then I can do Hindi. In the present scenario, there is no way I can stay away from here for 6 or 12 months.
Will we see Jyothika on screen again?
Jo (Jyothika) has done brilliant roles in films like Pachaikili Muthucharam and Mozhi. If she thinks of a comeback, then it has to be films with challenging roles, and roles with some meaning. She is listening to some scripts and if there is anything that she likes, she will definitely act. And I am not particular that it has to be films with me.
Anjaan is your first film with N. Lingusamy?
We have known each other for quite some time now and we share a relationship that goes back many years. In 2001, he had asked me to do Aanandham with Mammooty but I was busy with Nandha then. When the Sandakozhi offer came up I was working in Ghajini. I guess the right time for us to come together is now.
On brother Karthi?
Unlike me he is a very cool person. I am not always at ease, and easily get disturbed at times. I can watch a film from the viewpoint of the audience only once. But if there is a film he likes, Karthi can even watch it 7 or more times. First for the camera angles, then for the songs and on and on.
On the huge fan following in Kerala?
This makes me extremely happy. There is an old Tamil saying, 'Kadam pattar njencham pol' which means a debtor is anxious till he pays his dues. I am in that stage now, as with love comes responsibility. It is up to me to return the love to my fans and please them by doing good films.
I really like all the films and acting styles of Dulquer, Fahad Faasil & Nivin Pauly. I recently saw Bangalore Days. They were all so natural, like as if there wasn't any camera around. I liked the film very much.
Tailpiece: With the Tamil film industry growing, the lead stars are cruising all around South India with new offers in their kitty. To all those friends that refused to believe Suriya when he said he had landed a role in a film and to those hardship filled days that could not break his spirit, his long list of hits will speak. Friends, Mounam Pesiyadhe, Kakka kakka, Nandha, Pithamagan, Ghajini, Ayan, Varanam Ayiram, Singam, Singam 2, the list goes on.... Saravanan Sivakumar a.k.a Suriya is indeed shining bright.