The Communist Party urges one to pray for a day when other's opinion can be enjoyed like music. It was in those times, when we were waiting for such tolerant times, that TP Chandrasekharan was hacked down by a few goons. The film, 'TP 51', is dedicated to that man and the film depicts his life, says Moidu Thazhathu, director of the film.
Kerala is a land where political violence has claimed a lot of lives. Many more lives could be lost in the games that parties play for one-upmanship. However, it is very rare that a party sponsors a group of people to hack down a person with similar ideologies and commitment to common goals.
I knew TP from a very young age and he was liked by one and all. He was hacked to death by revisionists, who grew mightier than those who are against the ideals of the party. The fascist attack of such people killed TP. I directed the film for the people, says Moidu.
What prompted you to make the film?
TP's murder was one of the goriest political murders that the state has ever seen. The 51 wounds had disfigured the leader so much that his son mistook his legs to be his face. His wife had to place flowers on the dead body because there was no face left for a parting kiss. These are the factors that prompted me to make the film. Ours was a Muslim family that had been voting for the Left for close to 30 years. My mother instructed me not to recommend a vote for the party after the murder. As a media professional, I wanted to convey these feelings to the people and cinema was the best medium to do so.
So I hired a person to write the script, but he ended the job abruptly after he was threatened. The same happened with more script writers, producers and technicians. About 18 prominent actors refused to act as TP. Even the party openly blocked shooting at many places, but I continued with the hope that a democratic community would support me.
Rameshan Vadakara as TP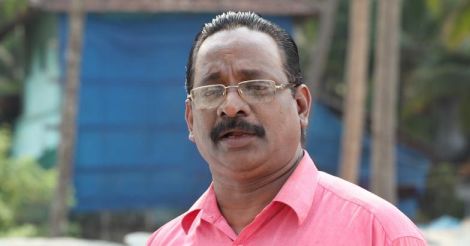 Rameshan Vadakara as TP
Following media reports that the project was being shelved for lack of people to act as TP, a lady called up saying that she had seen a person similar to TP at a store and that his name was Rameshan. I went to meet the person and his mannerisms resembled TP. I coaxed Rameshan to act as TP even though he first refused.
Threats and challenges
I was living in a rented house at Thana in Kannur. For the sole reason that I made the film, I had to move with my kids to Vadakara. I was threatened and so was Rameshan Vadakara. Since I had set out to become a martyr, I am not afraid.
I am indebted to actors such as Devi Ajith, Riyaz Khan, Raghu and so on for their support. Camera was handled by national award winner Jaleel Badusha. The firm is made under Suraas Visual Media and Gafoor Vadakara is a co-producer.
Censoring row
When the film was sent for censoring, Censor Board Regional Director Dr Prathibha was asked by a prominent political figure to not to clear the film. The film was then sent to the Reversing Committee. Before this film, only Bandit Queen was subjected to such a treatment.
The chairman of that committee came in a chartered flight and then a team of ten people came to see the film. After a round of intense debate, the ten recommended that the film should be cleared.
Is this film against the CPM?
This film is not against the CPM. It is against the fascists.