For Rajisha Vijayan, anchoring has always been a part of her life. She became the favourite girl of television as she captivated audiences with her vivacity while hosting the popular reality show Ugram Ujjwalam on Mazhavil Manorama. Rajisha, who is busy hosting the grand finale of her eighth show that is Ugram Ujjwalam, speaks about her TV experiences and more, in a candid chat with Onmanorama.
"Initially, I was indecisive as to whether or not to take up the show as its format and content were quite different from the general talent reality shows. However, once I started off, everything about it started exciting me. It was then that I realized Ugram Ujjwalam didn't restrict to just one particular talent. Day after day, I perceived that it was highly inspiring for me. There is no language or age barrier for participants. The best part is that we all developed a family atmosphere among each other," says Rajisha.
We quizzed her more on the language aspect and she said, "The participants need not be necessarily a Malayali and this factor makes the show different from other reality competitions. There were participants even from Egypt and Mexico. With a desire to converse with all the participants easily, I tried to learn many languages."
The Judging Panel of the show comprises actress-fashion designer Poornima Indrajith, actress-Bharatanatyam expert Sudha Chandran and actor-director Bala. Terming the trio as her role models, Rajisha says, "They are the people who actually drive the show. Poornima chechi is very caring and lovable. She is always concerned about each of the participants. Sudha ma'am is a person whom I used to see in Doordarshan during my childhood days. And initially, it was hard for me to digest the fact that she was sitting before me. A very simple human being, she makes each of the kids happy while they are on stage. Bala sir is another down-to-earth personality. Although born and brought up in Tamil Nadu, he is more of a Malayali these days, having been with us for quite some time."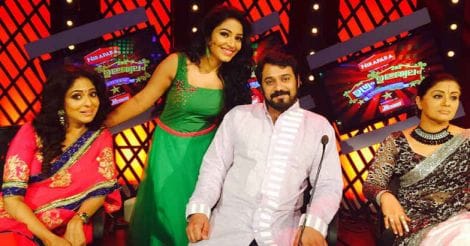 Rajisha with the judging panel- Poornima, Bala and Sudha Chandran. Photo: Facebook/rajishavijayan
The young anchor believes in opening our hearts to accept all kinds of talents. On a few criticising comments that came her way while hosting the show, she says, "People often say that we are over-excited. I would like to say that the impact of experiencing these acts live is much more than watching them on TV. We watch all kinds of risky sports and matches. This show should also be considered as one such. Most of the participants are trained and are confident enough to perform. The show, thus, is a platform for the talented ones with a broader version. Ugram Ujjwalam, I would say, enhances a different kind of positive energy - prompting us to respect individuals who take risks in their life."
After 4 and half months of different daredevil performances, the curtains will come down for 'Ugram Ujjwalam' on May 10 and will see actress Khushboo as the chief guest for the grand finale. "We are happy to announce that our show has bagged National TV copyright for it's format. Many have been complaining saying we are finishing the programme so soon; but I think we have delivered more than what we expected and reached the ultimate. So this is the right time to wind up," explains Rajisha.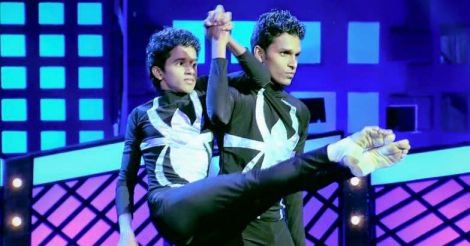 Participants performing at the show. Photo: Facebook/ugramujjwalam
Being a journalism graduate, Rajisha was the face of various television shows and it was when she got a call from Mazhavil Manorama. She is a trained classical dancer, and is also into theatre and athletics. Film offers are coming her way and she would be on the big screen soon. "I am looking for a project that could help me to establish myself in the industry," signs off Rajisha Vijayan with her charming voice.