N. A. Muthukumar ain't a prophet. The two time National Award winner, however, would have by now realised that prophecy was thrust on his comments about a child prodigy.
"She gave life to my lyrics, and sang beautifully; she can even bag the national award for her rendition," Muthukumar, who penned the song Azhagu, a lyrical serenade voiced by Uthara Unnikrishnan, had said about the eight year old at the time of recording.
On a sheer serendipitous note, Uthara was graced with a deluge of accolades and the National Award for the song, which also conferred the lyricist with his second National Award. This is the play of providence propelled by a rendezvous of divine talent.
However, 10-year-old Uthara is disturbed; she has been trying to get some cartoon time for two days now, but the pesky reporters haven't shut their cameras or mouths, asking her all sorts of questions about winning the award, and being the youngest person ever to have been honoured with it. Ironically, she has never been part of a competition. A student of Lady Andal Venkatasubba Rao School in Chennai that does not encourage competitions, she was never fielded into the slot games of 1,2 and 3. And then just as destiny would have had it, she won the largest competition the nation has designed for its movie fraternity. She's already tired of phone calls and interviews, and when one reporter asked her about winning the biggest award for a playback singer, she meekly said, "No, I don't think it is the biggest award; they liked my song, that's all!"
Such is the wonderment surrounding the little girl, who is inherently very shy, says her mother Priya Unnikrishnan, who is trained in the dance form of Mohiniyattom herself. "She is immensely lucky to have been part of such a great team; A. L. Vijay (the director of Saivam), music director G. V. Prakash, and lyricist N. A. Muthukumar", she said. Uthara is the daughter of singer Unnikrishnan, recipient of the National Award himself, and a favourite among many a music director, with A. R. Rahman topping the list. What is amusing is, he won the award for his debut song as well in the year 1994, for two of them, to be precise.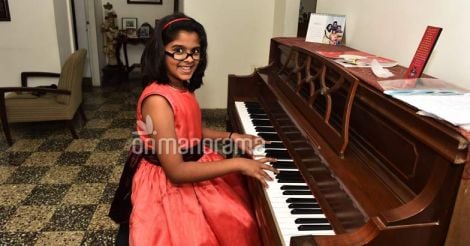 Uthara started formal training when she was almost 6 years. Photo: Vinod Gopi
Azhage azhage ethuvum azhage, starts the song that has been trending across the nation since the awards were announced. The visualisation of the song is faintly reminiscent of the A. R. Rahman composition, Nila Kaigirathu from the movie Indira, where singer Harini stamped an indelible mark with her voice at a young age of 13. Uthara was just a little over 8 years when she recorded the song Azhagu. The song in its melodic arrangement, talks of beauty, of the flower as well as that of the fallen leaf; of the rain as well as the shine that follows; beauty is what envelops you if you put your woes aside. And Uthara has caught these imaginative lines and spun them into enigmatic voice notes.
Such fragile shoulders and the weight of the National Award. Was she prepared for this? "We had no idea! Uthara's profile was taken from us in late November last year, but we weren't even thinking on the lines of a National Award! There were no notifications of her making to the final list!" The very reason why they were jolted out of reality, when calls came pouring in congratulating them, "My mother in Calicut was having her evening tea, when she thought she heard Uthara's name being mentioned on TV; we didn't even know that National Awards were being declared that day!" said Uthara's elated mother.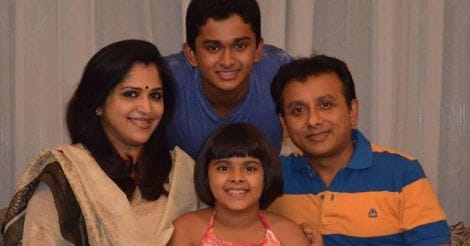 A family portrait
Coming from a family of talented artists, she must have been naturally inclined towards music and arts. Priya said, "She started formal training when she was almost 6 years. Well, it's not like she exhibited great interest, and we were just trying to see if she had any interest in music. We sent her to someone from inside the family circles, where she sat and slept throughout the class! But with each passing day, she must have gained something, for after six months or so, she surprised her teacher and everyone else saying she wanted to sing in the class.
"She is not quite like her father; Unni rarely remembers the lyrics of the songs he sings, unless they are Carnatic pieces, but Uthara cannot sing from paper; she listens and learns. There's not one song she has written down on her music book in school." This brought to mind the 'Making of Azhagu' video where we see an ardent father singing out the lyrics from a paper, and his daughter in rapt attention, emulating him.
"The father and daughter are very close; when he is away, she calls him up making passive complaints that he left without telling her. And it's not just with him, she shares a special bond with her brother as well; he has taken to western classical piano, and they both like to argue on songs and their renditions, although they make up quickly as well. He would ask her to sing while he's on the piano. They listen to thillanas, M. S. Subbalakshmi, Hindi songs and even those we have no idea about! We also have a studio where she sometimes records songs. All of this helped her a lot when it came to recording a song for real".
And all of this finally led to the nation bestowing an award of recognition to Uthara surpassing a number of others. The social media has been divided in its opinion regarding the award, owing to Uthara being so young. Do you agree with them? "Yes, she is too young to have received such a big honour, but then again, now that it has been issued, what else can we do but be happy? Controversies happen all the time; we cannot be rattled by them every time, and also we didn't ask for the award". She also stated that she didn't know the other singers on the list, adding that she had great admiration for a number of Bengali singers who were quite evocative.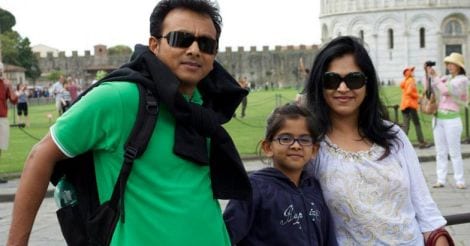 Uthara is inherently very shy, says her mother Priya Unnikrishnan
We were looking forward to having a little chat with Uthara herself, who according to her mother, was running every which direction, except towards the interviewers.
Uthara replied in modest tones when congratulated on her very soulful singing—"Thank you", she said.
It was a beautiful song. Was there a particular line you found difficult to pronounce? "No, it wasn't difficult"
When asked whether she understood the lyrics, she said, yes she did. So what's your favourite line? "The first line". Why? "Because that says it all", she quipped.
She agreed it was quite a furore that surrounded her, but couldn't really understand why. When asked who helped her sing the song, she promptly said, "Appa, G. V. uncle, Vijay uncle and my Guru".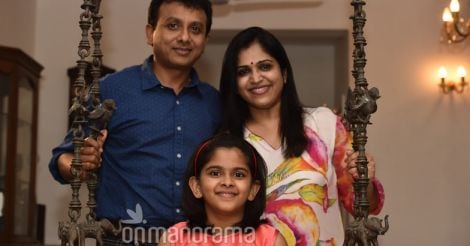 Uthara with her parents. Photo: Vinod Gopi
What song do you like to listen apart from Azhagu at the moment? Ananda yazhai, she pointed to the lovely song from the movie Thangameenkal that elaborates the deep affection nourished by a father towards his daughter.
When asked whether she would like to sing more, she said that she has already recorded two more songs—one for G. V. Prakash and one for Taj Noor Mohammed, an emerging music director who used to assist the Mozart of Madras, A. R. Rahman.
A number of people must have called up to pass on their wishes to the little one. Who was the most favourite of all the callers? "Appa!" came the quick yet warm reply. And what did he say? "He said, congrats, keep it up, good!"