Music is his life. As a young lad, he would go on listening to the melodies sung by one of India's most renowned musicians– Yesudas. Upon completing high school, he made up his mind to pursue his greatest passion as a profession as well. For over 12 years, Renjith Unni, has strived towards enhancing his knowledge about music. A trained Carnatic musician, he started playback singing three years ago. His latest project was a song composed for the movie Uttama Villain, starring Kamal Hassan.
Childhood in Kochi
Renjith Unni hails from Ernakulam. His parents work in Dubai. Renjith's father works in a firm that manufactures and exports machinery, while his mother looks into the logistical aspects of a shipping firm. His younger brother is currently pursuing his final year B.Tech at the Anna University in Chennai.
Renjith, an alumini of Bhavan's Vidya Mandir, Elamakkara, Kochi was always passionate about music. A chance meeting with Madhu Balakrishnan changed his fate. "Madhu has been guiding me in the world of music and has been very supportive," said Renjith.
He went on to pursue a three year diploma course in music at a government college in Chennai. In the meanwhile, Madhu had also introduced him to Thiruvananthapuam Krishnakumar and his wife Binny Krishnakumar. It was under their tutelage that Renjith enhanced his knowledge about the Carnatic music. Renjith had topped his class that year and decide to do a Bachelor's degree in music at the Madras University. He currently holds an M.Phil in Carnatic music.
Playback singing
Renjith made his debut in the Malayalam movie Dr. Love, starring Kunchacko Boban and Bhavana in the lead roles. The music was composed by Vinu Thomas and Gopi Sunder. "The song was titled Nannavulla, which means a person or a situation that would never change for the better. I was a little shocked on hearing the title of the song. I feared that my situation would truly not change for the better," commented Renjith in a most jovial manner.
Now, he features in a group song, in which he sings along with actor Kamal Hassan for his latest flick– Uttama Villain.
Singing with Kamal Hassan
Renjith said that the experience was great. "I didn't sing solo. But I sang along with a few other singers including the lead actor of the movie – Kamal Hassan. The songs in Uttama Villain are situational. You have to know what the sequence is in order to do justice to the song being sung. Most of the compositions are based on Tamil literary works. I would recommend that the audience watch the movie to understand the song in its entirety," explained Renjith Unni.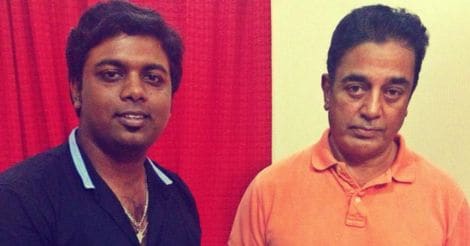 Renjith with Kamal Haasan
What does it take to make your mark?
Renjithi Unni said, "My parents have been my greatest blessing. Ever since the day I told them about my desire to puruse music as a career, they have been extremely supportive. They said– pursue what you love most. But be sure of what you want."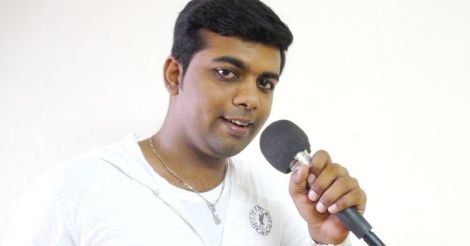 Renjith an alumini of Bhavan's Vidya Mandir, Elamakkara, Kochi was always passionate about music
Renjith also said that the most important aspect of becoming a musician is to gather as much knowledge as he or she can about the genre they love most. Only then would they be better than the others. "I believe that everybody, in every profession, does struggle to make their mark. But if one works hard and is dedicated, everything turns out for the better. I am dedicated to my job and I have no regrets of the decisions that I have made," he explains. Renjith said he would be pursuing his Ph.D in Music as well, but that would take a while.
Listen to the songs sung by Renjith Unni from the Kamal Haasan starrer Uttama Villain.