Amidst the usual brouhaha of mega movies comes a teeny-weenie movie featuring Vineeth Sreenivasan-Dhyan Sreenivasan siblings this Onam. Newcomer Basil Joseph concocts Kunjiramayanam that tells the tale of a fictitious village. Vineeth and Dhyan share the tidings of their maiden acting venture together.
Kunjiramayanam
Vineeth: Basil Joseph is someone known to us. We all had worked together in Thira. Basil has an impeccable sense of humor. We had sent him messages, impressed by his short films. Later, Basil approached us with a desire to be assistant director in Thira. Basil and story writer Deepu met us during the shooting of Ormayundo Ee Mukham. The story they narrated sounded interesting. It is the kind of cinema that brings back the flavour of the movies we enjoyed in the 80s and 90s.
Saw Dhyan writing on Facebook that the dance in the movie was painstakingly done
Dhyan: Actor Neeraj Madhav did the choreography for the 'Salsa' song. It has just one or two steps. Since nobody around knew dancing, it is true that I just managed to hang in. I have taken pains to pull it off.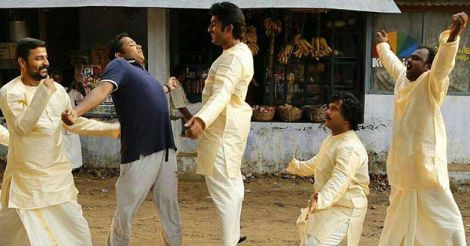 Dhyan on the sets of the movie
Vineeth seems to be more focused on acting these days. Does that mean the end of direction?
Vineeth: I am preparing to direct my next film. Most of the released movies with me as an actor were committed after listening to the story well in advance. I heard the story ofOru Second Class Yathra back in 2012. Ormayundo Ee Mukham is no different too. Movies planned in advance merely got delayed in execution.
What is your criterion for choosing movies?
Vineeth: Listening to the story, one cannot predict if the film will be a hit or not. I do not have any hunches either. If there are elements in the script that appeals to you as good, that is what prompts you to go for the script. A certain trust in the doer is also essential. I will first ensure that the person narrating the story has confidence in his own script.
As a director, do you interfere in the movies that you act in?
Vineeth: If I am asked an opinion during the script discussion, I definitely give it. Don't friends voice opinions among themselves? But once I am at the sets, I do not interfere in anything.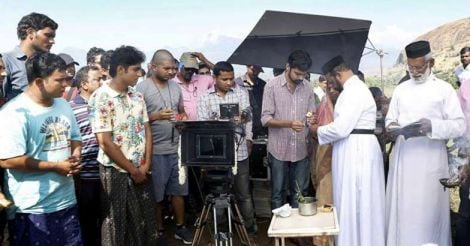 the team behind 'Kunjiramayanam'
The emergence of youth in other language movies has been sudden. But it seems to have taken a while in Malayalam
Vineeth: Our movies underwent a sea change post 2010. Cinematography and the overall look went through a transformation. Even though we lamented about lack of story material, newer types of story telling emerged. The new crop of filmmakers found their niche in movies like Traffic and Salt & Pepper.
It has been pointed out that characters in many new-generation movies do not have a father or mother or any relatives
Vineeth: Our films have them. It is just that the prominence is for the youth. I have not done experimental films. The next movie is a full-fledged family movie.
Dhyan: The next movie will have a father, mother, grandfather and children in it.
Is it not a vexing issue that Malayalam lacks a string of actors of various generations like Tamil has?
Vineeth: That is indeed a problem that we face. We do not have as many diverse actors as we need. Malayalam seeks stars foremost. When we seek a 20 year old artist, there should be at least 2–3 names acceptable to all. Tamil has stars like this in all age groups.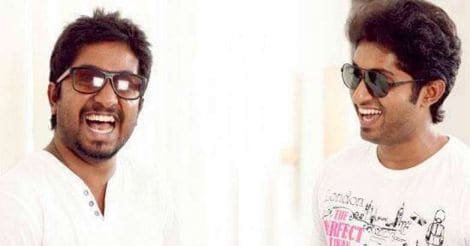 Vineeth and Dhayn. Photo: Facebook
Who among you has inherited your dad's love of farming?
Vineeth: It has become a movement now. I am yet to be there in it. Not sure about Dhyan(looks at Dhyan).
Dhyan: At this age I have not given farming a thought. I will do in course of time. Dad's passion for it goes back a long time.
When can we see the next directorial venture of your father's?
Vineeth: After being active in farming, dad is a little pressed for time. I heard that he is ruminating on a new script.
Kunjiramayanam is the tale of a village
Dhyan is an angry young man in Thira. But the hallmark of the character in Kunjiramayanam is femininity
Dhyan: It is an issue when certain roles keep repeating. People will say that he knows only this particular act. Femininity was in excess during shooting time. A bit of it was brought down in dubbing. Aju Varghese appears in combination scenes with me. From the start, we have been listening to the story together. Our characters are named Kuttan and Lalu. We believe that we could do it well as we knew each other from earlier. It would have been difficult with someone else.
Is it not difficult to bring to life a fictitious village?
If we are able to take the audience to that village, they will start loving everything there. We were anxiously waiting for it till the release. It is a story that flows like a grandma's tale.