Those who have watched movies of Vineeth Sreenivasan may think that he has a special love for the Malabar region. The name of his latest movie, Oru Vadakkan Selfie, will only strengthen this belief. But Vineeth says he had little to do with the northern Kerala element in his latest.
Vineeth speaks to Malayala Manorama about his Malabar lover image and his latest movie Oru Vadakkan Selfie. Into the excerpts –
You wrote the script for Oru Vadakkan Selfie and acted in it too. What is the 'selfie' part of this movie?
I heard the story of Oru Vadakkan Selfie first in December 2013. When we were shooting for Thira, Prajith (the director of Oru Vadakkan Selfie) had come to see me and narrated the story. The story was written by his friend and associate Sharath. At that time, I did not think that the story had much scope in it. But after completing Thira, Prajith reminded me about the story and that is when I got interested. We, Prajith, Vinod (the producer of Oru Vadakkan Selfie) and myself, decided to sit together and discuss the story.
After the discussion, I was convinced that the story had many interesting elements and thus decided to write the script for it. Vinod said he will produce the movie and finally the project has now materialized.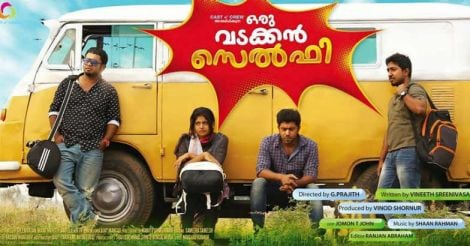 Poster of the movie 'Oru Vadakkan Selfie'
I know Prajith and Vinod from a very early age. The comfort that you get when working with people whom you know closely is the 'selfie' part of this project in my opinion.
Nivin Pauly, Aju Varghese, Bagath… the entire Thattathin Marayath team is reuniting in Oru Vadakkan Selfie. The trailers have been good as well and that has increased expectations from the movie.
Yes, and that is why I am tense. The plan was to do a very simple trailer. But after seeing the trailer, people have been messaging that they are expecting a lot. Though it is an encouraging gesture, it makes me anxious as well. Now we will have to wait for it to be released to know the reaction of the audiences.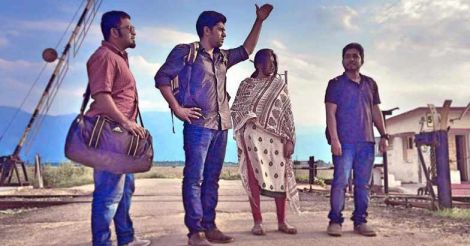 A still from the movie
All your movies give a feeling that you have a special love for Thalassery. Is it so?
(Smiles) When the story of Oru Vadakkan Selfie was discussed, it was Prajith who suggested that we shoot it at Andallur in Thalassery. In Thattathin Marayath, the scene in which Nivin speaks to his mother was shot at the Andallur temple. When I saw Andallur junction, I liked it very much. I had been there before as a kid. So, what I am trying to say is that this time it was not me who selected Thalassery for shooting. It was the director's decision. Apart from Thalassery, the movie has been shot in several locations including Chennai, Palani, Kumbhakonam, Kochi etc.
The movie marks the comeback of Manjima. How did you zero in on Manjima for the role?
Yes, Manjima is a talented actress and I know her from my childhood days. Vipin uncle used to do the camerawork for Satyan uncle's movies. And both of them are my father's friends. Though the trailers don't show it, Manju is playing a strong character in the movie. An actress without any image was required to portray that strong character and that is how we decided on Manjima. It was discussed with Prajith and Vipin uncle (Vipin Mohan) and then I spoke to Manjima. She liked the script and agreed. She is a hard working actress and puts in a lot of effort for each scene. She came for dubbing at least thirty times, trying to improve her performance each time.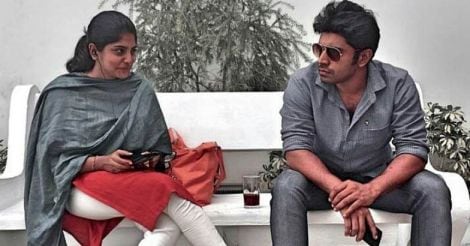 Manjima and Nivin in the movie
After Thira, what are your plans? Are you planning to direct any movie soon?
Presently I am acting in the movie Second Class Yaathra, which will be released in May. I will be acting in one more movie after this. Then I will write and direct a movie. The writing will start only after June.