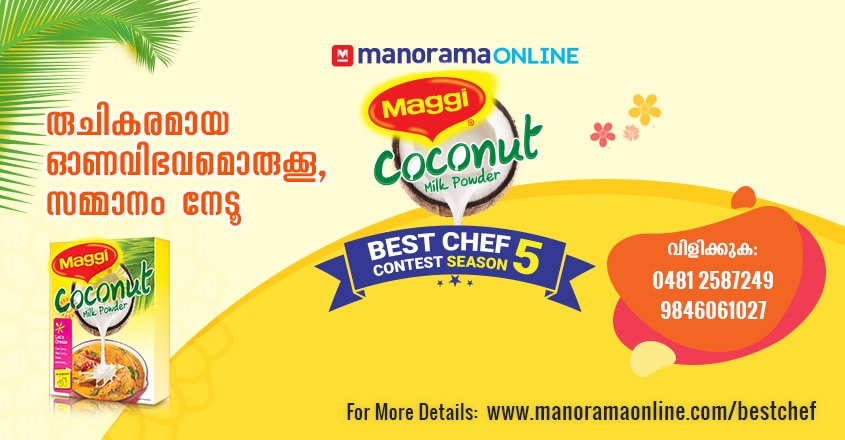 Manorama Online and Nestle Maggi have invited recipes of Onam special dishes for the Best Chef Season 5 contest. The first prize carries an amount of Rs 25,000, second prize Rs 15,000 and third prize Rs 10,000. Details, rules and regulations and the link to upload recipes are available at www.manoramaonline.com/bestchef
The rules of the contest are as follows:
1. It is open to men as well as women.
2. The first round competition would take place at Thiruvananthapuram, Thrissur and Kozhikode. Selected contestants can proceed to the grand finale to be held in Kochi.
3. Contestants have to submit three recipes having Maggi Coconut Milk Powder as an ingredient along with the registration form. All three recipes can be uploaded as a single file.
4. The recipes have to be original creations and the contestants themselves should have prepared the dishes.
5. Contestants have to prepare the same dishes mentioned in the recipes during the regional contest and the grand finale.
6. Employees of Nestle Maggi, Malayala Manorama, Manorama Online and M M Publications, and their close relatives are not allowed to participate.
7. Malayala Manorama Company reserves the right to amend the rules regarding the results and prize money any time.
8. Malayala Manorama holds the right to publish the recipes in any publication of the company and in advertisements.
For more information, contact phone numbers 0481 2587249, 9846061027.