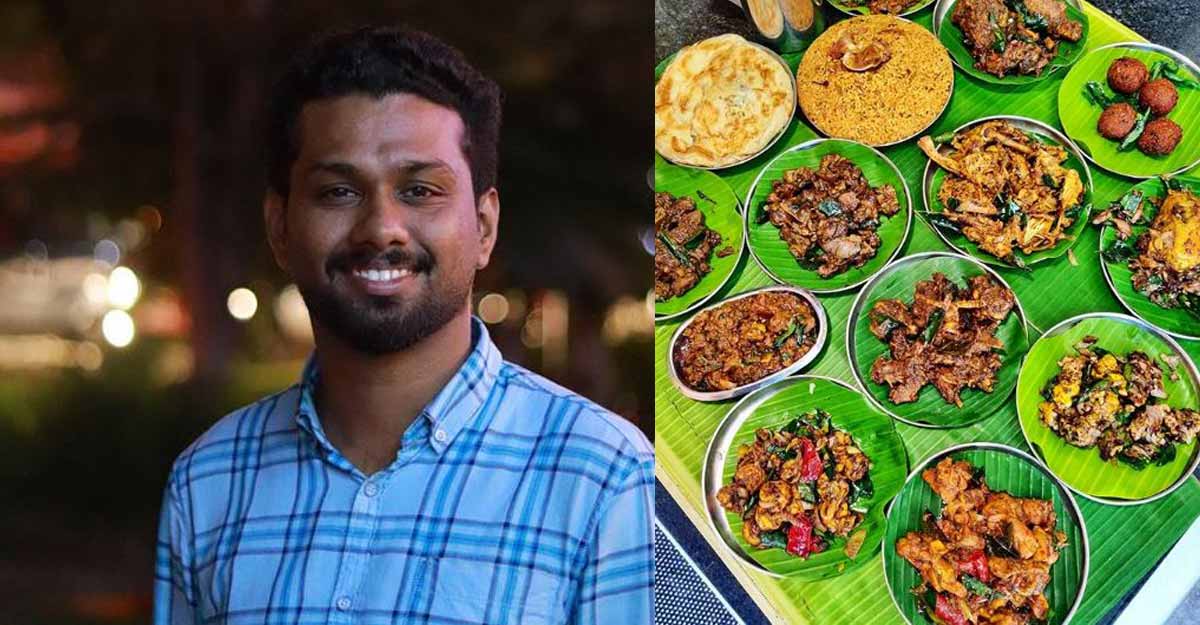 This is the tale of a zealous hunter, who chase after delicious foods that are unique to a place. Ummer Sabu, a native of Palakkad, travels quite a lot to find out the real 'gems' in the world of flavours. It must be this unique passion that makes him one of the most followed Malayali food vloggers on Instagram. His page 'Food Hunter Sabu' is liked by lakhs of people who share the same affinity for everything delicious and authentic.
After he has found his perfect food destination, Sabu would make a video of it and upload it in his Instagram page. Sabu has introduced hundreds of big and small eateries across the 14 districts in Kerala through his social media page. This youngster has been pursuing good food and making videos of it for the last four years. It was his friends who asked Sabu to start an Instagram page where foodies like him could meet and share their common love for tasty food. He makes sure to click pictures and shoot videos of food during all his trips. Sabu says he plans all his trips way in advance so that he could upload amazing pictures and videos on his Instagram page. In fact it takes more time for planning the trip than actually going for it.
Ummer Sabu gets candid about his food dreams and also reacts to the overwhelming responses to his videos.
Sabu began his food hunting in 2007 when he joined the entrance coaching classes after completing plus two. He confesses that he chose Ernakulam to study engineering just to taste the unique flavours of Kerala's favourite food destination. Now, he continues his food hunting while managing his automation business.
His Instagram page mostly has videos of local or traditional dishes. There is not even an iota of doubt that the beautifully shot 4K videos would floor the hardcore foodies. He amassed around one thousand followers in just a year of starting the Instagram page. In the second year, he had more than three thousand followers. The number of followers gradually increased and many took inspiration from him to turn into food vlogging. Sabu, meanwhile, is happy that he didn't resort to any gimmicks to lure more followers.
Until two years ago, he used to travel regularly from Palakkad to Kochi in train. He would reach Kochi before lunch and then spend the rest of the day enjoying and filming great food. He would visit at least 12 eateries to try out their specialities. He had gone for hundreds of such fortnightly trips, just to eat. He says he tries to reach most of the places that served mouth watering dishes. Sabu has filmed at almost all the eateries in the Kasaragod, Wyanad and Thiruvananthapuram districts. He had been to more than 500 eateries and restaurants to chase his food dream.
Three days in Chennai
Sabu had spent three days in Chennai just visiting eateries to film the videos. "I had been to more than 45 hotels there. Other than that I didn't visit any places in Chennai. You would get biryani at 4 in the morning there. Similarly, there are lots of eateries that stay open late into the night as well. I decided to go to Chennai when I saw the picture of the giant thali meals served at the Ponnusami hotel in Nungambakkam. A single thali meal costs Rs 2000! It is an exclusive spread that has more than 50 varieties of Chettinad delicacies," says Sabu.
Sabu doesn't eat just anything while he travels; instead he travels to eat. If he is in a district, he would return only after filming at all the classic food spots there. He has more than a million followers on Tik Tok as well.
Smart eating
Many wonder how Sabu manages to stay extremely fit and healthy despite eating so much food. Sabu says he prefers smart eating, that is to taste the food rather than gobble it up until you are full. Besides, he cuts down on the rice and sugar intake. He prefers tea without sugar in it. Sabu says the organic tea from Darjeeling tastes amazing even if sugar isn't added (However, it is an expensive variety; a kilo of the Darjeeling tea costs at least Rs 20,000). "This organic tea that is exported is slightly sweet. It doesn't look like the regular tea leaves but like tiny twigs. It blooms when added in water," says Sabu.
Latest trends
"There are many types of food videos on the internet these days. In Korea and China, people like hearing the chewing noises in the video. This trend is gaining popularity here as well. It is called mukhbang," Sabu explains.
Critics
"Everyone in my family loves delicious food. When I did my first video, I spoke very slowly and many said they didn't like my voice. So, I soon found a solution for it. I spoke loudly and recorded it. Now, the voice over is the highlight of my videos. I am doing it not to impress anyone. I have genuine passion for food. I found out that some people were stealing my videos and then uploading it on social media as their own by replacing my voice with theirs. That is when I decided to use the water mark and even show my face. I haven't borrowed money from anyone to make these videos. I am happy that many small businesses flourished after they were featured on my page," notes Sabu.
Surprising flavours
Sabu admits that a unique dish served by the Bohra community in Kozhikode had truly blown his mind. He calls it an incredibly rich delicacy made with dry fruits and cheese. "They invited me to their house when I visited their shop. The first item that they serve us is the salt. The youngest member in the family would serve salt and then comes the sweet dishes. It was followed by lots of mouthwatering dishes like the beef kebabs, bohra biryani, bottle gourd halwa and chas. I was really impressed by the special chicken in tandoori sauce. It indeed was a delightful celebration of unique flavours," recalls Sabu.
Sabu says he wouldn't forget to appreciate the owner and the workers at a hotel if the food was really good. Similarly, he would let his opinions know, though in a discreet manner, if the food wasn't that impressive. The optimistic foodie in Sabu likes to believe that a 'bad' food day is just like any other day.
Sabu was all set for a trip to Lucknow when the nationwide lockdown was announced due to the COVID-19 outbreak. Though he cannot travel to eat right now, Sabu is busy experimenting with flavours and ingredients at his own kitchen. The food hunter, meanwhile, doesn't forget to entertain his followers and uploads the videos of these dishes as well.