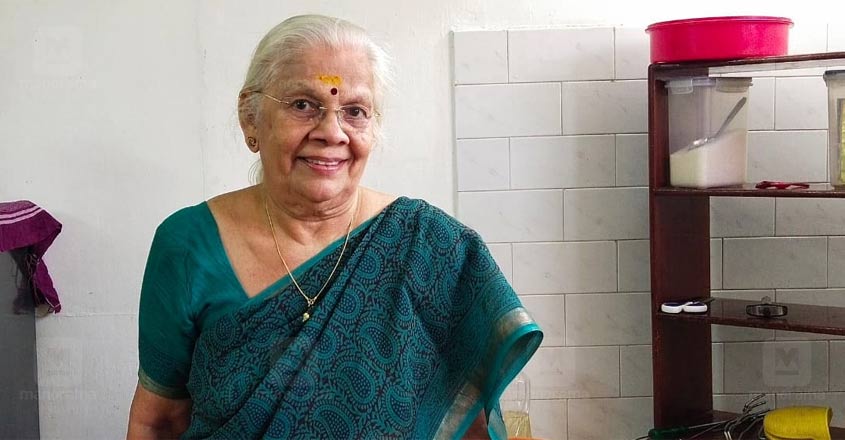 Teachers have become so busy these days as online classes have begun in most schools and colleges. However, Suma Sivadas has become popular as the teacher who posts online video tutorials in cooking. The tutorial videos done by Suma teacher, who is retired now, have become hit on social media.

It is her interesting presentation style that grabs instant attention. As if she is teaching lessons in a regular class, Suma teacher makes sure that her students understand and learn the recipe. She retired as the headmistress of Kumaranelloor Devi Vilasam School in Kottayam. She became active in the kitchen to overcome the sadness that she couldn't go to school and meet her dear students. The teacher, who is 75, is still thrilled about learning new things. She is married to a noted writer, scientific author, and teacher Prof S Sivadas.
Suma teacher says she wanted to do something unique ever since she retired in March 2000. She began writing cookery books for youngsters. Besides the recipes, these cookbooks, published by DC Books, had many interesting anecdotes related to the dishes and the culinary culture. Suma teacher has published more than 15 books so far. It took her around two years to complete a book that covers the extensive history of the culinary traditions in Kerala. The publication of this book has been delayed due to the floods in the last two years and the recent lockdown as well.
Teacher began uploading cooking videos on Youtube during the lockdown period. Her simple recipes and the interesting narrations that include puzzles and stories are what make the videos stand out. Her neighbour Unnimaya helps her shoot the videos and upload them on Youtube.
Check out the recipe of simple neer dosa by Suma teacher. Super thin neer dosa tastes incredible with non-vegetarian curries. Vegetarians can try the classic coconut chutney as well.