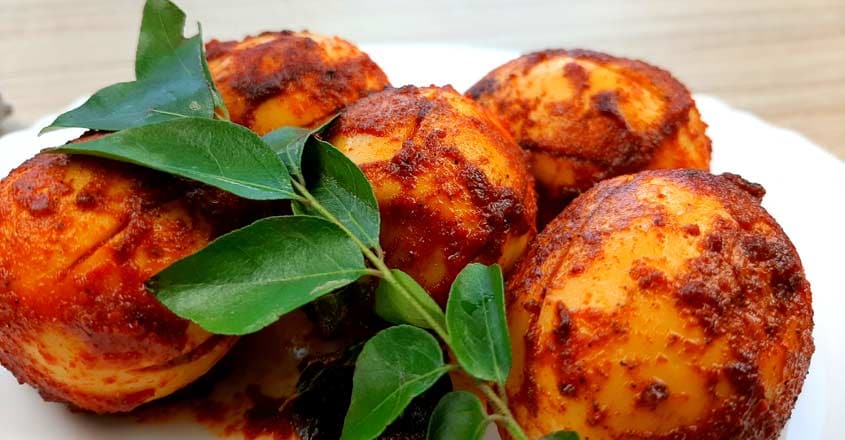 An 'eggetarian' is someone who incorporates eggs into their diet. No, it is not an actual word but was born out of convenience. The right usage would be 'ovo -vegetarians,' where 'ovo' is Latin for eggs. But if you are an ovo-vegetarian who consumes dairy products, you become a lacto-ovo-vegetarian. Little did we know about the multiple subsets of vegetarianism!

Kerala cuisine caters to vegans, vegetarians, lacto-ovo-vegetarians, and non-vegetarians alike, which means the range of dishes in the food culture of Kerala accommodates people who follow different dietary patterns. As a result of which, the usage of eggs is prominent and ingenious. The incorporation of eggs in this part of the world is a nifty work. From appetizers to the main course, we will find dishes that are as simple as making an egg roast to something that needs expert hands like the muttamala.
The variety of dishes made with eggs can form a lengthy list, but to highlight a few interesting ones would be:
Muttapathiri
Fondly known as the Malabar pancake, this easy to make breakfast/snack is made using flour, eggs, water, and salt.
Mutta surka
Another Malabar classic, Mutta Surka is a deep-fried bread made with a batter of raw and boiled rice, eggs, sugar and salt. It is deep-fried until puffed and doubles up as a snack.
Nothing fancy here, boiled eggs cooked together in a spicy onion and tomato masala topped with curry leaves. The reason why it is called a roast when the dish has nothing to do with roasting remains a mystery.
Mutta bhajji
Evening snacks are an integral part of the everyday life of a Malayalee and 'bhajjis' (fritters) are the most versatile ones of them all. Boiled eggs coated in a batter made of spiced gram flour is deep-fried to make this deliciously filling snack.
Mutta maala
Literally, a necklace made of eggs. A very intricate and ingenious dessert made using just eggs and sugar. Egg whites are separated from the yolk and each component forms individual elements of the sweetmeat. Egg whites and sugar are whisked until foamy and steamed in a cake tin. Egg yolks are then beaten and poured into hot sugar syrup through a small hole made in the eggshell, thus forming the shape of a thread. These threads are then placed on top of the steamed egg white base. This traditional dessert also goes by the name of pinjanathappam.
These are just a handful of dishes that are made using eggs in Kerala, each household has their take on how they include eggs into their meals. One would not have to search in-depth to know that Kerala cuisine is not just about the overuse of coconuts.