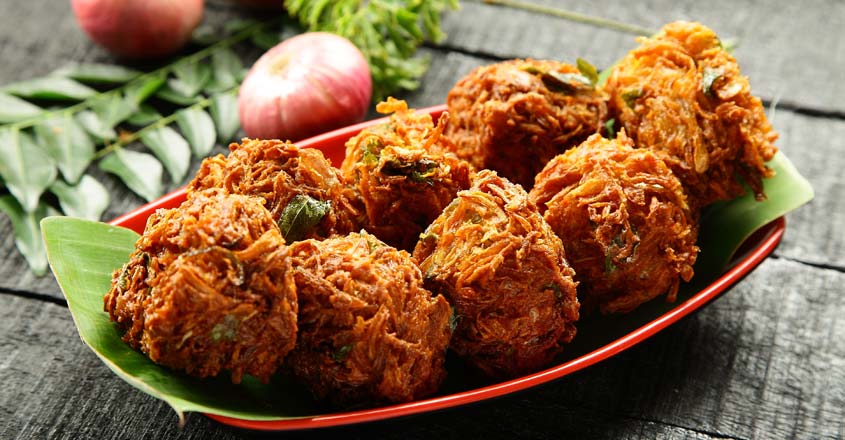 Hot and crispy bajji or fritters with a glass of refreshing tea is one of the most iconic combos in India. Bajji which is made by dipping eggs, chillies, onions, or potatoes in a spicy gram flour batter and deep-fried is known by various names in different parts of the country. In some parts, it is called a pakoda or a pakora while in other parts these tasty snacks are called fakoora or bajji.

Potatoes and dal are the most popular items that are used to make bajji. However, each state has its own varieties of the snack. A unique bajji made with horse gram and banana during the Navaratri festival is a speciality in Lucknow. Unlike the spicy bajjis that are commonly seen around the country, this one is sweet.
The sanna pakora is made by dipping a variety of vegetables in a gram flour batter and are deep-fried. This bajji is crunchier than the other pakoras. The villages in Gujarat prepare dakor na gota which is made with gram flour and fenugreek. Meanwhile, punugullu made with rice, urad dal, and special masala powder is popular in Vijayawada and other parts of Andhra Pradesh.
Punjab's own paneer pakoda is extremely delicious and nutritious as well. An onion variety of this same preparation, too, is popular in the state.
Odisha's bajka pakora has crispier gram flour coating and soft insides which melts in the mouth. This snack is usually prepared during the festival of Holi. The shepu bajji in Maharashtra, meanwhile, is extremely fragrant as ajwain or carrom seeds are the main ingredients in it.
Pat patar bora or jute leaf fritters are a unique Bengali snack. These deep-fried fritters have jute leaf and flavoursome masalas as the main ingredients. Baigun baja made with eggplants too are quite popular here. The Bengalis love the phoola ka pakora which is made with plantain blossoms.
Pakoras made with pumpkin flowers are delicious and unique. Meanwhile, Maroi nakupi from Manipur is a very special bajji that is different from the regular ones. Local herbs are added to make this bajji extra nutritious. Finally, our own pazhampori or banana fritter, too, is a bajji which is batter-coated and deep-fried.