New Delhi/Thiruvananthapuram: Banks and ATMs across the nation on weekend witnessed more chaos and even longer queues as cash-starved people jostled to exchange and withdraw money, even as cash dispensing machines went dry soon after they were stocked due to heavy rush.
Serpentine queues were witnessed at bank branches for the third straight day across the country. Similarly, people were seen impatiently waiting outside ATMs to withdraw money.
Angry customers
Angry customers waiting outside a branch of the State Bank of Travancore in Kollam district allegedly broke a glass door on Saturday after it decided to down shutters due to heavy rush even as serpentine queues were witnessed before various banks across Kerala.
Read also: Crackdown on black money smacks of a cover-up
Selective amnesia: BJP had slammed demonetization during UPA regime | Video
Due to the huge surge of customers at the SBT branch at Vavvakkam this morning, banking officials decided to down shutters for a while as around 200 persons were inside the branch, bank officials said.
Apparently angered over this, more than 200 persons who were waiting in the queue outside the branch allegedly broke a glass door of the bank, officials said.
Police were immediately informed and some persons were being questioned, they said.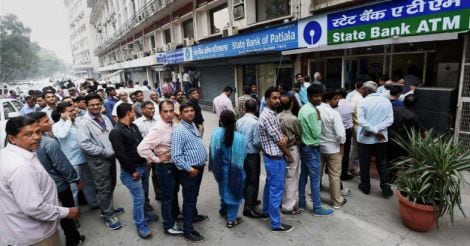 People queue up in front of ATM counter in New Delhi. PTI
Meanwhile, long queues outside various branches across the state continued for the third day with customers complaining that several ATMs were running out of money. People including elderly and women in large numbers were queueing up to get the valid currency notes needed to meet their daily expenses.
Also read: Demonetization effect: salt scarcity rumors spread, govt asks citizens not to panic
Demonetization: no gain without pain or a train wreck?
Yesterday, an elderly man standing in the queue to deposit cash collapsed and died at Haripad in Alappuzha district while another man fell to his death from a building housing a SBT branch while filling forms to deposit scrapped high denomination notes worth Rs 5.5 lakh at Thalassery in Kannur district.
No money in ATMs
Many ATMs, which reopened four days after prime minister Narendra Modi announced demonetization of two higher value currency notes, ran out of cash in few hours, leaving people frustrated.
To add to the misery, still half of the ATMs are non-functional, making people agitated about the lack of infrastructure preparedness for the note exchange program. There are about 2 lakh ATMs across the country.
The endless wait to get valid currency notes are taking toll on people waiting for hours in long queues as there were reports of many elderly people collapsing.
According to bankers, the situation is unlikely to change for some more time, may be another 8-10 days.
They also expressed their apprehensions with regard to chances of crowd becoming unruly for which they feel banks don't have adequate security arrangements.
Reports of chaos and scuffle at bank branches and ATMs streamed in from different parts of the country Friday and Saturday.
A video of two women fighting in the open after one of them tried to jump the queue in front of an ATM counter surfaced online Saturday.
There were also reports of heated exchanges between hassled customers and overworked bank officials at several branches.
Since the recalibration for higher denomination of valid notes is being done for ATMs, the stock of low value Rs 100 got over very fast because of the huge demand, said a banker.
Taking into consideration, problems faced by people, the government Friday extended use of old Rs 500 and Rs 1,000 notes for paying household utility bills, fuel, taxes and fees as well as purchases from co-operative stores by another 72 hours till November 14.