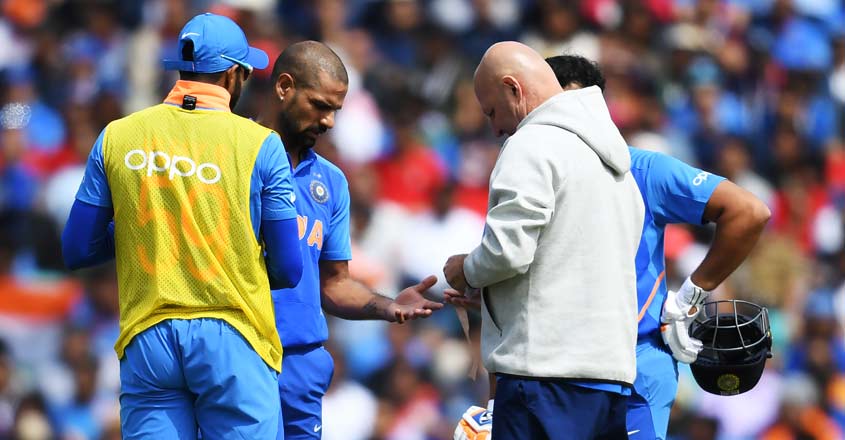 Opener Shikhar Dhawan will remain in England with Team India and his progress will be monitored by BCCI's medical team. No replacement has been named yet for him. This was shared after day long speculation over the seriousness of injury to Dhawan and waiting for official update on his injury status. The Indian team management remained tight-lipped over even the basic nature of injury. Instead, around 3.45 pm UK time, the BCCI media manager conveyed in the board's official media WhatsApp group the following: "Shikhar Dahwan will be under observation".
After some effort, a slightly more detailed update was provided. "Team India opening batsman Mr. Shikhar Dhawan is presently under observation of the BCCI medical team. The team management has decided that Mr. Dhawan will continue to be in England. And his progress will be monitored. Mr. Dhawan sustained injury at the back of his left hand in the region between the index finger and thumb during CWC 2019 match against Australia."
Dhawan had hurt his thumb during Sunday's World Cup match at the Oval against Australia, when a Pat Cummins delivery hit his left thumb. While he continued to bat after getting medical attention on ground and went on to score a brilliant 117, he did not take the field in the second innings.
Dhawan and team physiologist Patrick Farhat went to Leeds on Tuesday for further scans and consultations with doctors. Throughout the day speculation was rife on his fate in the tournament – whether he was out or missing action for three weeks. Names of possible replacements did rounds. But there was no clarity from Indian team despite the confusion back home. One official told Manorama that team did not want more details to go out. While one unconfirmed report said he had a hairline fracture another said the injury was far more serious.
It appears more things change more they stay the same. Despite the Justice R M Lodha Committee reforms being put in place by the Supreme Court to have more transparency and accountability in BCCI's functioning. Even during the 2015 World Cup, when team coach Duncan Flether had to rush between two games home due to family bereavement, the then media manager Dr. Baba enlightened the touring media with a terse one sentence text message. Both Baba as well as the BCCI were slammed for lack of proper information dispersal.