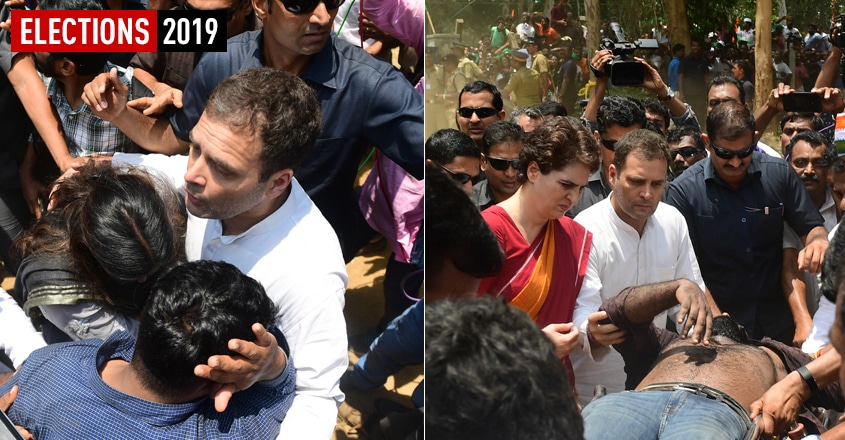 Kalpetta: In a moving gesture, Congress president Rahul Gandhi and AICC general secretary Priyanka Gandhi came to the aid of three mediapersons who were injured during the rush witnessed at the road show conducted as part of Rahul's visit to Wayanad. The injured were 'Malayala Manorama' photographer R S Gopan, a journalist with the news agency ANI and a bystander.
The journalists were hurt when the barricade collapsed while they were shooting pictures of the road show from a truck. The incident took place near the finishing point of the road show. Immediately, Rahul, Priyanka and others who were in a nearby vehicle rushed to help the injured journalists. They also gave drinking water to the injured.
The mediapersons were soon taken to hospital in an ambulance. One journalist had to be carried on a stretcher and Rahul was among those who offered a helping hand. Meanwhile, it was Priyanka who carried the shoe of an injured journalist to the ambulance. Congress leader V S Joy shot the video of the scene and posted it on social media.
Earlier, Rahul had landed at the ground of the SKMJ School, Kalpetta in a helicopter at 11.02 am and travelled to the Collectorate 400 m away in a road show. After submitting his nomination papers, Rahul and Priyanka took the Bypass road to continue the road show from Pinangode Junction to SKMJ School ground. The road show took one hour to cover the distance of 2.5 km.