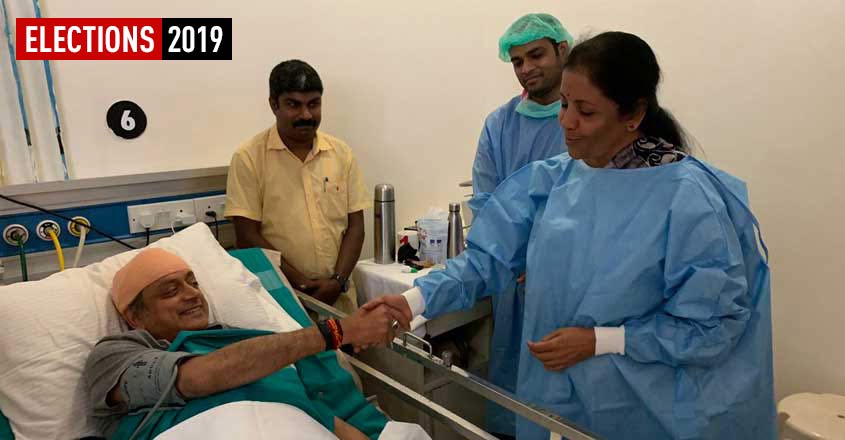 Thiruvananthapuram: Defence Minister Nirmala Sitharaman visited Shashi Tharoor, the injured Congress candidate from the Thiruvananthapuram Lok Sabha constituency, at the Medical College Hospital here on Tuesday. Thanking her for the visit, Tharoor tweeted that such civility was a rare virtue in Indian politics, and it was great to see her practise it.
Tharoor will leave the hospital soon and participate in a debate at Technopark and later at Congress chief Rahul Gandhi's event at Central Stadium on Tuesday itself.
Tharoor was injured after the hook of a weighing balance snapped and fell on him while he was conducting the 'thulabharam' ritual at the Gandhari Amman Temple at Thampanoor in the heart of the Thiruvananthapuram city on Monday.
Meanwhile, the Temple secretary RP Nair blamed Tharoor's aides for the freak incident.
"Tharoor's associates placed too much sugar on one scale pan. While some hung on to the chains of the balance, someone moved a stool kept for safety. The iron hook that held the chains together snapped," Nair said.
The popular 'thulabharam' ritual involves weighing oneself against materials that are used in the temple for the purpose customarily. It signifies offering oneself to the Lord.
At the temple, a pile of sugar was place on the pan before the weighing balance broke.
Congress's district leadership has asked Thampanoor Police to investigate the incident.
Reacting to the incident, Tharoor had said his injury could have been much worse.
"Lost a lot of blood. Thankfully, others were not injured in the incident," he tweeted.
He thanked everyone, including Rahul Gandhi, who wished him a speedy recovery.
Tharoor is engaged in a close contest with both BJP and CPM candidates in the constituency which goes to the polls on April 23 along with other 19 constituencies in Kerala.