While the talks over the need for more improved and enhanced security systems continue to make headlines, only a few choose to find a solution to the issue. So, what is it? It is time to go behind the scenes of one of the most advanced home security systems in India.
MindHelix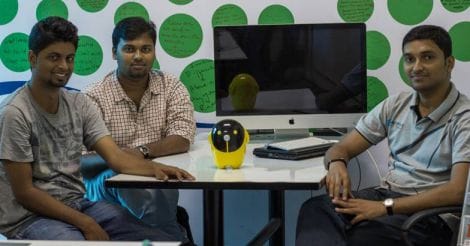 Team MindHelix (left to right) Pavan Kumar (Chief Operating Officer), Nandakumar (Chief Financial Officer), Kallidil kalidasan (Chief Executive Officer)
A group of three engineering student from Toc H had decided to step out of the walls of the classroom and begin creating interactive robotic kits. These kits were sold to those students who were pursuing projects as per their curriculum. The kits were also incidentally the cheapest ones in India. Having earned a lot of money, the three college students decided to splurge the money that they had earned, until they met Sanjay Vijayakumar, CEO, Startup Village. "We were working on the same lines as he had spoken about. But we weren't serious about it in those days," said Pavan, co-founder MindHelix. In 2010, the band of boys decided to come together to venture into the world of business. Soon, MindHelix had entered the arena of technology enterprises.
The tricky first days
MindHelix explored a wide arena for projects. After creating India's cheapest robotic kit, the group went on to innovating an advanced autorickshaw metre as well as personal security mobile app called Sentinel. This app was meant to cater to all men and women to assure themselves of a certain of safety even when their phones have been switched off. The product, however, did not seem very appealing at first. The team had approached various enterprises, pitching the product as an employee security tool. Due to slow sale cycles in this segment, team MindHelix could not venture out to running the business in a full-fledged manner. Although they were able to reach out to a few known firms, the funding remained a concern for banks were hesitant to help them due to the 'startup' status. It was not long before they had realised the potential of their mobile app and had created a unique home security system called Rico.
Once junk, now a crucial element
MindHelix has cleverly utilised smartphones, both old and new,  in the product. Here is how the product works:
A demo video of how the product 'Rico' works.
The product also comes along with a variety of accessories as well including plug sockets. "We wanted to use old smartphones which have certain features like the voice recorder and the camera as it was cheaper to do so," said Pavan.
Building a clientèle
MindHelix has adapted many marketing strategies. To begin with, their latest product – Rico, comes along with a set of interesting smart sockets and other accessories too. "Rico is not exactly a device that you would use regularly. Therefore, we decided to launch accessories the customers could use regularly. Thereby, building a brand name and convincing the customers of our services. The firm also uses social media to reach out to a large group of people. The response on social media, according to Pavan, has been favourable.
One among the few to 'startup'
MindHelix was one among the few firms to have been part of the Startup Village since the beginning. "It has been a good ride. There have been moments when everything seemed to be rather low. But since our kickstarter campaign, we have been able to generate revenue as well as raise seed funds for our projects. Many investors are, now, willing to fund us for our projects. Startup Village had introduced us to several people, thus, widening our contacts circle. This has helped us in many ways," explained Pavan.
Work and play is the way to go
Pawan and his team say that they do not regret having started their own firm. "It was very difficult for me to convince my parents of the idea of running my own company. But now, they are confident about the way things are," Pavan added. At MindHelix, the team not only works towards a common goal but they also have good fun. Would they encourage more people to run their own companies? "Why not. But one should not start a company before being sure of what they would like to do," commented Pavan.