Since its inception in the year 2012, the Startup Village has brought about significant changes in the business scenario of Kerala. The country's first Public Private Partnership (PPP) Technology Business Incubator (TBI) is at present collaborating with Kerala Govt. and Technopark-TBI to develop entrepreneurial ecosystem across Kerala. Other states including Andhra Pradesh, Uttarakhand, Madhya Pradesh and Chattishgarh are striving towards establishing Technology Business Incubators based on the Startup Village model.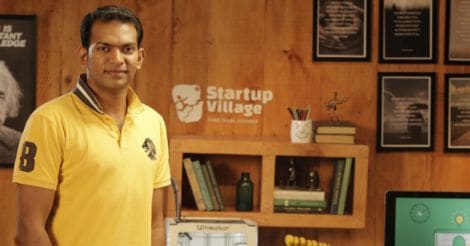 Sanjay Vijayakumar, Chairman, Startup Village.
According to Chairman of Startup Village, Sanjay Vijayakumar, the incubator has changed the perception of Kerala across the country. "Andhra Pradesh Chief Minister Chandrababu Naidu openly said that Startup Village Kochi is his inspiration how mindsets can be changed. This change in perception about Kerala is amazing in three years, for a state where everyone said entrepreneurship is not possible," Sanjay explains. He also said that for the first time in the history of Kerala, since independence, youth have a come forward to become entrepreneurs signaling a change in generation from the old to the young.
Kerala's present business scenario
When asked about how the Startup Village has enhanced business activities across Kerala, Sanjay Vijayakumar, said, "Startup Village gives first-hand knowledge in setting up a company right from the conceptualization of business ideas to finding markets for their products. It has been successful in creating an new wave entrepreneurial spirit among the people of Kerala. The change is visible not only in the technology sphere, but also across all the trade. Several reports by the industry as well as the media now mention Kochi as an emerging startup hub alongside Bangalore, Chennai, Mumbai and Delhi. Earlier, Kerala was not even on the Startup Map of India."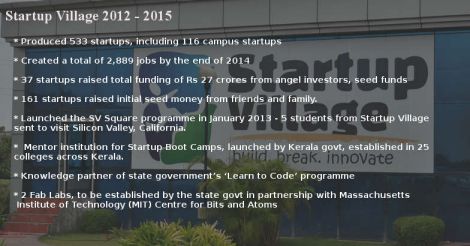 Entrepreneurship and the true entrepreneur
"Free spirit, flowing energy, fast lanes, young blood, youthful abundance and strong yearning to succeed. These are the qualities that breed an entrepreneur," said Sanjay Vijayakumar.
Entrepreneurship, as Sanjay defines it, is a culture. He believes that it creates a great new school of learning from peers and mentors who are experienced professionals. This is because entrepreneurship is about self-learning,
From engineers to entrepreneurs
Sanjay explained that most of often a student who scores the highest marks is considered the most brilliant and the one who fails is claimed to be stupid. Such notions are deeply etched in our system that students shudder at the thought failing. Thus, many become averse to taking risks as nobody wants to witness a state of failure. "Youngsters are now overcoming this to become entrepreneurs. Startup Village has transformed the way in which students perceive entrepreneurship. At an engineering college, there are only two ways to graduate – you either get a job or you pursue higher studies. Startup Village is like college, but, instead of engineering, we teach you how to build a startup," he elaborates.
The Startup Village Chairman chalks out a comparitive analysis of the learning curve at college and at the incubator: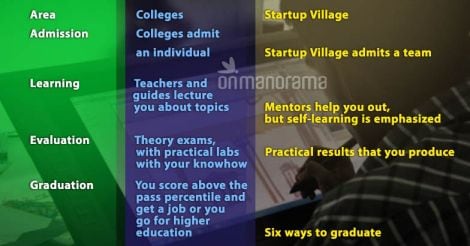 Graphic by Vinod AS
(Graphic)
The good student at SV
According to Sanjay, there are six popular ways by which you could attain the status of 'Startup Village' graudate: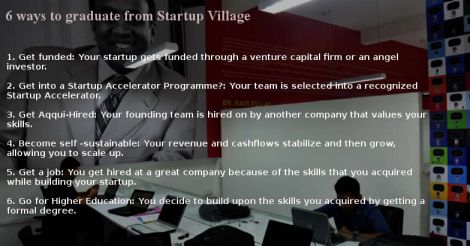 "At Startup Village, all of these are perfectly happy outcomes," he says.
Work elsewhere, before being your-own boss
Like many entrepreneurs, Sanjay feels that to would be great to work in another startup before running your own business. "If you work in a startup, you get to see the nuts and bolts of how a business is being built from scratch. Running a startup is a perfect blend of science and arts. There is a scientific method of learning that can be applied to create a startup. However, like any work of art, one great painting is not similar to another," he comments.
Who's the better entrepreneur?
Statistically from Silicon Valley, adults in their early 30s do really well in the world of startups. However, Startup Village focuses on student entrepreneurs and youth within 3 years of their graduation. "The reason for doing so is that it takes nearly 5 years to learn the basics and get the business going. If you can do that before you hit the age of 30 in India, there is a great chance that you will continue in a startup. In our social setting, risk taking dramatically declines once you are married as the need for regular income sets in," explains Sanjay.
Heading towards the post-internet world
The number of IT and internet based startups are on the rise. While many have questioned the scope of technology businesses venturing out of the world of IT or mobile applications, Sanjay says that the there is a global transition that is happening from an Industrial Economy to a Knowledge Economy. "We are still in the early days of a massive global revolution called the INTERNET. 400 years from now, the world will be known as the pre-internet world and the post-internet world. This, ushering in a knowledge economy, creates a new model of startups/business(s)," he states.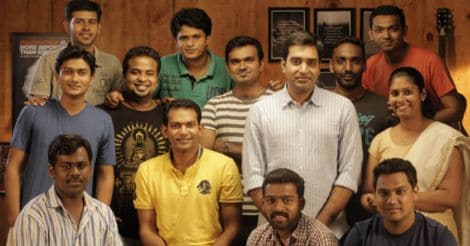 Team Startup Village
He further mentions that in the manufacturing economy, the method of production was factories and the means of exchange of goods was physical transportation. In the knowledge economy, the method of production is computers and the means of exchange of goods is the internet. "Technology startups have both computers and internet and thus due to the ease of building the business, the concentration is much higher and will continue to remain so," he adds.
Women who mean business
Interestingly, there are fewer startups run by women that registered and incubated at the Startup Village. This is because fewer women were associated with Startup Village during the initial stages. "The scenario is improving and we are confident that as the initiative picks up pace, there will be more women co-founders in roles such as human resource management, sales and marketing and finance," says Sanjay.
At present there is a Women's Entrepreneurship Cell established at the incubator to encourage more women to be part of the business world.
Sanjay's words of advice
"I believe the secret of success is - you need to be passionate about the business you want to build. That way, even if you fail, the experience would be totally worth it. Always do what you love and for the most important decisions - listen to your heart more than your brain," advices Sanjay.