The beautiful exteriors and the amazing nature all around make Johny Thomas' house in Kattapana in Idukki, Kerala, stand apart. The elevation is built by leaving some space in front so that its beauty easily comes to view. The house is constructed by retaining a mango tree that provides shade. Concrete tiles are paved on the roof which is designed in many levels. A glass pergola on the roof ensures abundant supply of natural light inside the house. The elegant cladding tiles on the exterior walls are a highlighting feature here.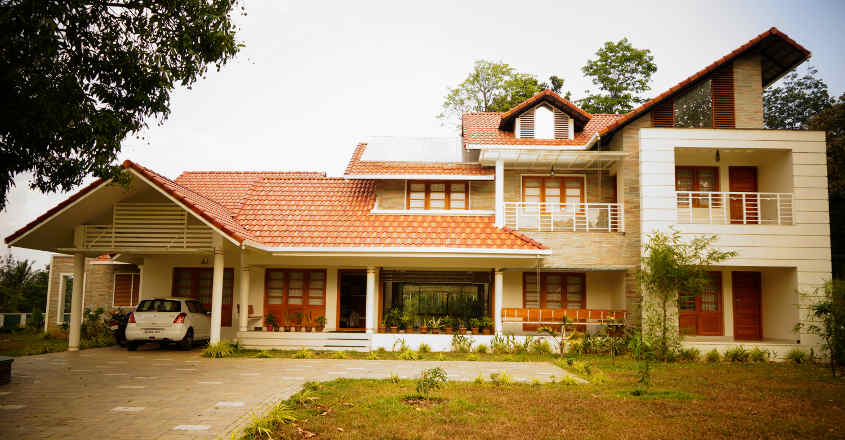 There are formal and family living areas, dining space, kitchen, five bedrooms and courtyard in this 4250 sq ft house that stands mesmerizingly in a 45 cents plot. The view of the majestic mountain ranges from the back of the house is truly spectacular. The soothing wind that lulls the mountain ranges make its way to the interiors of this house through the glass doors installed in the back and front sides. Automated rolling shutters are arranged here to ensure security. There is no need to switch on lights or fans inside this house during the day time, as the natural light illuminates the interiors and the cool breeze from the mountains fills the spaces.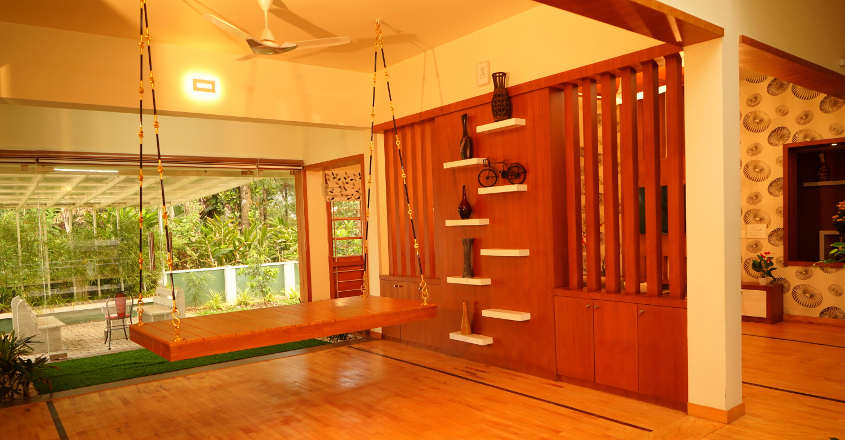 The courtyard is the most unique feature of the interiors. The glass ceiling on the roof welcomes lots of sunshine into the house. Artificial grass is paved on the floor here. The indoor plants add a breath of freshness and greenery in the courtyard. A wooden swing that hangs from the ceiling completes this space. A wall each has been highlighted using wall papers, in elegant designs, in all the interior spaces. The prayer area is arranged in the family living space on a raised wooden deck, with storage space. Flooring is another yet amazing feature which elevates the elegance of the interiors. Wooden flooring is done in all the main areas while vitrified tiles are paved in the kitchen.
The stairway is designed in such a way that the dead space is significantly reduced. The wooden fabricated stair is designed in the hanging style. Instead of glass, stainless steel strings are used as handrails.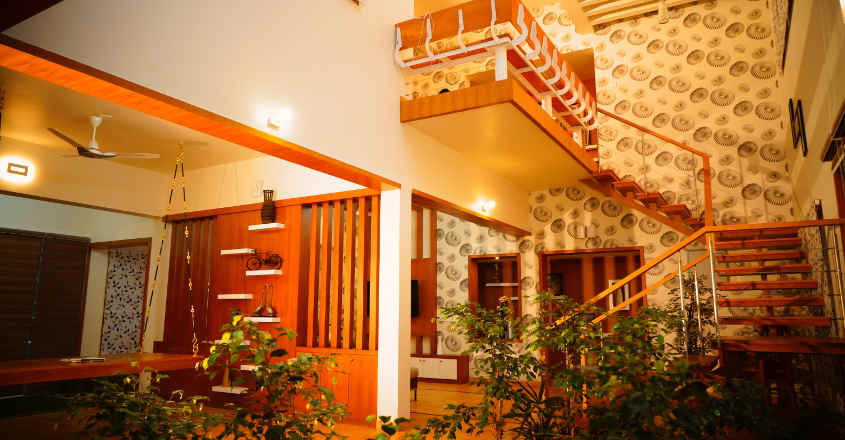 Unique wall papers adorn the head boards of each bedroom. The bath-attached bedrooms have full length wardrobes as well.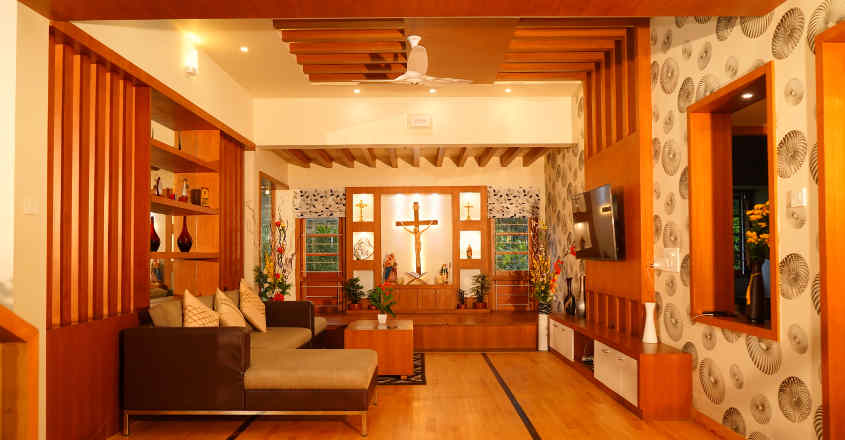 The kitchen is furnished using plywood and veneer. Granite is paved on the counter top. There is an outer courtyard, with a roof done in polycarbonate sheet, in the back yard of the house. Seating arrangements carved in natural stones is the eye-catching feature here.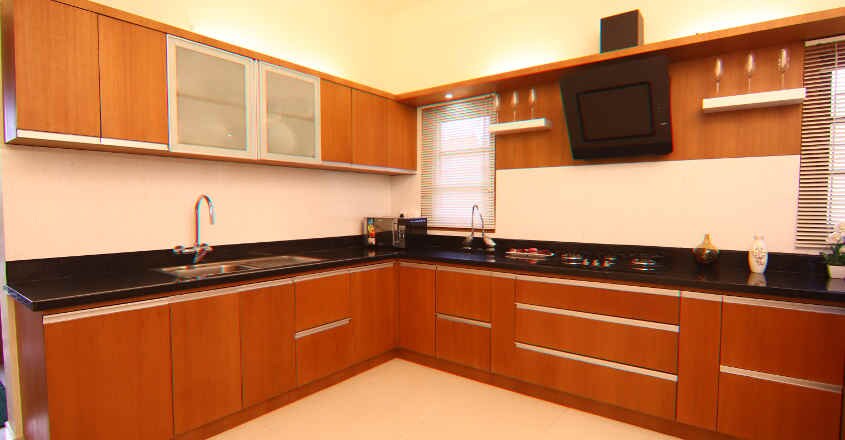 The refreshing breeze from the mountain ranges, the beautiful greenery and the pleasant sunshine fills the interiors with abundant positive energy. The family too vouches for the incredible happiness that they feel, living in this beautiful house.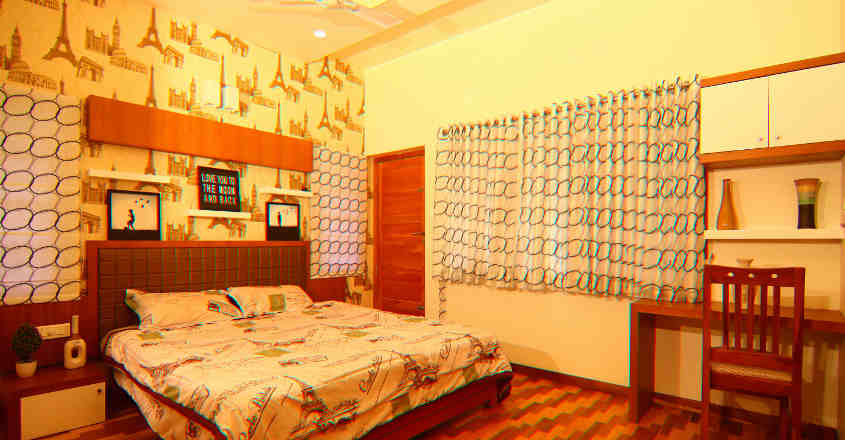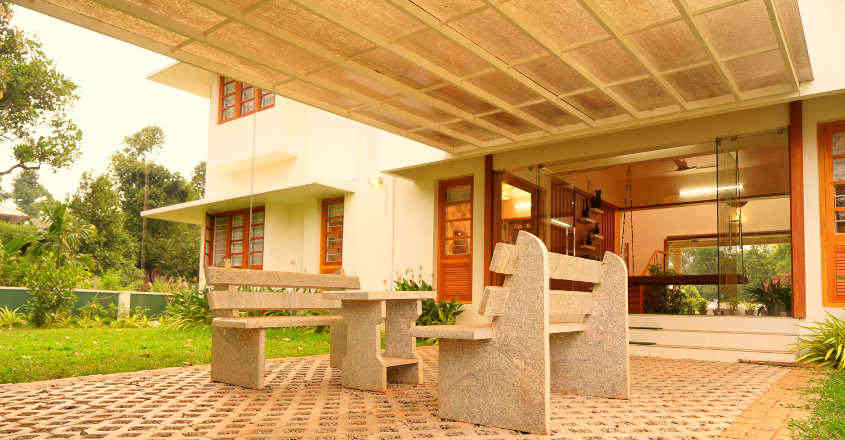 Project Facts
Location – Kattapana
Area – 4250 SFT
Plot – 45 cents
Owner – Johny Thomas
Designers – Vineeth Joy, Sini Vineeth
Design Groove, Piravom
Mob - 9895758255