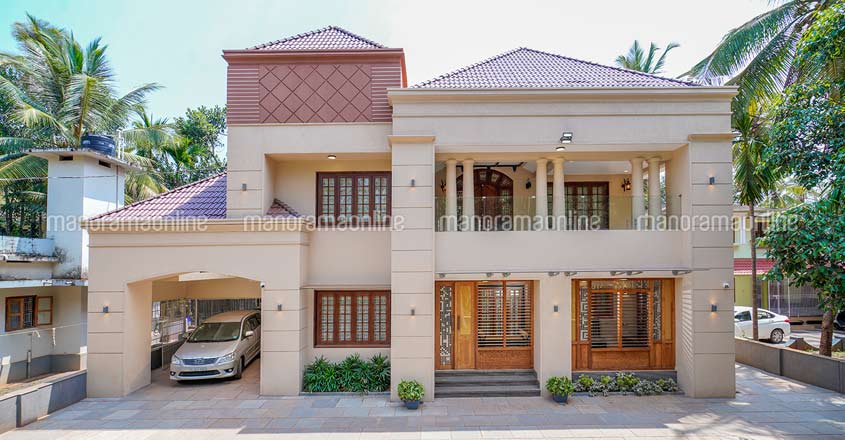 Muhammed, a native of Thalassery in Kannur, Kerala, decided to give his old house a modern makeover when the family members began complaining about space constraints and other discomforts. The house, which is more than a decade and a half old, now sports a chic royal colonial look which makes it stand out from the rest in the area. The newly added rectangular pillars and the textured walls enhance the regal look of the exteriors.
The space constraints were overcome by re arranging the interior spaces. Unnecessary walls were demolished to transform the interiors in the open theme.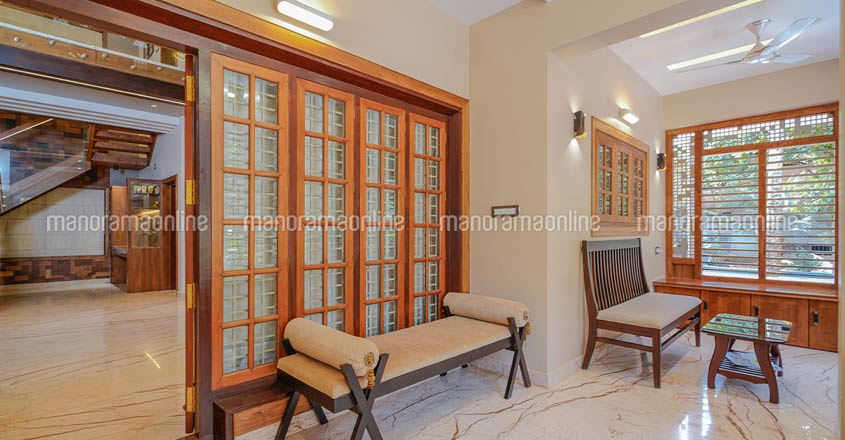 This beautifully renovated house, in 3500 sq ft, has a car porch, sit out, formal and family living areas, kitchen with an adjacent work area and five bedrooms.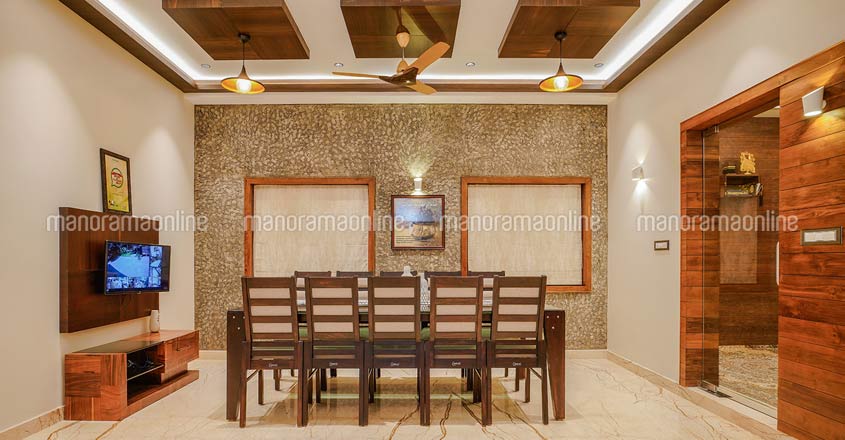 Among the many alterations that were made, the major one was joining the old car porch with the formal living area, making it vast and spacious. A new car porch is built and the height of the roof is raised. Truss work is done over the slanted roof and is paved with roofing tiles. The temperature inside the house is pleasantly regulated as the sunlight doesn't hit the roof directly.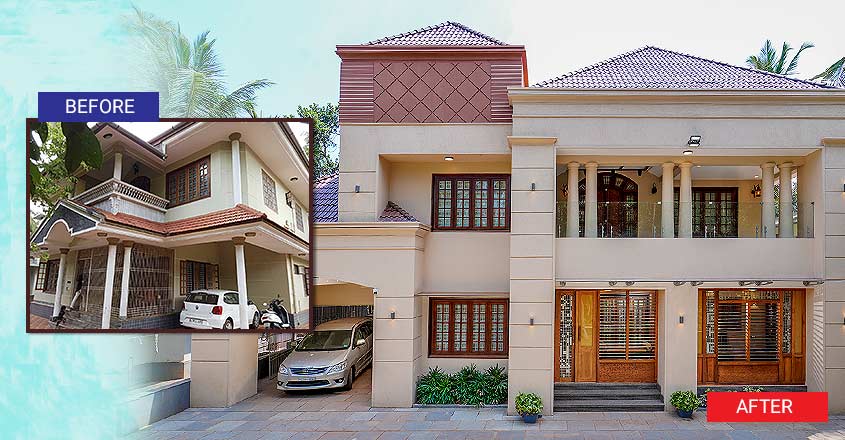 A bedroom is added on the upper storey. Granites are replaced with elegant Italian marbles on the lower storey and ordinary marbles are used on the upper floor.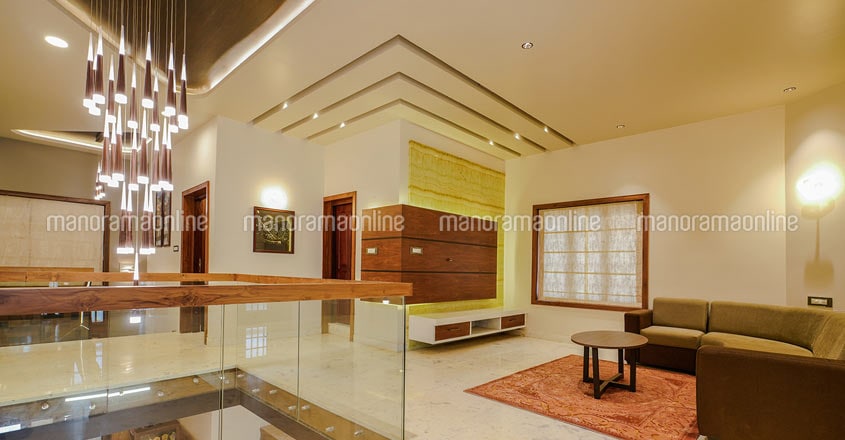 The old ceiling over the dining area got transformed into a roof in double height. The stairway which looked boring earlier got a mesmerizing modern makeover. The new stairway is done in exclusive teak wood. The handrails in toughened glass add classy elegance to the stairway. The stylish hanging lights bought from Bengaluru projects the majestic look of the double height roof.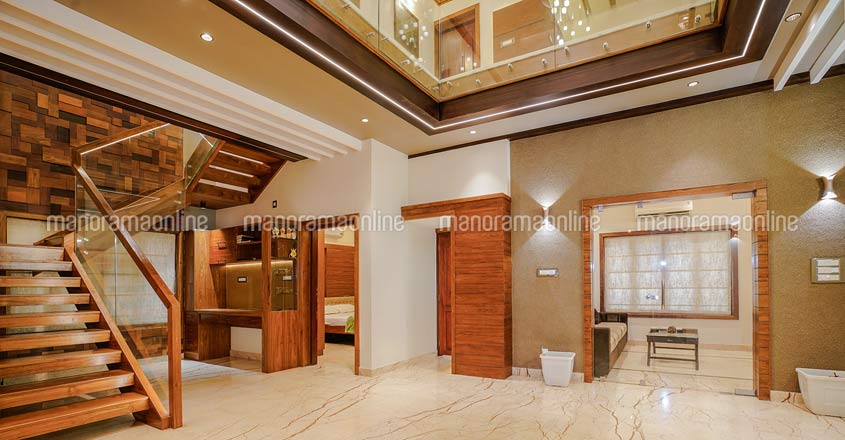 The furniture and the paneling are done in plywood veneer finish. There are three bedrooms in the lower storey and two bedrooms on the upper floor. The bath attached bedrooms have full length wardrobes and separate dressing areas as well. Unique designs and paneling on the head boards make the bedrooms incredibly attractive.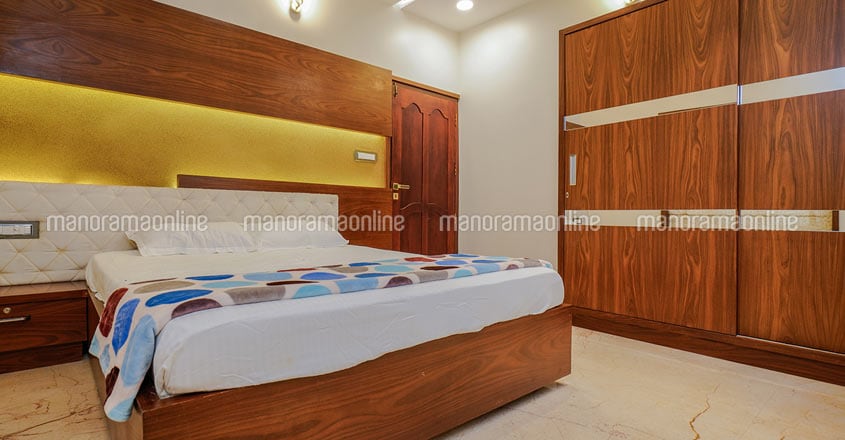 The kitchen got modified into a modular kitchen with all the modern facilities. New cupboards and storage spaces are added here. Besides, an adjacent work area completes the kitchen.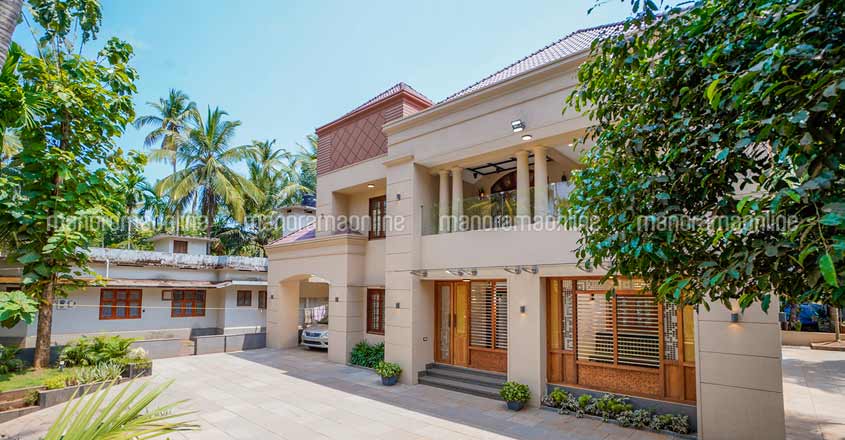 The house has become more spacious and looks elegant after the interiors are redesigned. Muhammed says that guests and relatives often get confused as they look around for the 'old' house. This house has had a mesmerizing transformation that it hardly looks like a renovated one.
Project Facts
Location – Thalassery, Kannur
Area – 3500 SFT
Plot – 30 cents
Owner – Muhammed Puthenkod
Designer – Shaheed Abdulla, Design Studio
Mob – 99469 99906
Year of completion - 2018