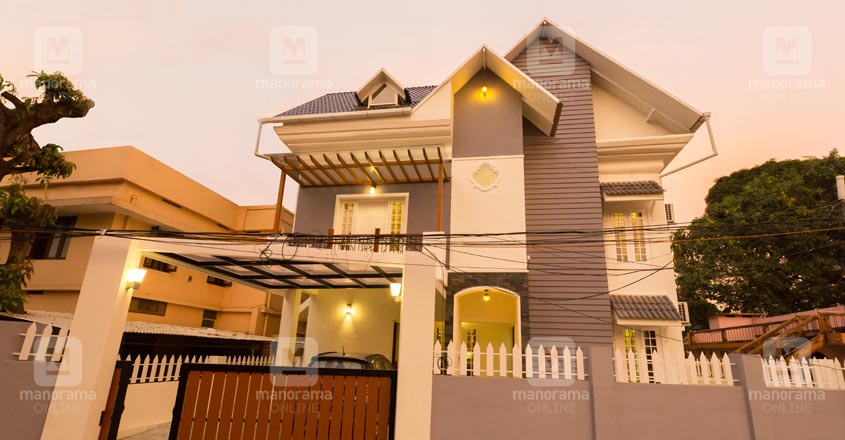 This elegant house that features the classic style of the colonial architecture stands stately on a 5.2 cents plot near the National Highway in Edappally, Ernakulam, Kerala. The unique design of this house and its premises ensure that the bustle and the pollution of the busy city don't affect those who live in it. The family wanted the exteriors of their brand new house to feature a classy look that instantly draws attention. The panache of the colonial architecture gives this house a stunning elegance.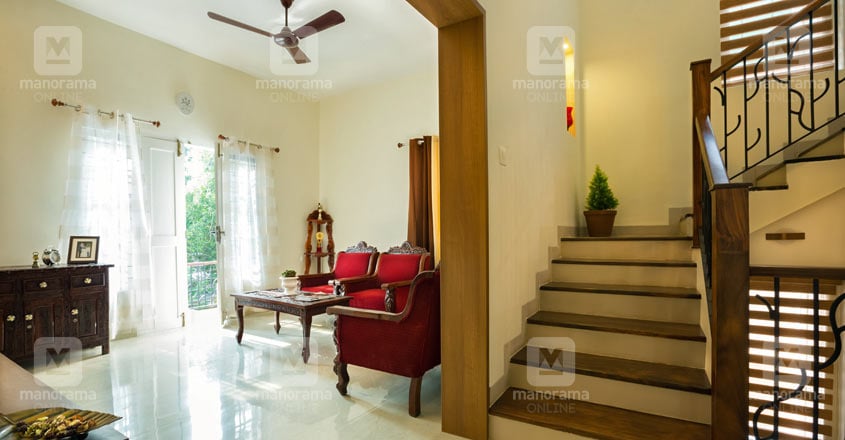 The flat roof has been installed with truss work and is paved with ceramic tiles to effectively prevent the high temperature in the urban centre. The natural stone claddings and the louveres perfectly highlight the chic look of the colonial style exteriors. The open terrace could be used as a spacious party area as well.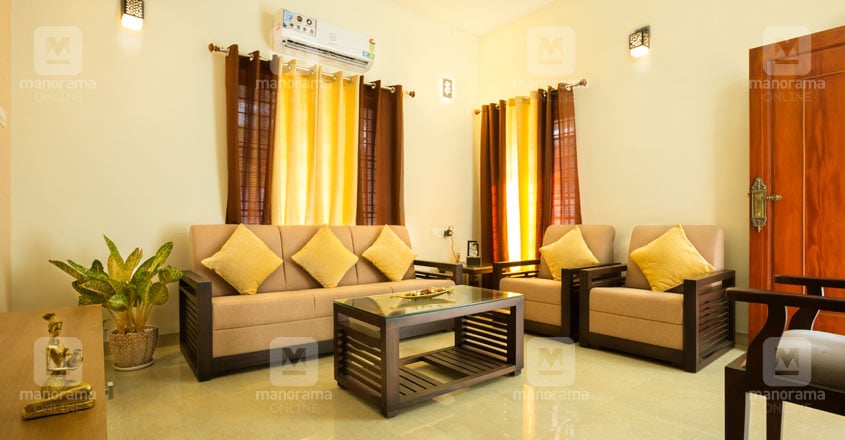 This beautiful house, in 2722 sq ft, has a car porch, sit-out, formal and family living areas, dining hall, kitchen with an adjacent work area, four bedrooms and an office space as well. The interiors are designed in the open style, avoiding unnecessary walls that separate the spaces. The roof, in double height, and the white colour theme help the interiors look incredibly vast and spacious.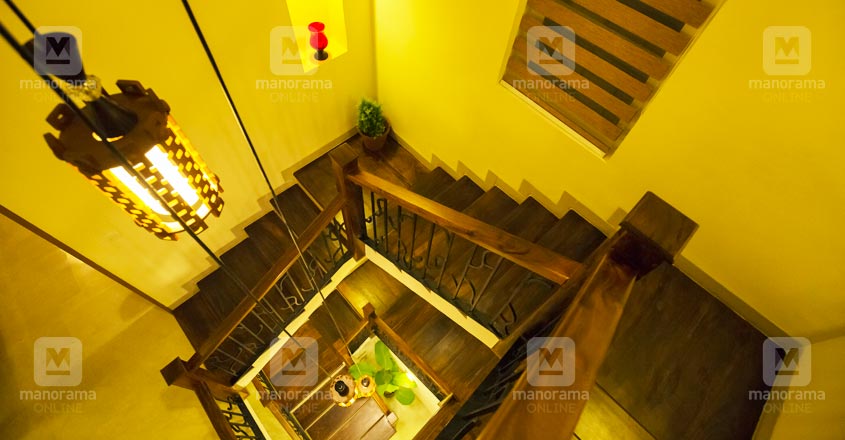 This house is designed by meticulously utilizing the spaces. The car porch in steel – glass combination has been built in the back space. The rainwater harvesting facility and the water tank too are arranged just beside this space.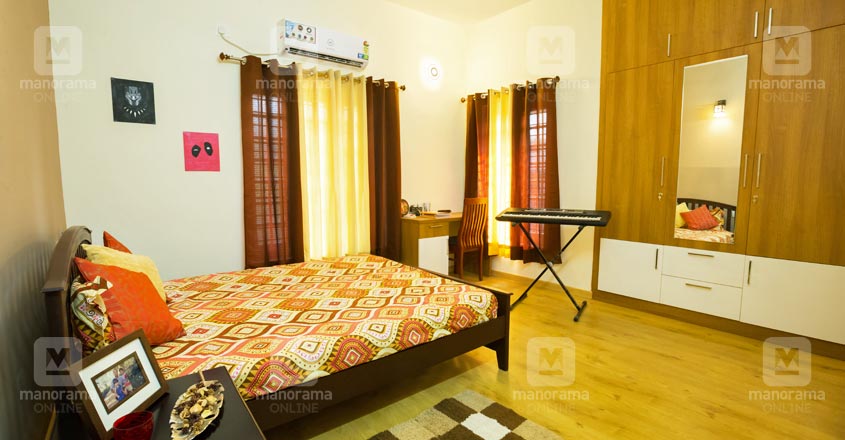 Vitrified tiles are paved on the floor in the common areas. Meanwhile, wooden flooring is used in the bedrooms. The steps of the stairway are covered in wooden panels. The steel handrails add an eye-catching contrast here. The wash area and a small storage space too have been arranged beneath the stairway.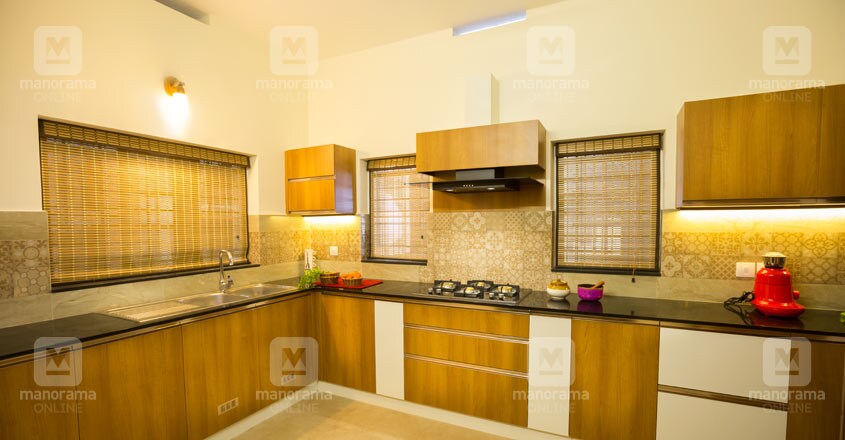 The bedrooms too have been smartly designed without wasting spaces. The bath attached bedrooms have in – built wardrobe units for storage.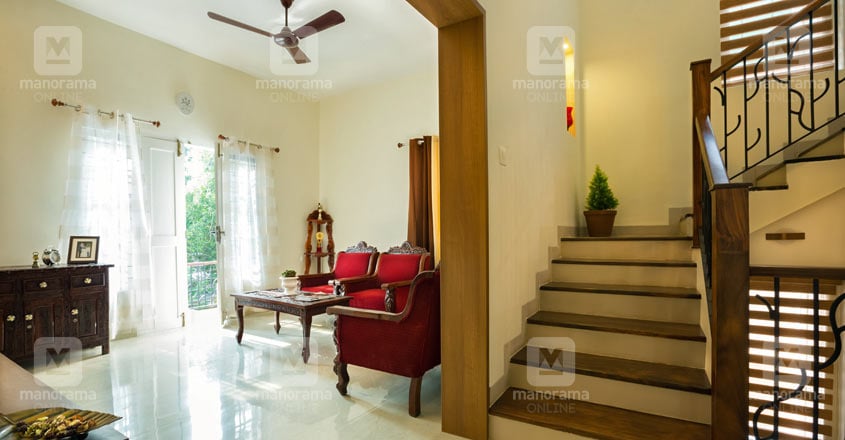 The modular kitchen is designed in 'L' shape. The cabinets here are built using marine plywood. Granite is paved on the counter top. Two adjacent work areas complete the kitchen space.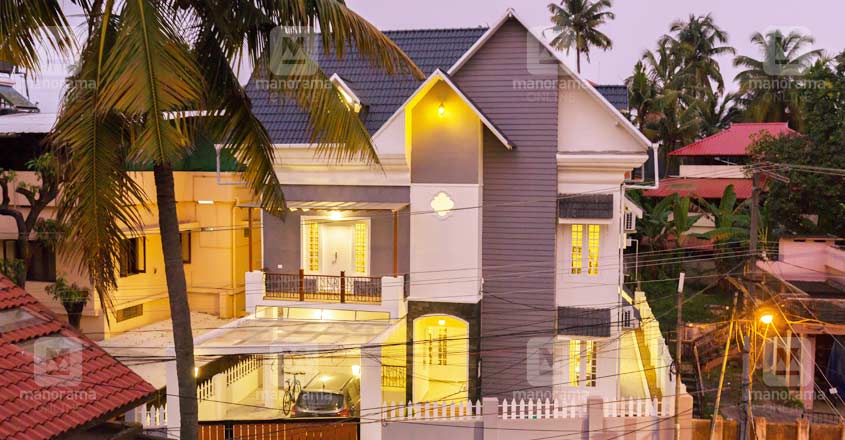 This house has proved that a beautiful abode with all the modern facilities could be easily built on a small piece of land with excellent planning and execution.
Project Facts
Location – Edappally
Area – 2722 SFT
Plot -5.2 cents
Owner – Manuel Kachiramattam
Architect – Deepthi Nair, Dj Architecture, Ernakulam
Mob - 9567572193