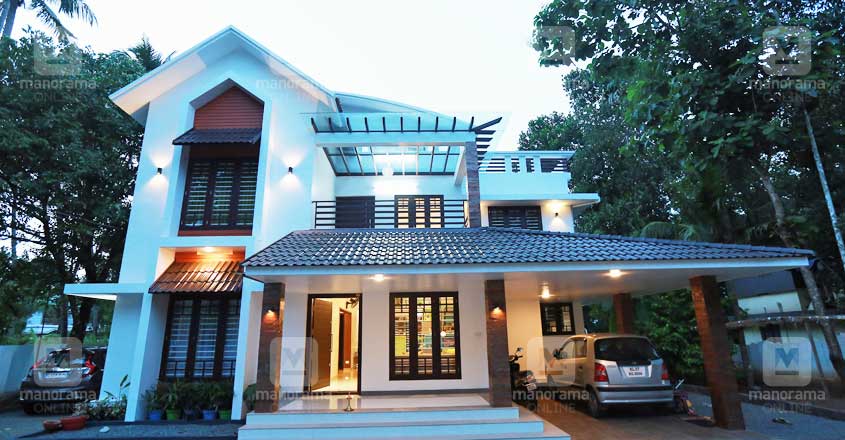 Sibin's brand new house in Irinjalakkuda has been specially designed to suit the unique climate of Kerala which receives ample amount of rainfall and sunshine throughout the year. The tower structure, designed in double height, is what instantly draws the attention. The roof above it is sloped so as to suit the climate.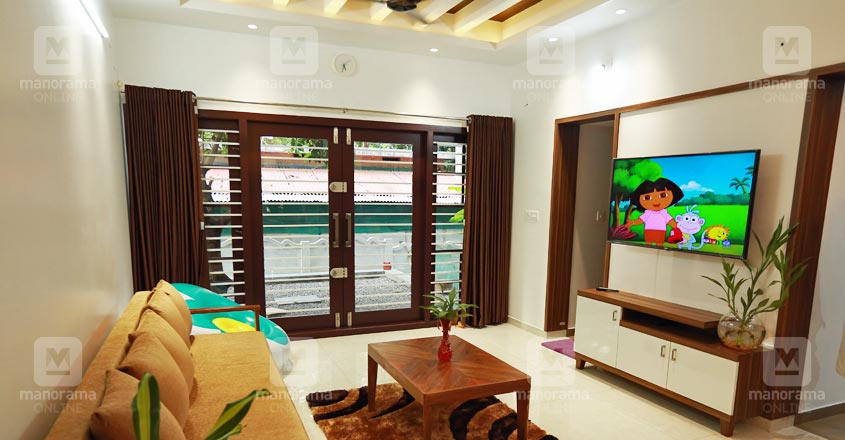 This amazing house, designed in 2400 sq ft, has a sit-out, formal and family living areas, dining space, and kitchen with an adjacent work area, four bedrooms and a balcony. The interiors designed in the open style make the spaces look vaster and spacious. Unnecessary walls have been avoided inside the house to ensure excellent cross ventilation. Besides, this helped save considerable amount of money as well.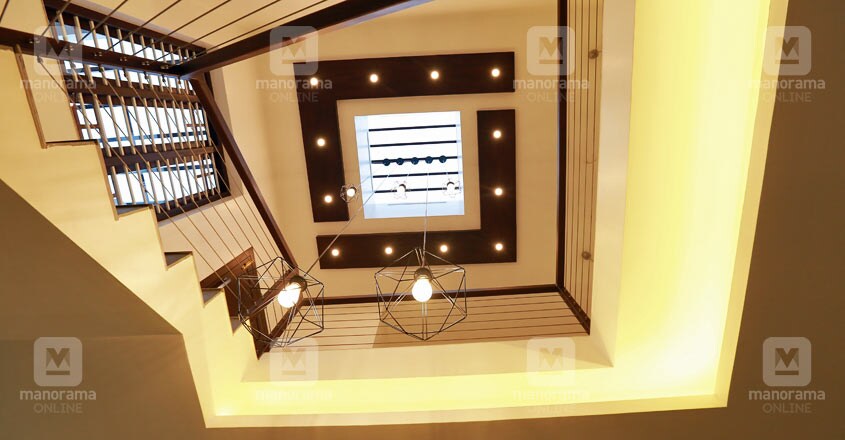 The custom made furniture suits the general theme of the house. A show shelf acts as a semi -partition in the formal living area. Meanwhile, the TV unit is arranged in the family living area.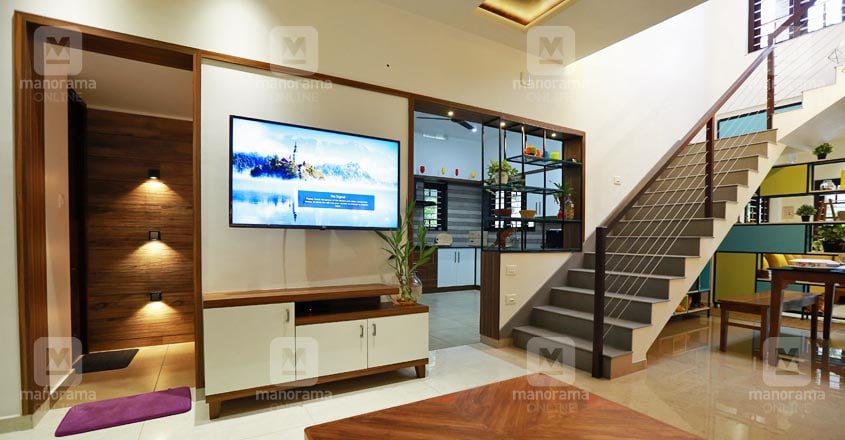 The height of the roof above the stair area is three times higher than the rest of the house. Lots of pleasant sun shine comes into the house through this space. Though the stairway has been designed in a minimal way, the hanging lights here add a classy charm. The handrails, meanwhile, are made using stainless steel. The stairway leads to a small upper living area.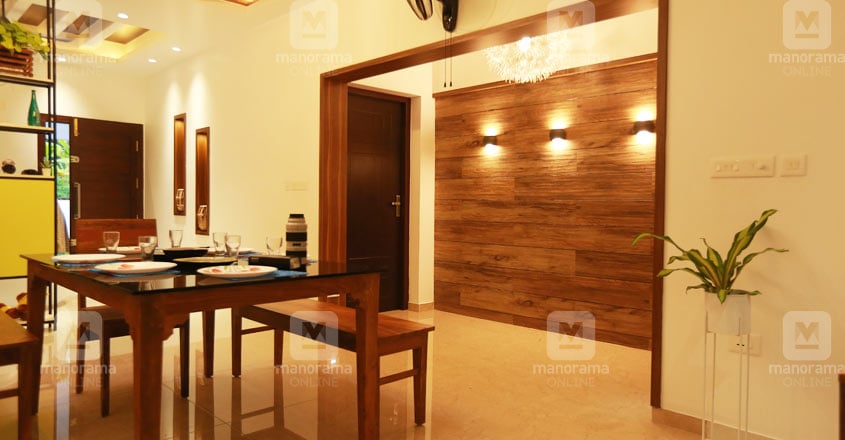 There are two bedrooms each in both the floors. These rooms are bath attached with wardrobe facilities and separate dressing spaces.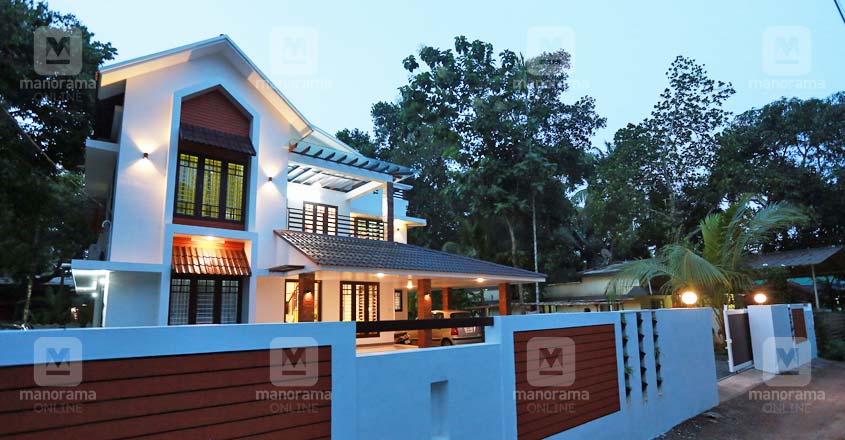 The kitchen cupboards are done in wood – veneer finish. Granite is paved on the counter top. An adjacent work area completes the kitchen space.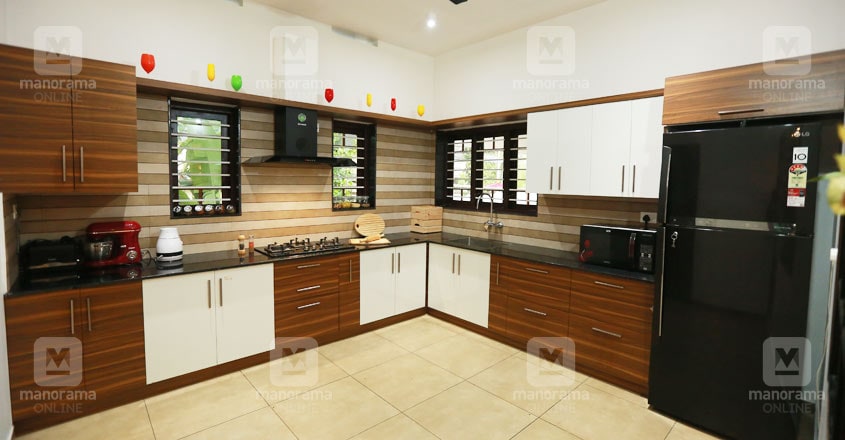 This house stands out for its modern features and lively interior spaces that exude lots of positive energy.
Project Facts
Location – Irinjalakkuda, Thrissur
Area – 2400 SFT
Plot – 15 cents
Owner – Sibin KK
Architects – Isac Johnson, Minu Benny, Design Note Studio, Thrissur
Year of completion - 2019