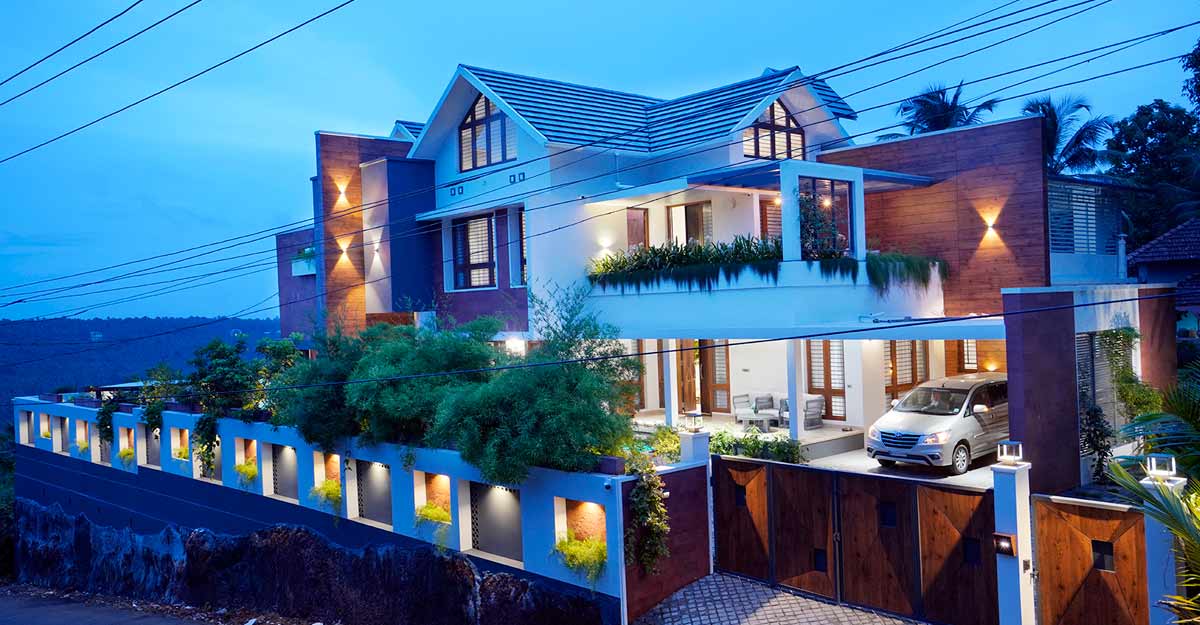 Shareef Azeekkan's brand new house at Kolappuram in Malappuram district is an enchanting haven of luxury. Apart from the landscape and balcony, the interiors too are laced with greenery.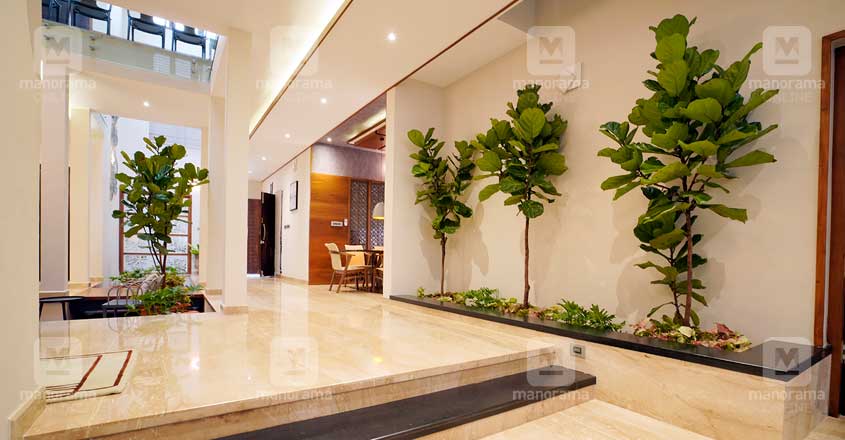 The palatial house, designed in 6000 sq ft area, has a car porch, sit-out, formal and family living areas, dining space, a beautiful courtyard, five bedrooms, a kitchen with a work area, a gazebo and a swimming pool.
The aesthetically designed front yard is paved with natural stones. The landscape and the compound wall are abound in attractive plants and creepers. The gazebo where the family loves to enjoy special moments is the highlight here.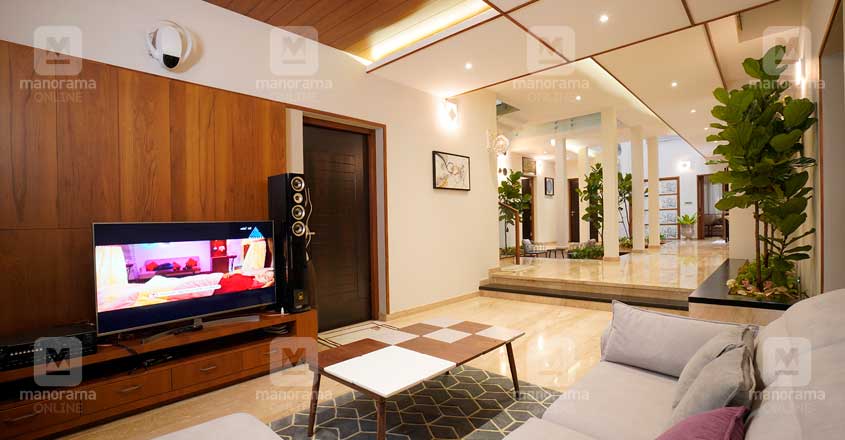 The interiors are designed in the open style which makes the spaces look incredibly vaster. The living and the dining areas are part of the main hall. A sliding glass door separates the formal living area from the rest of the house. Exquisite Italian marble is used for flooring and adds a classy elegance to the interiors. The unique prayer space designed in the shape of an Arabian majis exudes an exotic spiritual aura to the spaces.
The spacious dining table is attractive and grabs instant attention. The beautiful hanging lights above it complete the elegant look of the dining area. From the family living area, one could get to the gazebo through the adjacent patio.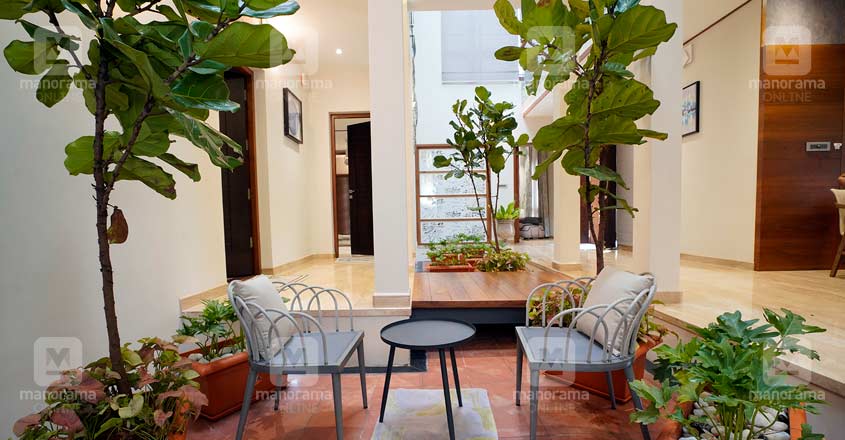 The spacious courtyard which acts as a partition between the formal and the family living areas is truly majestic. There are huge indoor plants the interior courtyard, which is designed in double height with an 'open to sky' ceiling. Huge windows line the walls here, to receive the cool breeze from the south direction. The presence of indoor plants helps reduce the temperature inside the house. It makes the interiors feel extremely comfortable besides exuding positive vibes.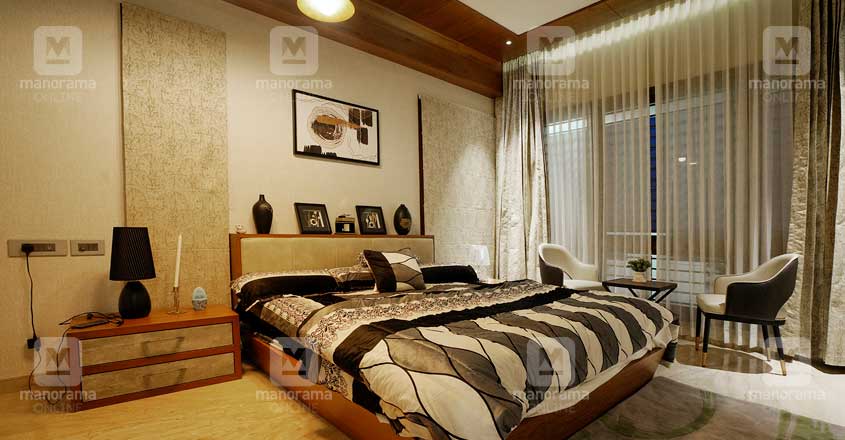 The kitchen is equipped with all the modern facilities. A breakfast counter too has been arranged here.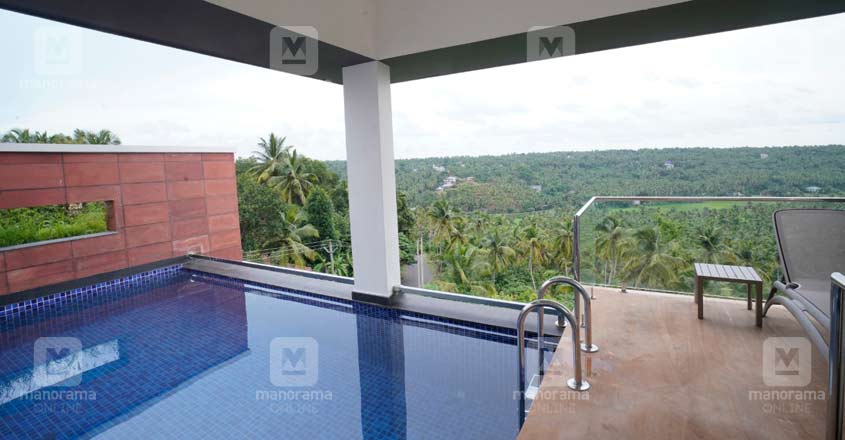 There are two bedrooms in the ground floor and three in the upper storey. The beautiful views of nature could be enjoyed through the huge windows in the bedrooms. The bath-attached bedrooms have in-built wardrobes for storage and separate dressing spaces as well. The balcony is part of one of the bedrooms in the upper floor.
The family has pledged their commitment to environmental conservation by equipping their dream dwelling with nature friendly features. Arrangements have been made to store the rain water which is used to water the gardens. The solar panels produce most of the electricity that is required to run the house. The infinity pool built on the south east side in the upper floor is just surreal. The wind that blows through the refreshing water in this pool is another factor that keeps the interiors cool and comfortable. The pool side too is a favourite spot for the family to spend some mesmerizing moments together.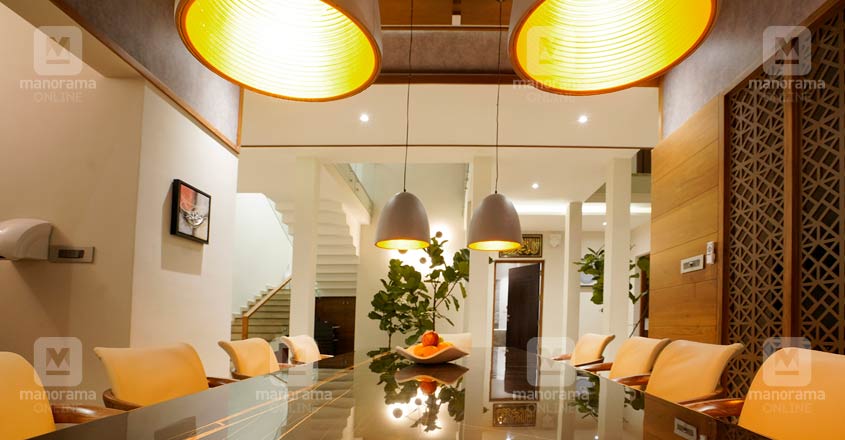 The magical beauty of the surrounding nature is recreated inside this house as well, to make it extra special.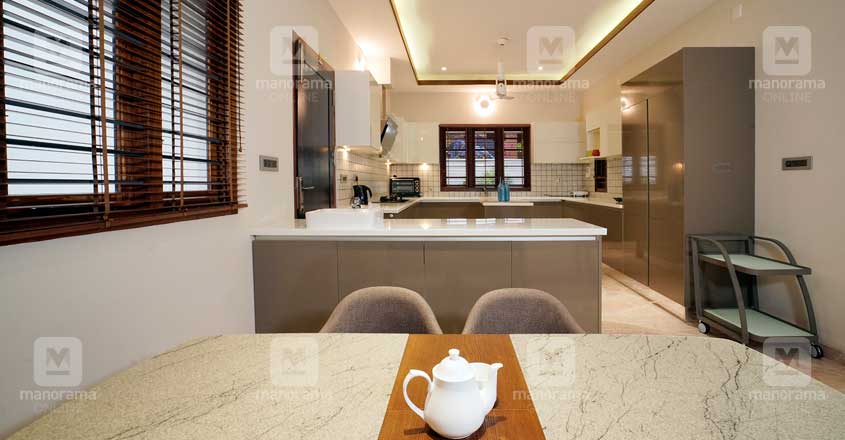 Project Facts
Location – Kolappuram, Malappuram
Area – 6000 SFT
Owner – Shareef Azeekkan
Architects – Divin and Ahammad Faiz
Honeycomb Architects, Calicut
Mob – 9995232348, 9746394878