Till seven months back, Jayasree Upendranath, a classical dance exponent hailing from Kottayam, was battling severe mental and physical issues due to overweight.
She was forced to find a solution when her two-and-a-half-year-old daughter started demanding more agility from her.
"I suffered from acute pain in my heel and I was unable to get engaged in regular activities because of backache. I couldn't even take care of my small kid. That's how the thought of shedding weight came into my mind," Jayasree says.
Jayasree's initial step was to experiment with a bicycle.
However, her cycling experiments in the morning and evening did not yield the desired result.
What she eventually found crucial for weightloss was adapting to nutrition food. "I overhauled my entire food habit. Instead of the general food items in the morning and in the evening I started taking nutrition-dense food that contained vitamins, minerals and protein," she says. Meanwhile, she also avoided fried food items for lunch and took low-calorie nutritious food items.
She also ensured enough water intake.
"Thus I was able to shed 32 kg in six months, even while having my favourite food, and reached the ideal weight of 56 kg," Jayasree adds.
"If we diet by reducing the amount of food we used to have regularly, the nutrition that our body requires is also reduced. So we need a substitute diet that solves the nutritional deficit if one intends to shed weight by staying healthy. That's where the relevance of nutrition food lies," she says.
In the hectic daily schedules, most people seldom care about body's requirement of minerals, proteins or vitamins, Jayasree says.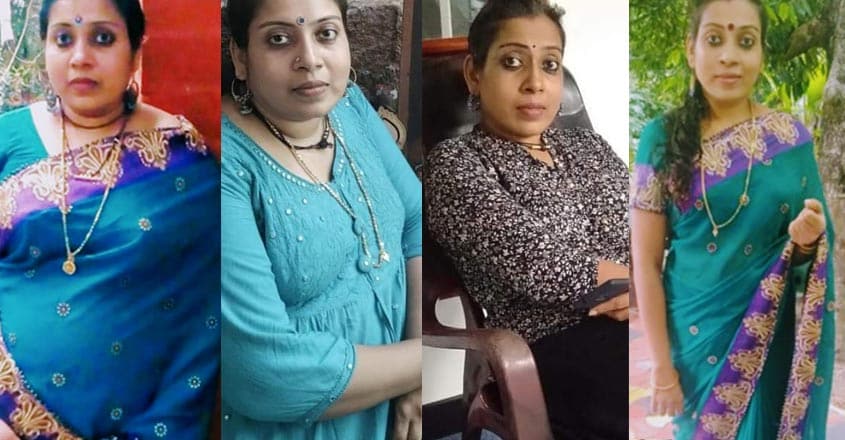 Jayasree's weight reduced to 56 kg from 88 kg in a short span of six months.
But she claims to have experienced no health issues by undergoing such a sudden weight change.
Instead, she says she had found the world fresh and anew. She became as a lighter person.
"I have no physical or mental strain I used to suffer when I was overweight. There is no pain in the heel, backache or difficulty in walking. I can actively take care of my small kid. I am as young as I was ten years ago. I am healthier and happier too," she says.
Jayasree, the Managing Director of Bhavapriya School of music and dance in Kummanam in Kottayam, is a multi-faceted talent, who has dabbled with a slew of creative realms including script writing, short film direction, acting and so on.
She has also been active in charity and social welfare initiatives.
She has even played a cameo in ace film maker Jayaraj's latest film 'Hasyam'.
Her husband Kummanam Upendranath is a renowned violinist and an AIR grade artist. Bhavapriya and Bhadrapriya are her two daughters.
Her successful run of weight loss regime instilled curiosity among her acquaintances so much so that she had to ultimately become a wellness coach.
She is now a licenced wellness trainer imparting her knowledge of the diet, workout and other particulars of the weight loss procedures to the needy.
Jayasree can be contacted on mobile: 9446603463