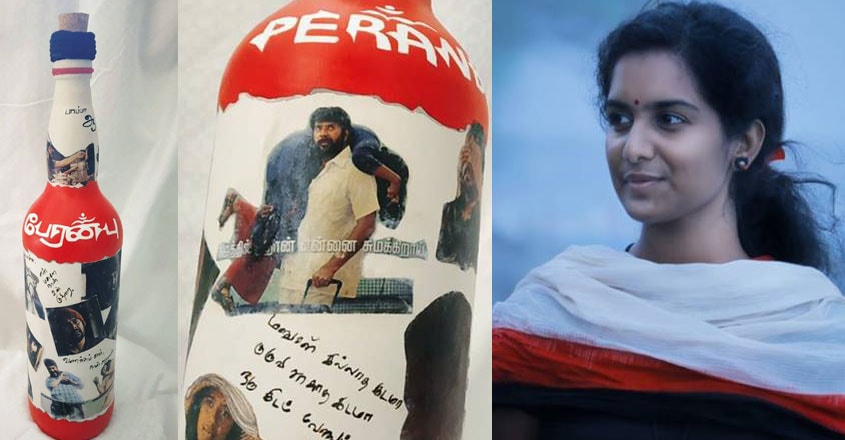 Even as Movie enthusiasts are avidly gulping the aesthetics of Mammootty-starrer Peranbu, which has won laurels at many international film festivals Aparna, a Kollam native expressed her admiration for the mega star in a unique way.
Aparna, who is known for creating beautiful paintings on liquor bottles, has floored the social media with her latest bottle painting on the theme of the film 'Peranbu'. The youngster talks to Manoramanews.com about her unique creations.
While the beer bottles are taken away by the rag pickers, Aparna is after attractive liquor bottles which become the canvas for her paintings. "A glimpse of Mammootty's performance in the trailer of the movie 'Peranbu' have already garnered praise. I have read many new articles which said that his character called Amudavan is one of the best in his career. Since then, I have wished to honor the legendary actor through a painting on bottle," notes Aparna.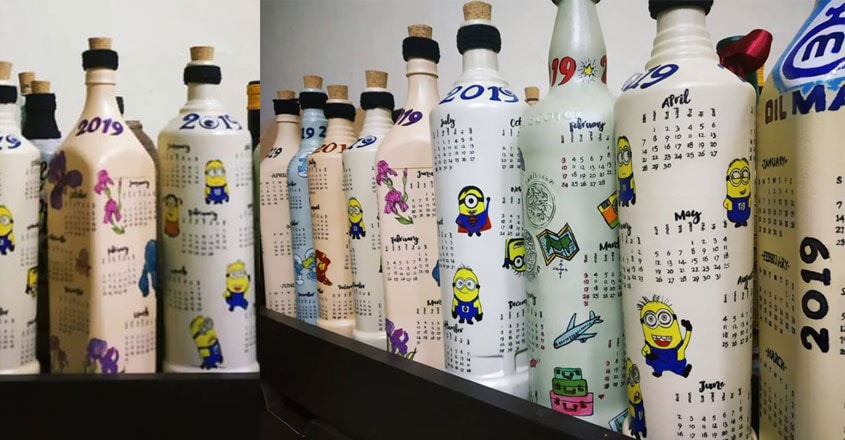 However, Aparna had roamed around, quite a lot, in search of the right bottle to paint her 'Peranbu' masterpiece. Aparna used to take note of liquor bottles thrown on the roadside on her way to the college. She would pick them up on her way back home. When her house got filled with such bottles, she thought of turning it into a business. With the wholehearted support of her family, Aparna soon started to sell beautifully painted bottles.
"I had painted the calendar of 2019 on bottles and posted its pictures on the social media. People noticed it and soon I began to get calls asking for such bottles for gifting it to their dear ones," says the young artist. Aparna says she is also able to make a decent income by selling these unique art works. This young girl is doing a commendable job as she is reusing the bottles that are thrown away.
Tamil movie 'Peranbu', starring Mammootty in the lead role, hit the theaters across Kerala on 1st February.