There is no better investment than an understanding partner. What if your business partner is someone who knows your every strong and weak points?
Onmanorama Women presents you the lives and works of four pairs of sisters. Here's the first in the series.
Shemayel and Shurouck from Kozhikode have already tasted success with their mutual love of cakes. They may be pursuing different interests but have a unique ingredient of success - an understanding and supporting sister.
Sugar sisters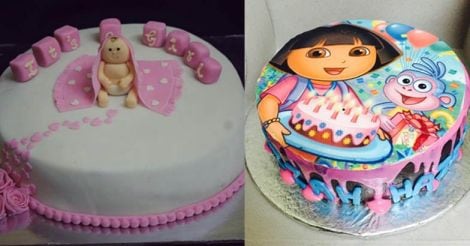 Shemayel and Shurouck do not mind the nick name. They are proud of their mouthwatering creations. The sisters have been struggling to keep up with demand for their cakes since they started a Facebook page in 2014.
"The year I joined for a BBA course in Providence College in Kozhikode, my seniors asked me to bake a cake for them," Shemayel, the older of the two sisters, said. "They loved my cake. That was perhaps the first recognition that came my way. We started selling cakes to friends. Then someone suggested that we should start a Facebook page. We started it for fun, just to know how many 'likes' we could get. When more and more people started ordering with us, we were forced to think of it as a business," she said.
The sisters learned how to bake from their mother Amal. They never had enough of mamma's special chocolate mud cake. Amal, however, slowed down on baking when she saw that her daughters were moving to the heavy side. If you want a cake, bake one, she said.
The girls did exactly as their mother told them. They baked their first cake. They were constantly trying out different recipes and ideas. The end result was always to the liking of both bakers.
They made their mark in the culinary scene of Kozhikode by presenting a seven-level seven-flavored rainbow cake.
Shemayal, aged 23, and Shurook, aged 21, owe their business acumen to their father Salim. And they have a difficult judge of their cakes in little brother Aslam. The eight-grade student is hard to please, they said.
They have made themselves endearing to the children by decorating birthday cakes in Dora, Chota Bheem and Barbie themes. They marvel in seasonal theme cakes, three-tier cakes and 3D cakes. They earn around Rs 50,000 a month on average.
"We have a clear division of labor. That helps us complete an order in a given time," said Shurook, who is in her third year of economics degree course at the Farook College.
Ask them their favorite and they would reply in chorus. A cake they made for a hardcore fan of Dulquer Salmaan. The cake was themed on the characters the actor had played in different movies. Now they want to gift a better cake to Salmaan.
Read: Women Business News | For this Milan-based design expert, India is a huge inspiration