The late Dr A P J Abdul Kalam had his special take on dreams. "Dream is not that which you see while sleeping. It's something that does not let you sleep."
A few years down the line, an enterprising young girl, Aditi Mammen Gupta, did just that. "Have a dream, let it trigger you up. Take yourself to the ends of the Earth to fulfill it." This is the principle Aditi lives by and what's turned her into a successful "food experimenter" in a short span.
She began dreaming in all seriousness soon after her studies, a year of work and marriage after. The dream was special in that she saw herself marketing products that were 100% vegan with zero preservatives.
After graduating in economics and psychology from Sophia College, Mumbai, post-graduating in Human Resources Management from the University of Birmingham and working as HR trainee in ITC for a year, Aditi came to the realization that what she wanted to pursue in life had not the remotest bearing on what she had been tutored in.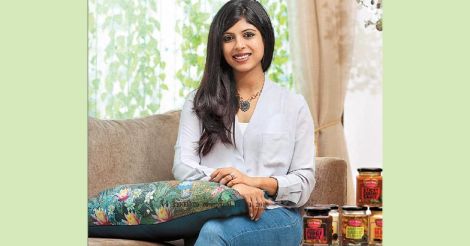 All through her formative years, the young lady had a leaning towards food. She used to watch all the popular chef shows, lap up all books on cookery and try out dishes. During the course of her foreign jaunts, she would taste various dishes and get back with sauces, spices and all sort of condiments with which she would later experiment. And most often than not, her family would be at the receiving end of her culinary trials. However, it was her husband who clinched the dream for her. Why not go in for something that would complement food, since she was so passionate about it, he suggested. Aditi gave the suggestion a thought. There seemed to be some sense in it. But questions like how, when and what kept troubling her.
Aditi had this special fetish for tinkering around in supermarkets and scouting for new products. On one such outing, she went looking for chocolate fudge sauce from shop to shop, but failed to find it. The closest to what looked like the sauce was soaked in preservatives, something which she never found in foreign stores. They were nil on preservatives there. That's when Aditi realized Indian markets were pretty bad on that score. Everything was "preserved" here.
An idea was born
An idea was born then. How about venturing into "Sauces and Spreads"? The path to realizing one's dreams is strewn with thorns and brambles in India, more so, if the dreamer happens to be a woman. She had a long and arduous road to take, said Aditi. It's not that things don't work here, but it's doubly difficult for a woman to get going, she added.
Once hit by the idea, she decided to do a thorough feasibility study of the product's marketing possibilities. There existed fundamental differences between whipping up a new dish in the kitchen and introducing a totally new product along with a new concept in the market. It was while indulging in this self realization that a relative, a Bengaluru-based food consultant came to her rescue. She learnt a lot about emulsifiers and the art of keeping food for long without adding preservatives.
It took more than two years to really work on the idea. In the meantime, she continued her studies. Studies over, it was time to name her baby, her product. It had to be well-remembered, soft and rhyming. The sauces used on spreads are of superb quality and a bit elitist too. So the concept naturally veered round the word "posh". As the word "nosh" means food, the combo of "Posh Nosh" became an instant hit.
Posh Nosh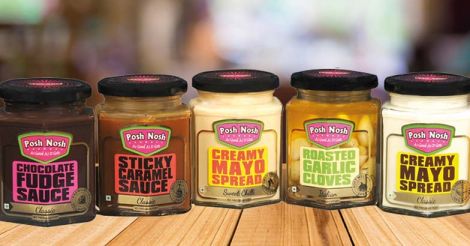 The first product to be made was chocolate fudge sauce, which was unwittingly instrumental in giving shape to an idea. There were four products in that set. However, there are eight now. Strict quality control later, all the products are available in the best markets now, like Lulu Mall in Edappally and G Mart in Kottayam. Aditi is planning to launch Posh Nosh in more cities.
The company has its office and lab headquartered in Chennai. Though the lab sounds very official and formal, it's in reality a big kitchen where only women work. These women are a happy lot who seem to enjoy what they're working on. There are new products in the pipeline like pasta sauce, for example. Aditi is waiting for the right time to launch four more products simultaneously. Her chocolate hazelnut spread is getting ready for release. Aditi has her vigilant eyes all over. It's not just the products she has to go into. The branding, marketing and designing need to be looked into. The trick lies in giving a fresh product to buyers. Hence, it's got to be on a different plane than what's already in the market. This concept of product renewal needs to be dinned into shop owners. In this venture, the very design of the bottle matters.
Aditi says she inherited her food genes from her mother who loved to cook and was always mixing and matching herbs, spices and sauces which she brought home from lands far off as they were unheard of in India then. Thus, food made with Japanese and Chinese herbs and sauces were a delight to dig into.
The young entrepreneur is happy that she hails from a family which enjoys food. This is also why she feels exercising is important too. The more you eat, the more the need to sweat it out. Exercises are a must to rein in the body and mind, to keep them well balanced.
Women are a bundle of fears and anxieties, says Aditi. Will I be able to do this? What if I err? What if it goes wrong? The fear-list is endless. "I too went through all these fears and then realized that they were all baseless. So I just blew my fears away," she said. The sin lies in not attempting. Try out things. They may go haywire, which gives you all the more reason to try them out again till you get 'em right.
Aditi remembers how she tripped several times in her attempt to make veg sauces without preservatives. She would then remember the two men who had inspired her to dream and dare … her father and grandfather. One started a firm called MRF and the other, an enterprise called Funskool. They were stalwarts who were born brave and lived and thought much ahead of their times. Her grandfather always used to tell her that there was a solution to every problem. If you fail once, it does not mean you'll flunk always. So try again, with more focus, more concentration. That was his conviction.
Most women cite age as a reason for calling it a day. They set aside their dreams finding cover in kids, grandkids and the call of duty, says Aditi. She, however, believes that proper planning can work wonders in a woman's life. It's fine to be there for the family, the husband and the kids. But there's got to be some time a woman can have for herself. That's when she should dream and make her dreams happen.
After all, as Dr Kalam said: "Dream, dream, dream. Dreams transform into thoughts and thoughts result in action" … just like Aditi did.
Read: Women Business News | How these biz siblings added color to their life and career