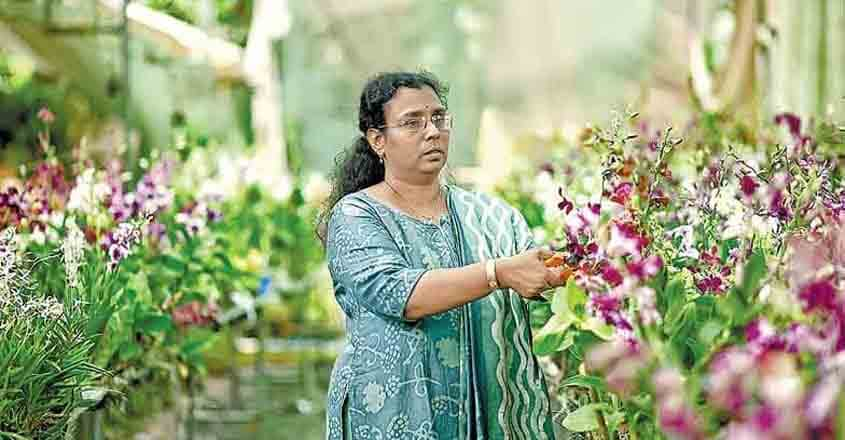 In her house, little away from Thrissur town, Flory Xavier is busy grooming her little garden full of flowers. It's not her first name being akin to 'flowers' that keeps the middle-aged woman engaged with her pet plants; she knows floriculture is a lucrative business as much as it is a hobby.
Flory's interest in flowers traces back to her childhood that was spent in crowded Mumbai, she explains, tending a plant at Pallatty house in placid Aranattukara, a low-lying pocket 4 km south-west of Thrissur. "It's a passion I retained after marriage in 1992. Even as I became a mother, I continued to spend my time with plants. I would tend them just after the kids would leave for school," she reveals.
The chirpy homemaker, who has her three children studying, had begun her floriculture with anthurium. In the last six years, Flory has branched out into growing orchids. That was following a class she attended on how to grow these plants. Soon she noticed a rise in the orchid prices in the market. At this, Flory secured a licence to import the flowers. It was a task in which she received help from her husband Xavier P George, a practising lawyer.
In the initial stages of the vocation in 2012, Flory used to import dendobrium variety, which is widely seen in south, south-east, and east Asia. Subsequently, she began to meet growing demands of local buyers for more variety of orchids. They include the decorative-variety iopnosis, doritis, oncidium, ryncostilis, and phalaenopsis, all of which now grace her nursery.
"I myself do the jobs that don't require much physical exertion," the grower says. ''Such as sprinkling water, applying manure, transplanting..."
Flory, who has several times visited Thailand, which is among the world's orchid capitals, experiments with manure in her Aranattukara farm. "I apply local varieties of manure as well," she reveals.
So, which is Flory's favourite kind of orchid? 'Phalaenopsis,' she says, without second thought, standing at her farm that also features wax plants, air plants, and lipstick plants among others.