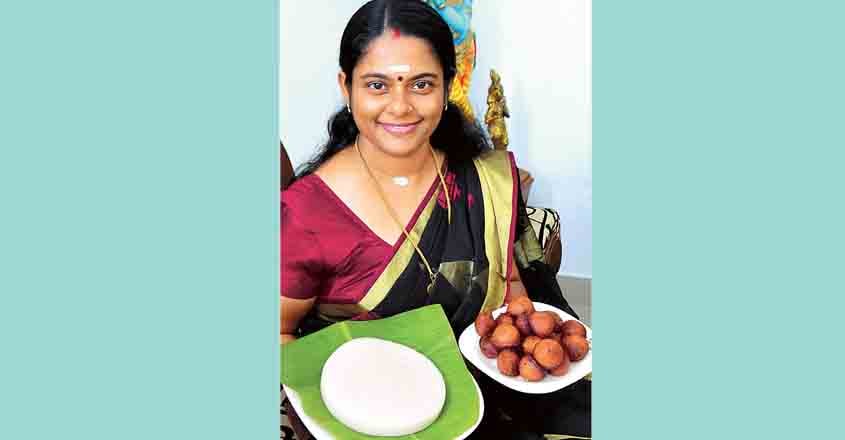 "My elder sister and younger brother were brilliant students. I was just about average", says Pournami recalling those agonizing days when she had to be content with a housewife tag while her siblings landed great jobs. However, there was this urge in her to prove her worth and do something innovative. But what, was the moot question.

Today, sitting pretty in her home near Kanimangalam Mullakkal temple in Thrissur, Pournami narrates her tale of culinary delights.
'Souparnika Foods,' a snacks venture, was apparently her brain child which got going over a year ago. It all began with her husband Jinesh's gold jewellery trade. He had quite a lot of people working for him which called for Pournami's kitchen prowess to prepare meals for them. This, in turn, enhanced her cooking skills and drew her closer to the art of fine cooking.
It warmed her heart to hear the appreciation that came her way as her evening snacks like kinnathappam and unniapam were gobbled down heartily. But there used to be days when she was busy otherwise and could not come up with anything for the assistants. She would then get something from the bakery. But the workers would immediately detect the distinct bakery taste and tell her that they could not be fooled.
That's how Pournami started Souparnika Foods, her home-made snacks with their clear home-made taste and flavour. She's happy that her venture is bringing in its dividends and hence is averse to raking in the megabucks. The monthly profit of Rs 25,000 is quite an amount for this enterprising young woman.
The novel thought kicked off when Pournami happened to go to the District Centre one day. There she saw a notice inviting applications from housewives who would like to receive training in business ventures. She thought of little else and filled in the application. The classes were enlightening, replete with motivational stories of women who had made a cut. Pournami had her job defined for her. It also crossed her mind that if she were to start a venture, she could provide jobs to quite a handful of women nearby who had to give up all to be full time housewives.
Vatteppam, kinnathappam, unniappam, noolappam, velleppam, kozhukatta, and elada are the main snacks she makes. The health factor being uppermost on her list of priorities, the business opening was a fine chance towards that noble thought. Rice and coconut being the best and safest health bets, she took to those products. Besides, the shelf life of these products being very short, they would be consumed fast enough. Hence, there was no call for adding preservatives.
Work starts by the wee hours of 3.30 am when Pournami and her friends slog it out till 10.30 am when the women get back to their homes. Two women do all the sales. The team gets back to work by 4 in the evening when the flour is fried and the dough mixed, a work which goes till 7 pm. The entire mixing is done by Pournami.
Largescale production calls for a great deal of concentration, says Pournami. One can afford to take things easy while working for one's family. But this is a different outing altogether. She turned to mass production when more folks started coming in for more products.
Her parents were quite upset initially when they learnt of her early morning work. But then worries turned to smiles when the profits showed up. And the best fallout of all this is that her husband too has thrown himself in to support her.