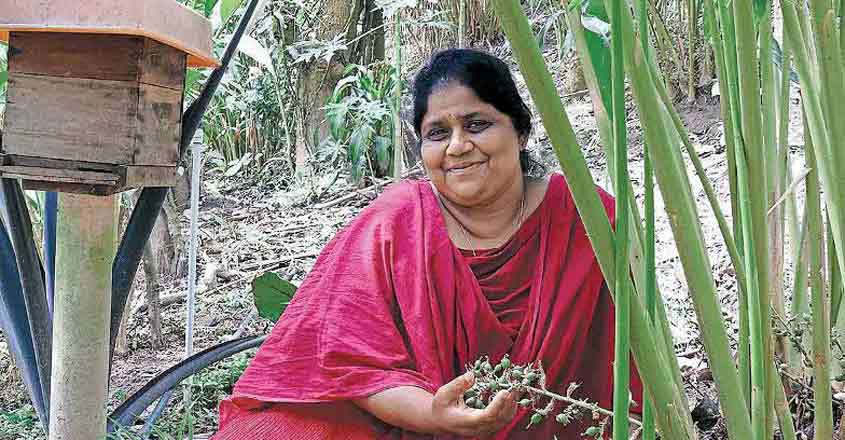 The drive to the R D Estate in Udumbanchola is fresh in the memory of Malarvizhi. The Tamil woman trekked the hills of Idukki 28 years ago to nurture her dreams of becoming a farmer.
Malarvizhi was born in a well-to-do family in Tamil Nadu. She went to a convent school in Madurai. She had zero experience in farming. And she hardly spoke Malayalam. Yet she decided to be a farmer in the highlands of Kerala.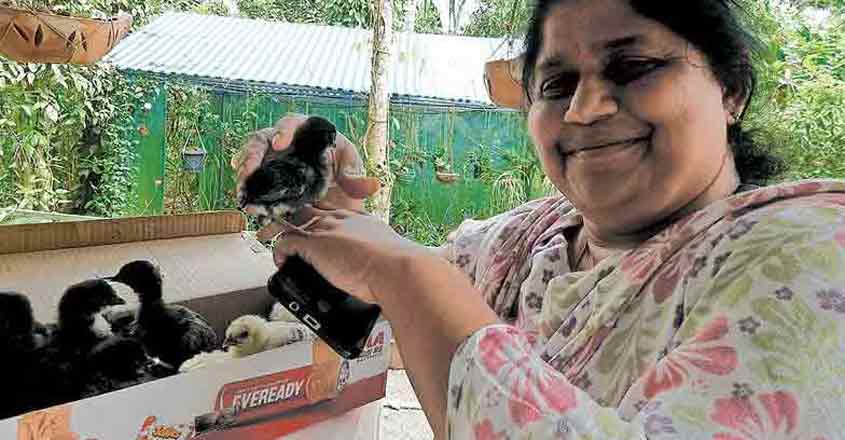 She said she was facing a do-or-die situation. Her husband had suffered a huge setback in business. The only way left before her to repay her debtors was to toil in the cardamom plantation in Udumbanchola she had inherited.
Today, Malarvizhi's farm yields pepper, coffee, vegetables and dairy products apart from cardamom. She has struck gold in mixed farming.
Malarvizhi has 38 acres of farmland at her disposal, including the share of her brother. Cardamom is the mainstay of her farm.
Cardamom cultivation has undergone a sea change since her entry to the scene, Malarvizhi said. Those days, the harvest season was limited to six months. Now any day is a good day to harvest cardamom. Production peaks from July to January. The rest of the year won't disappoint an enterprising farmer who tends to the plants diligently.
The game changer was a new type of cardamom. Malarvizhi shifted to Njallani after testing the breed on three acres and finding it lucrative.
She later diversified to other crops and livestock, including cattle, sheep, poultry and fish. She was into dairy farming from the early years in Udumbanchola because it offered her an avenue of steady income. Once her herd expanded to 15 cows, she started supplying milk.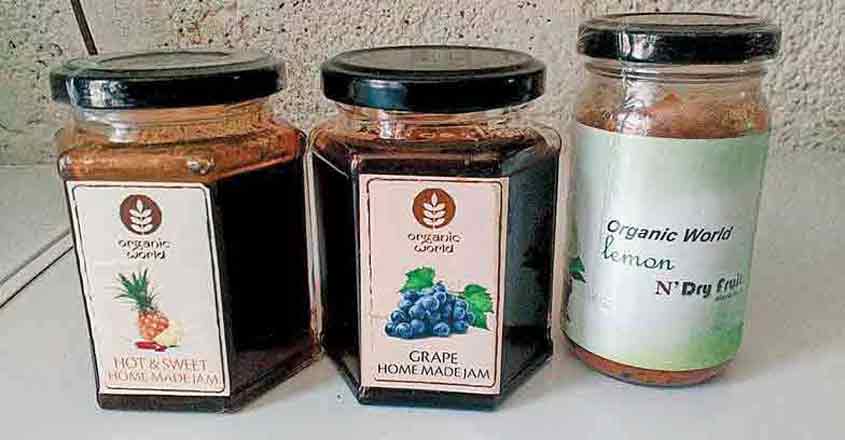 She installed a polyhouse to cultivate butter beans, which had a guaranteed market in Tamil Nadu. It fetched Rs 80 to Rs 120 in all seasons. Udumbanchola's location on the inter-state border made it easier for her to access the Tamil Nadu market. She gradually introduced cabbage, cauliflower and other crops that suited the climate of the hills.
Soon, she was in a position to meet her expenses from the added crops and livestock and set aside the entire revenue from cardamom as profit. She could afford to repay the debts.
Malarvizhi the farmer was only taking off. She found the cardamom sector grossly underdeveloped. She tested waters with organic farming. After all her cows and goats ensured a steady supply of organic manure.
Hi-tech farming
Malarvizhi prefers to record the development of her farm in phases. The first phase belonged to the time of her grandfather, A S Subban Chettiar, who had a cardamom plantation that sprawled over 2,000 acres in Idukki district.
The farming techniques were primitive and limited to an occasional weeding and contenting with whatever yield cow dung and decayed vegetation offered.
The second phase was toxic, when farmers turned to chemical fertilizers and pesticides with no care for the consumer. The overuse resulted in inefficiency. Loads of pesticides could not keep away pests.
Production was at a low when Malarvizhi took over the plantation. Her mantra was organic farming. She bought local varieties of cows and used their refuses as manure.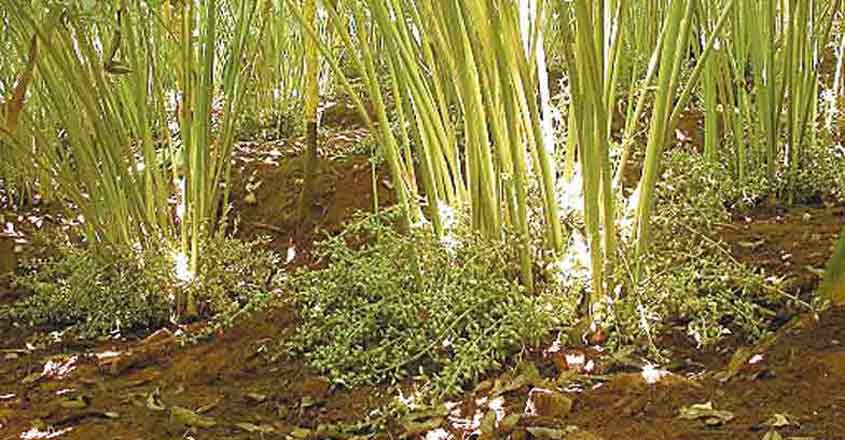 The fourth phase of development is perhaps the most interesting. She calls it hi-tech organic farming. She examined the pros and cons of traditional methods in details and adopted ways which made scientific sense.
Cardamom is an expensive crop because of its over-reliance on chemical fertilizers and pesticides. The cost is too prohibitive to ensure a decent profit. A switch to organic farming cuts the costs to a fifth, Malarvizhi testified. The cost of preparing organic manure is mostly of labour.
She rejects the claims that organic methods do not supply the cardamom plants with all the nutrients they require. She has proved wrong her detractors who predicted lower yield and higher attacks from pests once she turns to organic farming.
She said she depends on friendly bacteria and fungi which helps the plants absorb the necessary nutrients and fight off infections. She is ready to pass on the knowledge she has built to other farmers later.
Value addition
Malarvizhi has sizable honey production that rakes in the moolah. She set up a few boxes for honeybees to aid in the flowering of the cardamom plants. Cardamom yield went up indeed. And the 25 hives encouraged her to start a business in honey.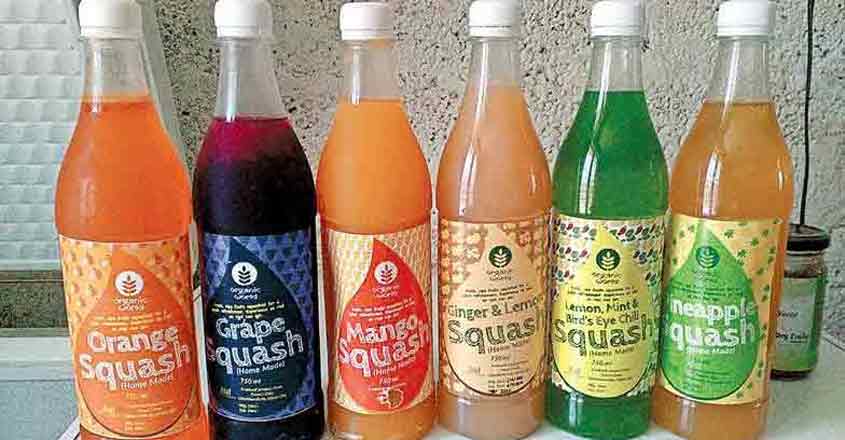 Malarvizhi's farm now produces delicacies such as grapes in honey and dates in honey.
She has also found a market for jams, juices and drinks made with fresh fruits from her farm.
She is also into aquaponics, which fuses farming with fish farming. Her next plan is to sell the organic vegetables from her cardamom plantation to the cities.