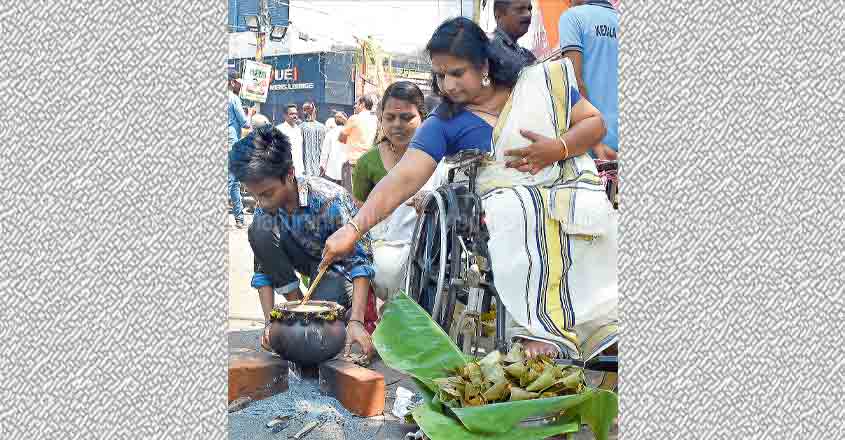 Thiruvananthapuram: When the Pongala oven was lit, Sindhu prayed to Attukal Amma, 'Give me strength, like everyone else'. Sindhu Sudevan from Murukkumpuzha came to offer Pongala on a wheelchair. It's her fifth visit, all on wheelchair.
Sindhu reached Manacaud Junction at 2am with her son, mother and sister-in-law. She sat in the burning sun for hours, with one wish alone in mind – make the offering to Attukal Amma. Her legs had swollen from sitting for long. But that was no deterrent either.
The accident that crippled Sindhu and her family happened in year 2000. The scooter she rode tipped over after a dog darted across it. She sustained injury to spine and was paralysed below waist. She has been restricted to the wheelchair for the last 18 years.
A smile springs on her face as Sindhu says husband Sudevan is her strength. He rushed back from abroad after the incident and remained next to her for 10 years before returning to a job overseas. Their 14-year-old son is now a 9th standard student at Infant Jesus School, Murukkumpuzha. Brother Sasidharan's wife Suma joins Sindhu in her activities.
She couldn't attend Pongala last years because of a surgery. A growth on the shoulder and bedsores from sitting for long hours - they did not deter her this time. Her prayers were answered and the offering made. Sindhu is also the district president of All Kerala Wheelchair Rights Federation.