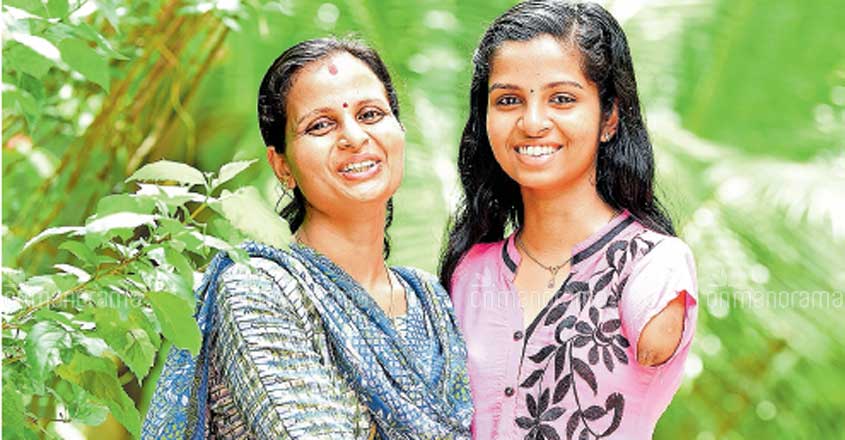 This inspiring success story has been scripted in a special way. And this glorious accomplishment is a daughter's gift to her mom who made umpteen sacrifices.
Everyone is showering accolades on Devika since her SSLC results were published, and parents Sajeev and Sujitha even had to buy a new almirah to store the gifts presented to their daughter. It was parliamentarian and actor Suresh Gopi who first visited Devika's home at Vallikunnu in Malappuram district to honour her stupendous achievement.
Nowadays, bagging A+ grade in all subjects is not a big deal, and there are close to 6,000 brilliant students in Malappuram district itself who had scored more than 90% marks in all subjects. But Devika's success stands out as she secured A+ grade in all subjects by writing the exams with her feet. Though differently-abled Devika had the option to write the exam with the help of a scribe, she took a firm decision to answer the questions with her feet.
Devika, who was born without arms, differs with others' opinion that her success was in the face of adversity. "It was pure hard that brought this achievement. I like to see it that way," says Devika brimming with confidence.
Sajeev, senior civil police officer with Thenjipalam police station, and Sujitha never worried about the future of Devika, who was born on October 6, 2003. The doctors advised Sujitha that differently-abled children would overcome their challenges one way or the other. They also told her to train Devika to do everything with her legs.
Sajeev and Sujitha studied about the problems faced by differently-challenged children and their parents. Devika entered the world of letters at a nursery school near University of Calicut. Sujitha had to be at the nursery throughout the day to feed Devika and help her daughter hold pencil with her foot. Though initially Devika found it difficult to hold pencil with her foot, the presence of Sujitha at the nursery school gave her the requisite encouragement. Devika learned to write all letters with her foot by the time she entered class I.
As Devika grew older Sujitha gave her a piece of advice –"Don't ever think that you don't have arms. Your legs are your arms and you have to face life with them."
Devika excelled in her studies and she was given training in drawing and painting as she started to draw pictures with her foot. She had great love for music too. Sujitha had requested teachers to not give any preference to Devika, who also didn't like any sort of partiality. Devika started to do everything on her own as she joined CBHS School, Vallikunnu in class VIII, and Sujitha went to the school only to feed her.
When Devika entered class X, everyone had just one question on their lips, "Can Devika write exams"? Devika made it clear to her teachers that she would write the SSLC exams without any help.
Everyone was pretty tensed on the day of exam except Devika's mother. Sijutha was sure that the courage she instilled in Devika would stand in good stead for her.
When the results were published, Devika's hometown rejoiced as she bagged A+ grade in all subjects. Devika and her family also went to capital city Thiruvananthapuram to attend a felicitation function at the police headquarters. Devika spoke highly about her mother at the function which was attended by DGP Loknath Behra.
Devika, who is eyeing a career in civil service, is in class XI with specialization in humanities at CBHS School in Vallikunnu.
"My mother has sacrificed a lot for me. I have to give something back, even if she never asks for anything," says Devika.