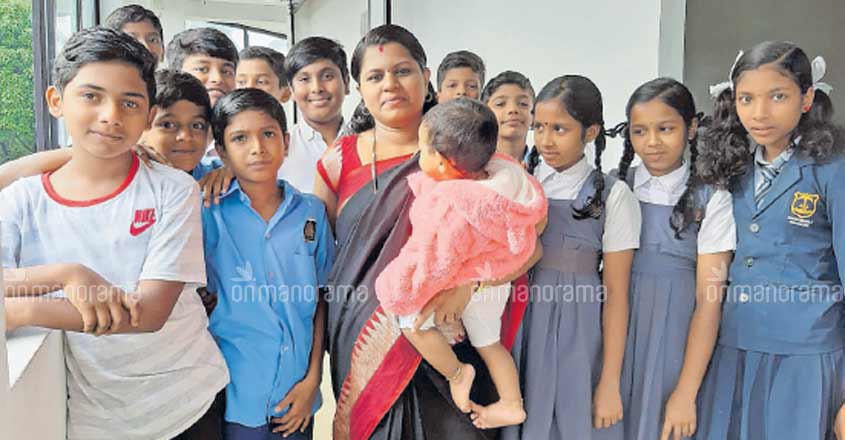 Most women lament about the lack of time after the birth of their children. Several women even quit their jobs to look after their kids. However, Archa from Kerala chose to take a contrarian view.
After the birth of her daughter Amy, Archa ventured in a new direction. She chose to spend her free time to guide other children and set up an institute at Kannanchery - Learn the Best Academy.
A native of Naduvattom, B Archa was a teacher by profession and it is from the classroom that the young woman realised that children need more than textbook learning. The students have lot of A-plus to their credit, but seldom have any clue about their career or future. None of the books till plus-two help students choose their path and they end up picking a course prescribed by their teacher or parents.
Archa did not return to her teaching profession after her maternity leave. Instead of doling out lessons from textbooks, she decided to guide children.
The academy was started in last January. It focusses on spotting the talent in each student and give them expert training.
Experts on communication skill, digital literacy, and social intelligence fields also take classes. Skills development training is held on Saturday and Sunday. Tuition classes are held on other days.
More than hundred children have joined the academy. The skill development training is for students from class 7. First up, it is identified in which all areas the student can excel and then the required training is given. No one is compelled to take up any topic in particular.
Though the academy's policy is to impart special training to those who seek it, majority of the students demands expert training. Only few students have joined the academy for tuition classes alone.
The academy also takes care of the education of several underprivileged students, including 10 children from the Payyanakkal school. These students are also given bags and books by the academy.
Apart from all this, the academy gives training on scholarship programmes, such as the NMMS (National Means Cum-Merit Scholarship), at schools.
Archa has the full support of her family. Her daughter Amy is yet to turn a year old.
People wonder how can Archa achieve so much with a baby to take care of. Archa smiles in reply, remembering her career days when she dreaded holidays for she is not the one who likes free time.