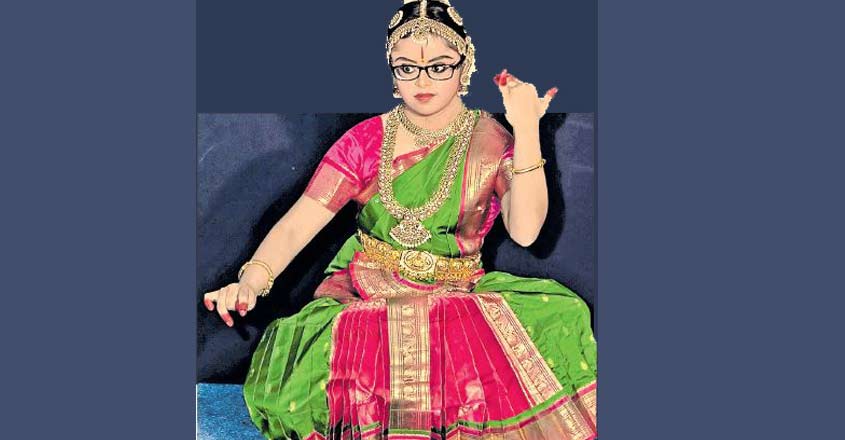 A class VII Keralite student has made it into the India Book of Records with a performance of 52-minute Bharatnatya kacheri. Lakshmi Suresh Krishna achieved the rare feat by defeating Down Syndrome through her willpower and hard work.
The determined girl has also performed at several venues in Doha. Lakshmi is the daughter of Suresh Kumar and Sindhu from Vettikkattiri in Kerala's Thrissur district.
Barely three-four days after Lakshmi was born, her parents were informed of her medical condition by the doctors, her mother Sindhu recollected. That was for the first time that her parents were hearing about this disease and had no idea of its seriousness or the repercussions it would have in their lives. The doctors too said the disease would be cured as the child grows older.
The parents realised about the gravity of the situation only after six months. Their days were then spent in prayers.
The therapy was started at two years of age. The society's insensitive attitude bogged down the parents. But their hearts were filled with joy as the 2.5-year-old Lakshmi slowly learnt to walk, Sindhu reminisced.
Suresh Kumar works with the AKTOR S A /ALYSJ JV in Doha. Lakshmi's life also changed for the better when she reached Doha at 3.5 years. She joined the Hope School in Qatar for differently-abled children. She studied there for four years. She also registered for distance education at the National Open University back home in India. Special education teachers started visiting her at home.
As her educational standards improved, her parents tried to put Lakshmir back in the regular academic stream. The little girl also regularly underwent physiotherapy.
Lakshmi found a place on the entrance list of Noble International School. Though school authorities said Lakshmi can be given admission in the second standard, her parents decided she should start from the beginning at first standard.
But the routine school life also brought in a new set of issues - huge school, lots of students, bus journeys. Her parents were really tensed. But principal Abdul Rasheed and teachers offered all support and Lakshmi continued to study as ordinary students. Today, her parents are proud to notice that their child is doing well at studies.
The beginning from cinematic dance
Little Lakshmi always tried to keep up with the steps of the film stars on television and that's when her parents realised that she was interested in dancing. Lakshmi was soon taken to cinematic dancing classes. After Lakshmi proved that she could dance in tune with the rhythm and beats of the songs, she was enrolled for learning the classical dance form of Bharatanatyam at Kalakshetra in 2016.
On to the stage
She first took part in the events of Kalakshetra in 2017. Then her dance teacher Nithya Manikuttan sought permission from the management to let Lakshmi perform solo. However, everyone was apprehensive of letting Lakshmi perform alone on stage. What if she gets frightened on stage, misses the beat, and the event turns out to be a flop? But then Lakshmi triumphed over all odds. That's when she really felt confidant.
Sindhu and Suresh too identify that moment as when Lakshmi proved that she could build a life on her own on the dancing stage. She then performed at several events organised by the expats. The 52-minute Bharatanatya kacheri was held on March 23, 2018. An application was also sent to the India Book of Records. This was for the first time that they were getting an application for the dance category for the differently-abled. India Book of Records noted it as the first talent from India after watching her graceful performance.
Acting and swimming too
Lakshmi is also good at acting, singing, colouring and swimming. She even acted in a short film, Ice cream, directed by A J Al-thani. She loves to watch television. She also takes special care of her little sister Navami, who also returns the adoration. Lakshmi also helps her mother in the kitchen. Her mother vouches that Lakshmi is extremely careful even about minor details.
Education gets priority
Lakshmi's parents said they also had to face a volley of questions, when they decided to have a second child.
"People asked what if that child also has the illness. But we decided to go for it as we wanted someone to be there for Lakshmi even after our time. Navami was born as a healthy child," they recounted.
The parents said that they had battle their own doubts and rude questions from others while bringing up Laskhmi.
"But you should realise that it's not these questions but the child's future that matters. Give importance to their little joys. Find and nurture their talents. Help them beat the illness. Give them education and prepare them for the life ahead. It is not money, but confidence and education that the child needs," her parents said.
These are not hollow words doled out by some people, but by a proud set of parents who helped their child battle and conquer the illness. And as Lakshmi scripts her own success story, there is little reason to doubt the parent's words.