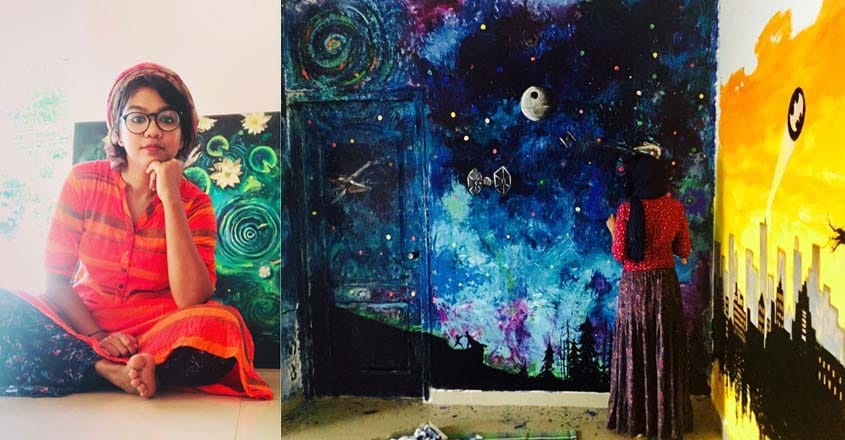 Fathima Hakkim has been causing quite a stir among the youth recently. Her inspiring story of how an unsuccessful student went on to become a recognised artist as well as her charming personality has got the youth fawning over her.

It came as no surprise when Fathima Hakkim was chosen as one of the celebrities to host the latest session of pep talks organised by Stories Revolutionary at the L.B.S. College of Engineering in Kasaragod.
From growing up with dyslexia, being bullied and continuously failing school, leaving home, conducting art exhibitions in an unknown city, graduating as an architect, Fathima has gone through some interesting ups and downs. I had the extreme privilege of meeting her for an interview which was more of a chat, as we walked down through the windy evening through the campus.
Here's her story as we got to know during the talk.
Tell us a little about yourself and your family? How is growing up at your place like? And how did your family support you?
I am from Kollam. I'm the eldest child in the family comprising my Baapa, Amma, two brothers and one sister. We are very close emotionally. So initially, they could not realise at all what I was doing. Since they did not know much about Facebook and Instagram, they were like, "what benefit are you gaining from posting pictures online and with some random virtual people saying 'Wow! This is nice?'" But since I started making good income out of it, Alhamdulillah, they are happy – things are very cool back home; everything's perfect!
How did you convince yourself to believe in yourself? You didn't know anybody, you didn't know if you'll make it as an artist...
Yeah, I believe in our soul – more than the body. I feel like our body is just a wrapping of our soul as we wrap gifts! That's how our body is. What matters the most is your soul. I knew what I wanted; I knew I wanted to create a lot of paintings. I felt, as though, as long as I don't do justice to my soul, there was no point in living. And I believe that you have to leave your signature, your imprints on earth. There's no point in simply living, earning money and dying. If you made one person smile, your life is worthwhile. My aim was clear: I wanted to inspire, and mostly, inspire girls.
So who was your inspiration? There must have been someone, an artist?
No one, actually. Mostly because the kind of paintings I used to do, I haven't seen it much anywhere – you know finger painting and stuff. Growing up, I never had a person to look up to; I had no one's path to follow. So I had to dig my own path. If you ask me where I came up with the energy, the confidence to do what I did, I have no idea. Looking back now, I don't think I have the courage to restart it all. Back then, I would work very hard. Like, those wall arts were huge paintings – while doing those, I had to climb up the ladder, while one hand clinging to the ladder, and one leg dangling on the side while I painted with my other hand – my whole body would hurt. But I knew – if I paint it, it is going to stay. Even if I die, those paintings are going to stay and meet generations for years to come as long as humanity stands. I'm glad that my parents gave birth to me and I'm here in the world to experience such beauty all around me – I got the chance. And I had to give something back – I give it in the form of paintings.
You were dyslexic as a child. You had said growing up was difficult. How do you think our education system is dealing with dyslexic people? Did you ever feel it should have been different?
One thing I felt is that every child is different – their capacities are different. You can't include them all into one single curriculum. Like, just imagine - human beings come in different sizes. Trying to fit them all in a single dress, how will it work? That's the problem with the present education system. They try fitting everybody to the same mould.
However, you deviated from the system. It's not like everybody can do that; they know it's not for them, but they don't get the 'push' they need...
I couldn't study! I was a failure. At the time, I did not realise I was dyslexic, so I was like 'Okay fine, I'm going to try.' I tried really hard – I would study late into the night. But it was impossible.
As for the 'push,' like I said, society gives you a packaged food. But if you have absolutely no income and nothing to support you, sometimes you have to stick onto that. So that's why many people, even though they know they can't fit in, they try to adjust to it.
What do you have to say to those who dream? They don't have a strong belief in their talents. Especially artists, they are too scared to come forward, mostly because mainstream art has become a competitive sector, especially with the emergence of digital art and all.. Any words to motivate them?
If you are passionate enough – again – I'd say, listen to your soul. More than everything that's around, we need to do justice to our soul. Otherwise you'll live lifelong with the guilt. People say you are not late, but I think, there are certain moments when you should dare to take the risk. If I had shown the courage to conduct my first exhibition when I was 60 years old, instead of now, then I would not have been able to inspire so many youngsters. Like, if I came here as a grownup old woman, they can't connect with me. So I believe there are certain steps that have to be taken. Initially, I had no idea what to do. I did not have the money; I had some Rs 600 with me. I had one more painting to finish. I thought.. with Rs 600 I can buy 3-4 tubes of paint or I could go to Calicut and feed myself. I asked myself what I wanted – if I skipped a meal, nothing would happen to the world, but if I do a painting, I will be inspiring some people. So I chose to paint.
This is something I always say - any hardships you have is for you to have an amazing autobiography. If you ask me where did I get the energy? Umm, what do I say, you know - I hit the rock bottom. If I had done nothing and continued that way I would have killed myself. I did not want to kill myself, thinking of my parents, my siblings.. I wanted to live, but not this way. So I told myself "Okay Fathima, gain the courage!"
So, listen to yourself. There isn't any right moment. We create our moments. You can't wait for the right moment when everything will be okay, because that moment will never come. You decide right now this moment, "I want to do something" and you start working towards it. This is the right moment for you.