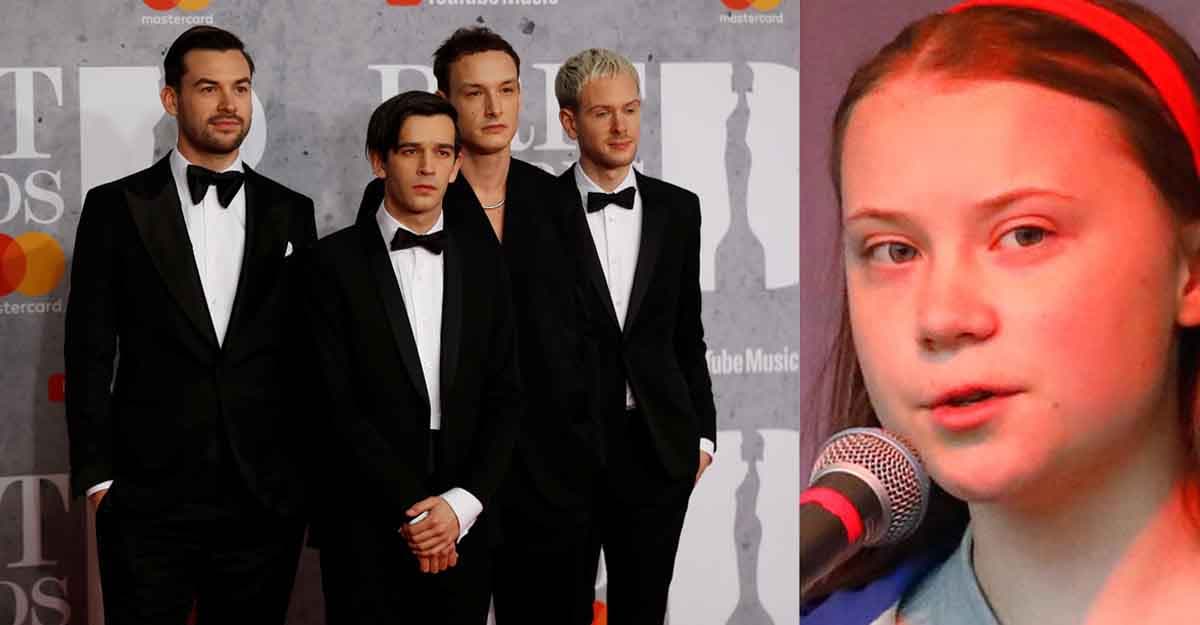 No, this is not a rallying call from the tumultuous streets in Sudan or a thrumming Hong Kong highway.

This is a proclamation by an activist keen on undoing the wrongs caused by climate change, and it's inherent ill effects, and her reminder that if no action is taken, an imminent climate emergency befalls.
And mind you, she is no ordinary activist.
Greta Thunberg is the most prominent, and amongst the youngest climatic warriors of our time. A 16-years-old, Swedish born activist, her one-man revolt, fiery speeches and surprise protests inspired a global movement, and helped mobilize the youth to take up the cause of climate awareness.
And the little 'eco-fascist' has an anthem now.
Teaming up with the British boy band 'The 1975,' this teen climate change activist has recorded a song that urges people to rise up, and step out of their comfort zones, to tackle the ever growing risk of a crisis standing right at their doorstep.
Unlike every other album that 'The 1975' has traditionally released with a confusing, self titled track called 'The 1975' and the same line of lyrics (soft sound, midnights, car lights), this song is different.
The inspirational single in under five minutes is more like an essay, with ambient music playing in the background and does not fit into any particular genre.
We are right now in the beginning of a climatic and ecological crisis.
And we need to call it what it is – an emergency,
She begins her monologue.
Thunberg is a climate change advocate and green activist who at the age of 15, began a protest outside the Swedish Parliament about the need for immediate action to combat the climate change phenomena. On March 15, 2019, approximately 1.4 million students from over 112 countries around the world joined her to strike and protest against their governments turning a blind eye towards an environmental emergency.
Through her public demonstrations, she was soon condemning the various governmental policies on a universal level. Lashing out on world leaders, she complained that they had never treated the issue as a crisis, and begged them to wake up and change everything, instead of 'acting like children.' But it was the United Nations COP24 Summit held at Katowice that Thunberg truly turned heads.
"You only speak of green eternal economic growth because you're too scared of being unpopular. You are not mature enough to tell it like is.
Even that burden you leave to us children," she spoke to an assembly of leaders, entrepreneurs and environmentalists.
Greta, who has given up air travel all together, goes on to say that man is in the midst of an ecological crisis. Emissions should stop in order to prevent Earth from further warming than the 1.5 degree limit above pre-industrial levels to reduce catastrophic climate change risk on populations, set by the Paris Agreement.
She might not be as resonant as her other influentially young, chart topping counterparts such as Lil Nas or Billie Eilish or as flamboyant as Kiernan Shipka or Millie Bobbie Brown, but her actions, speak on the same octave, if not louder than her words, inspiring millions of young boys and girls around the world to strike from school every Friday. An they do so even during holidays. 'Climate crisis doesn't go on summer holidays and neither will we,' she says.
So, I ask you to please wake up and make the changes required possible.
To do your best is no longer good enough. We must all do the seemingly impossible.
Everything needs to change. And it has to start today.
So, everyone out there, it is now time for civil disobedience.
It is time to rebel.
'The 1975,' is an albeit emotional message that is sent across in the universal language that is music, transcending borders and cultural differences, questioning establishments and state parties on their stances on the climate crisis.