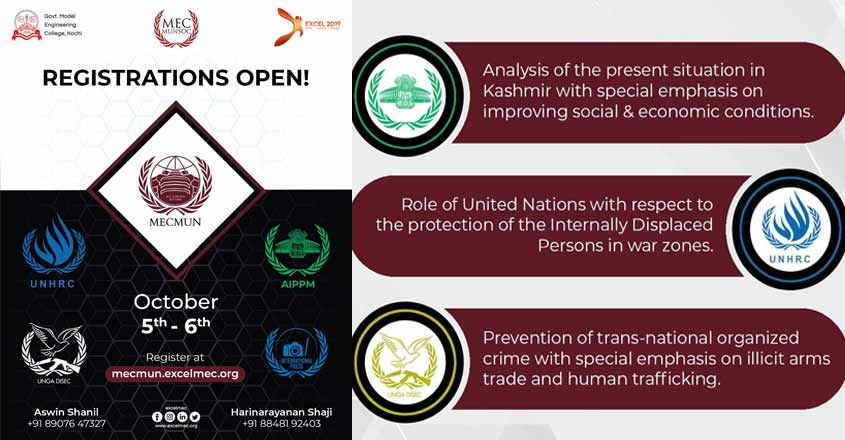 Thrikkakara: The Government Model Engineering College here is set to host the third edition of its mock UN meet, christened MECMUN 2019. Students will don the role of diplomats and engage in debates over burning global issues at the event to be held on October 5 and 6 at the IMA Hall, Kaloor.
The MEC MUN heralds its annual techno-managerial fest named Excel.
MUN, which stands for Model United Nations, is an academic simulation of the United Nations. (MEC denotes Model Engineering College.)
Over the years, MUNs organised at various colleges have become significant due to the emphasis they give to current world issues.
This year, MECMUN is back with 4 committees which are modelled on the United Nations General Assembly's DISEC (Disarmament and International Security Committee), United Nations Human Rights Council, All-India Political Party Meet (AIPPM) and the International Press.
The agendas are no less interesting. As the DISEC discusses on the 'Prevention of transnational organized crimes with special emphasis on illicit arms trade and human trafficking', the AIPPM calls upon strong debaters to fire up the sessions by analysing 'The present situation in Kashmir with special emphasis on improving the social and economic conditions'.
The Human Rights Council will debate on 'the role of UN with respect to protection of the internally displaced persons in war zones' while the session on the lines of International Press will enable budding journalists and photographers to sharpen their skills.
The MECMUN has collaborations with prominent MUNs across South India such as those at the CUSAT, Mar Athanasius College of Engineering, Ravenshaw University etc.
The registrations have been opened and allotments are taking place in full swing. Click here for more details on registration and other doubts.