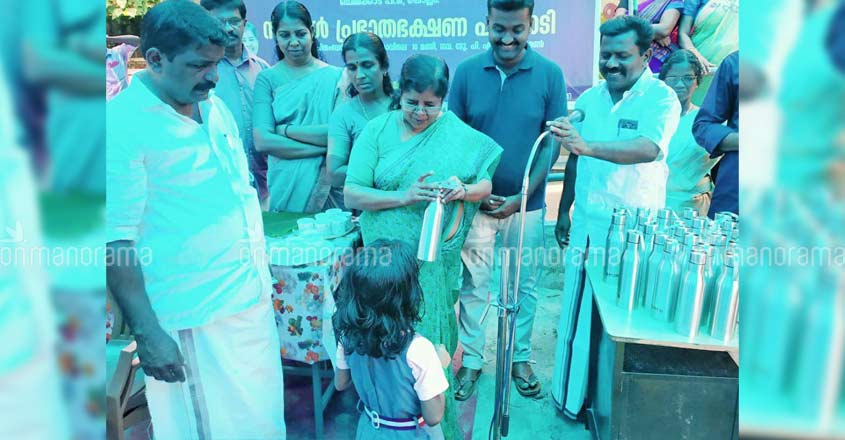 It is a rather chilly morning on the peaks of the Kattadikadavu view point.
Dawn and with no sight of sunlight, the two hills are veiled in a thin layer of fine mist. It is early morning and the air is cold with the ambient chirping of raspy birds hovering above. Down below lie a sleepy Vannapuram village with its tiny houses waking up to the loud crows of the rooster.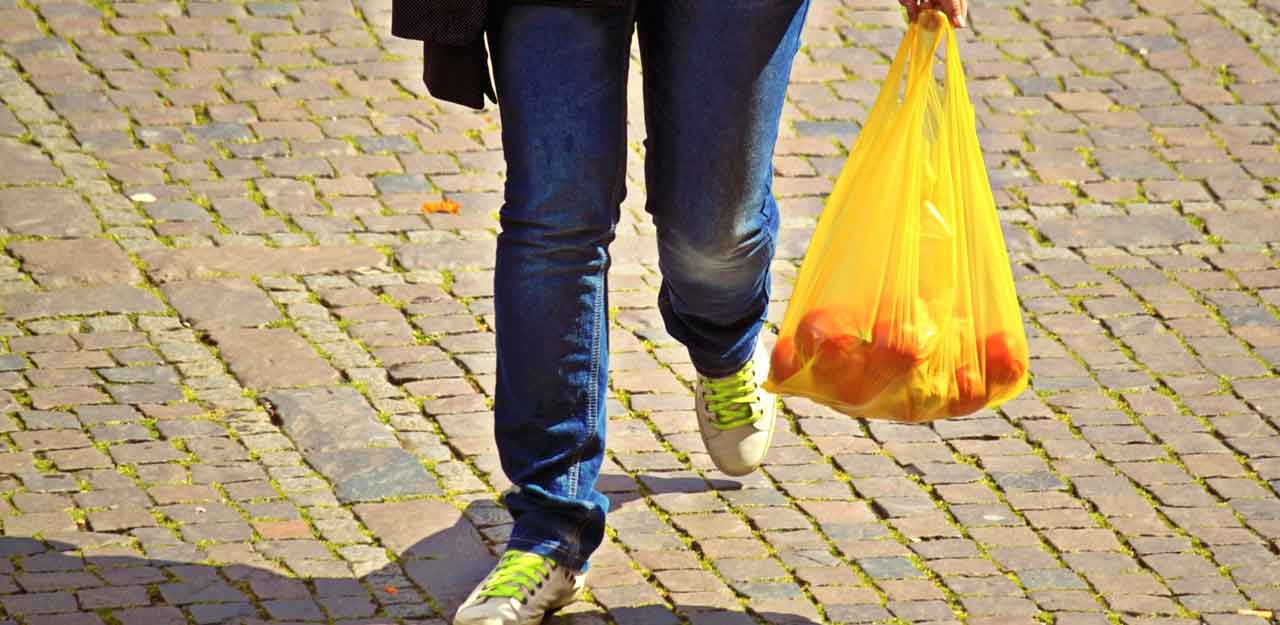 The Kaattadikadavu or 'Thumbithullam para,' known due to the abundance of dragon flies zooming past on its peak, is located between the Vannapuram and Kanjikuzhi towns in Idukki. An arduous uphill journey for almost a kilometres distance would certainly leave a tired body yearning for a bottle of water or refreshments. A little teashop on the way to the first view point caters to the needs of weary travellers on the trek. The first ascent to the peak starts soon afterwards. Now for as far as the eyes can see, the narrow path leading to the view point is strewn with plastic refuse left behind by previous visitors to the site.
The first point offers breath-taking views of the surrounding region down below. But even this rocky peak has not been spared by careless tourists who've made the spot a dumping ground for plastic wastes, primarily consisting of used plastic bottles they'd carried along the trek.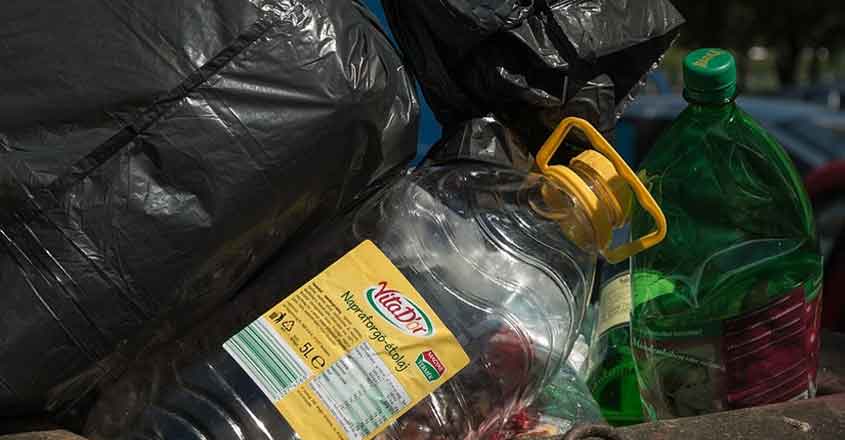 Rohith Stanly, a final year student at St Joseph's Palai, had been on a quick visit to the spot along with a few of his friends, and the sorry sight left him stop the trek abruptly and return again. "The only path to the peak was riddled with bottles for metres on end. We decided to stop our trek and come back the next day to do something about the plastic menace."
And they did. This time, armed with garbage bags to clean up the mess. They'd started from the top, and rid the rocky mountain free of every bottle in sight.
"Though we finally had waste amounting to three large garbage bags, a lot is still left to do to restore the hills to their former glory. I hope we be more considerate towards nature and act as responsible citizens. The plastic waste left behind is choking our rivers and natural reserves, and its ill effects are now evident in every part of the state."
They had then loaded the bags into a car to hand them over to the Grama Panchayat officials. The whole act was filmed in order to create a wider awareness among the general public under a #plasticfreeKerala campaign.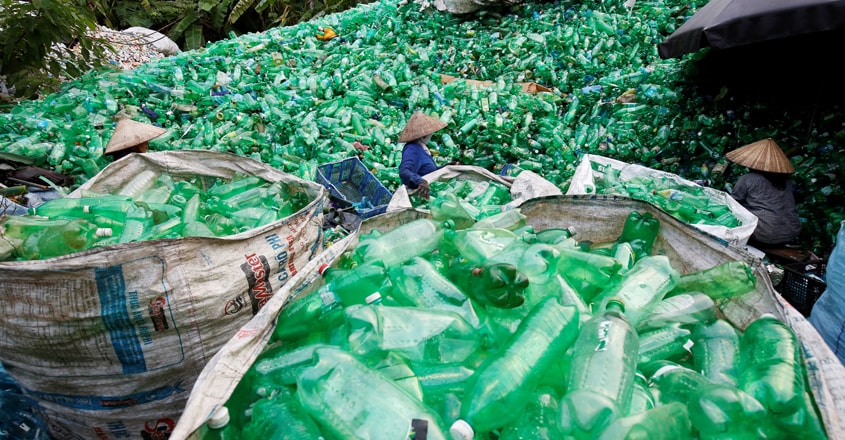 As the old saying goes, it is always better to stop something bad from happening rather than having to deal with its consequences that far extend more than many lifetimes. Prevention of the manufacture of plastics is always better than finding a cure to its ever-growing menace. The problem with every plastic refuse is that it takes at least half a millennium to undergo total degradation. Almost 90 percent of these plastics eventually end up in the Pacific, contributing to the Great Pacific garbage patch, a giant 1.6 million square kilometres of floating man-made debris in the north central Pacific Ocean. This later goes on to affect marine life and gets well into our food chain causing serious imbalances in the biogeochemical cycles.
India is making a serious bid to eradicate plastic or at least curtail its use significantly. On Independence Day, this year, Prime Minister Narendra Modi urged citizens to shun single-use plastics across the country. The deadline to take the first step towards elimination of these disposable plastics was set for October 2, which coincided with the 150th birth anniversary of Mahatma Gandhi.
The announcement, though laudable, caught the public unawares. Restaurant and grocery shop owners are concerned how to go about without the widely used plastic articles soon. As carry bags, food wraps, straws, spoons, stirrers as well as drinking water bottles and caps are made of plastic the businesses fear such a ban would inadvertently affect sales.
Radhamani AJ, owner of Aromal Bakers at Choondacherry, says, "Almost all of the curries we deliver are wrapped in tin foil, and handed out in plastic carry bags. The centre should have devised an alternative solution, before asking us with banning plastic altogether."
Most manufacturers in the sector believe that while the ban is a step in the right direction, more clarity should have been provided by competent authorities on the new regulation.
Former Minister of Environment Jairam Ramesh had in his term opposed a similar ban on single-use plastics as he believed that the country had more of a plastic recycling problem than of its production. He believes that a sudden blanket ban will not be a good idea at a time when the economy faces such a slowdown.
KK Alex, the Vice President of the Marangattupilly Grama Panchayat in Pala, says the Kerala government has been taking measures for nearly a year to combat plastic menace and active groundwork in this regard has been going on at the local self-government levels. "Residents have been advised to clean and dry plastic bags used to carry rice, milk, and meat, which 'Karmasena' lady volunteers will collect from each of the 14 wards within the panchayat every month for a nominal processing fee. The collected disposables are later transported to the Kozha Block Panchayat where they are used as raw materials in tarring roads."
Kerala produces a whooping 1,75,200 tonnes of plastic each year and the plastic menace had forced district and rural administrations to collect plastics from domestic households since the beginning of the year. The state today has about 1,089 plastic collection centres.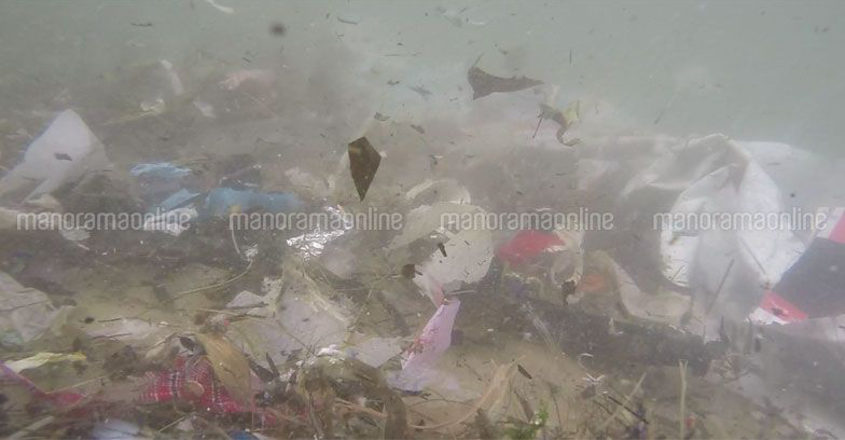 Laudable initiatives
But though this might seem a huge number, India contributes a meagre 4.49 million tonnes to the total plastic waste generated globally according to a 2010 data, compared to the United States at 37.83 million and China at a staggering 59.08 million tonnes.
In his speech, the Prime Minister had urged startups and innovators to come up with novel ideas to replace plastic articles already in existence.
Mohammed Jaseel, co-founder of Kozhikode-based 'Gulmohar Foundation', had come up with the 'Bottles Up' campaign wherein students of government-aided schools in Kerala were encouraged to replace single-use plastic bottles with new steel bottles. This atypical campaign was flagged off by Kerala Minister J Mercykutty Amma.
While an increased production of quality paper bags in the place of plastic has been mulled, its steep manufacturing cost would only mean more burden on the consumer.
A form of biodegradable plastic called polylactic acid or polylactide (PLA) has already hit the market. It can disintegrate and assimilate into the soil within a short span of 6 months.
The effective recycling of plastic is still a challenge. Its reuse for tarring and roadwork should be promoted. Kerala's Ernakulam district had effectively utilised about 27,000 kg of shredded plastic for mixing with bitumen in 2017-18. Similar recycling was carried out in Trivandrum, Palakkad, Thrissur and Kozhikode districts.
Plastic trash is being turned by entrepreneurs around the world into ink cartridges for printers, tiles, carpets and flooring, sports equipment, shoes, and even designer garments. A sizeable mansion in Nova Scotia was built using 612,000 bottles. Builders claim the core foam green technology used in the construction could help the structure to resist even a Category 5 hurricane.
"The fact that China had imported the first batch of bottled air from Canada caused much of an amusement back in 2015. The world had similarly laughed when bottled water bottles had first entered the scene in the '70s in USA. It has sadly become an everyday reality today," says Professor Jose James, faculty of Civil Engineering at the St. Joseph's College of Engineering and Technology, Pala, made an apt observation.